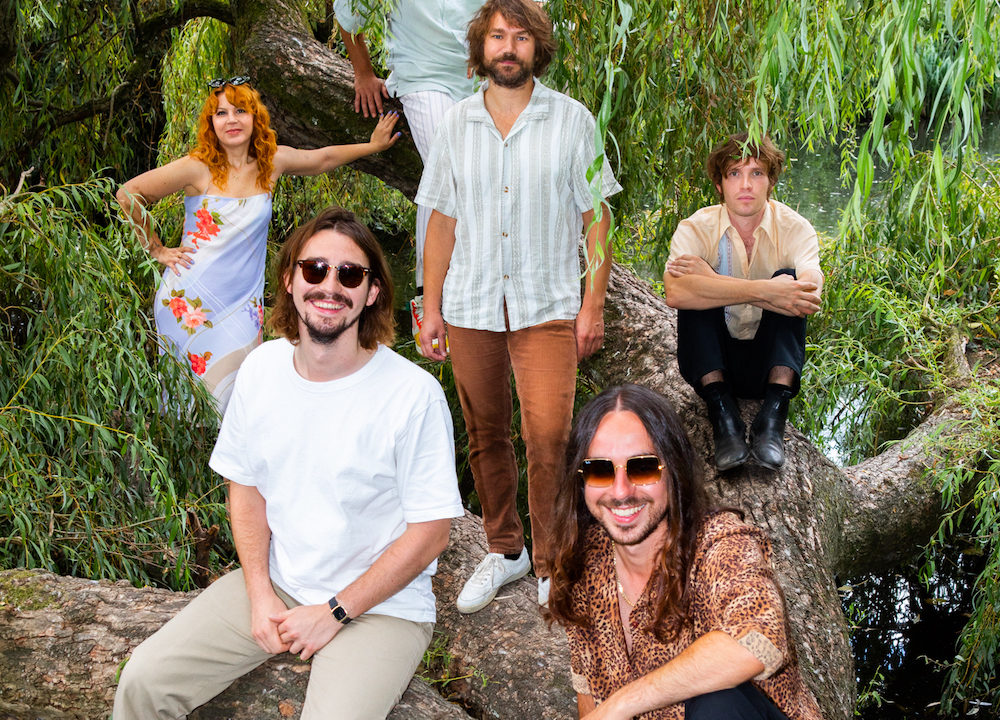 Altin Gün
GRAMMY® Award-nominated Turkish psych-folk innovators Altin Gün have announced their eagerly anticipated new album, Aşk, arriving via ATO Records on Friday, March 31.
Aşk sees Altın Gün veering away from the electronic, synth-drenched sound of their critically acclaimed 2021 albums, Âlem and Yol, to capture all the infectious power and urgency of the Amsterdam-based band's famously propulsive live performances. Recorded using vintage equipment and techniques, the album's ten groundbreaking tracks all represent visionary new readings of traditional Turkish folk tunes, revealing how these ancient songs remain eternally resonant and ripe for reinterpretation.
"These songs have been covered so many times, always," says vocalist/keyboardist Merve Dasdemir.
"But not really in psychedelic pop versions," adds bassist Jasper Verhulst. "It's definitely connecting more with a live sound – almost like a live album. We, as a band, just going into a rehearsal space together and creating music together instead of demoing at home."
Rooted in antiquity yet blazing with contemporary relevance and vitality, Aşk also includes Altın Gün's dazzling reinvention of "Lelim Ley," a classic song of lost love and exile available now at all DSPs and streaming services. Recently named as "Today's Top Tune" by the influential KCRW, "Lelim Ley" features music composed by renowned Turkish musician, author, poet, and politician Zülfü Livaneli and lyrics written by the late Turkish novelist, short-story writer, poet, and journalist Sabahattin Ali (1907–1948). Taken from Ali's 1937 short story, "Ses," "Lelim Ley" was joined by music composed by Livaneli in 1975 and has since been embraced as one of the most well-known and beloved songs among Turkish people everywhere.
Hailing from Amsterdam but coming from various backgrounds (Turkish, Dutch and more), Altın Gün have captured the world's imagination with their indelible fusion of psychedelic rock, deep funk, synthpop, cosmic reggae, and more with the rich and incredibly diverse traditions of Anatolian and Turkish folk music. The band captured the world's attention with their 2018 debut, On, and quickly earned a prestigious GRAMMY® Award nomination for "Best World Album" with their 2019 sophomore LP, Gece.
Renowned for their dizzyingly hypnotic live performances, Altın Gün has spent much of this past year lighting up stages around the world, including sold out headline tours in North America, Europe, and the UK, along with show-stopping sets at such top international festivals as Indio, CA's Coachella Valley Music and Arts Festival, the Netherlands' Best Kept Secret, Barcelona, Spain's Primavera Sound, and Reykjavik, Iceland's Iceland Airwaves to name but a few. The band – who recently performed three historic collaborations with the Netherlands' world famous Metropole Orkest – will embark on a wide ranging EU/UK headline run in March 2023, with North American tour dates – including headline shows and appearances at such upcoming festivals as Check, VA's FloydFest (July 26-30) – to be announced soon.
Altın Gün is: Merve Dasdemir (vocals and keyboards), Erdinc Ecevit (vocals and keyboards), Thijs Elzinga (guitar), Jasper Verhulst (bass), Daniel Smienk (drums), Chris Bruining (percussion).