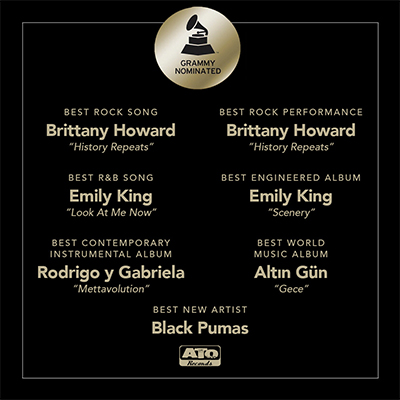 ATO Records Receives 7 GRAMMY Nominations
CONGRATULATIONS TO
BRITTANY HOWARD, BLACK PUMAS, EMILY KING, ALTIN GÜN, RODRIGO Y GABRIELA
ATO Records is thrilled to have received seven nominations at the 2020 Grammy Awards — the most in the label's history — and congratulates the incredible artists below!
BLACK PUMAS
BEST NEW ARTIST
Photo credit: Greg Giannukos
WATCH: Official "Colors" Live Session
"Sam Cooke meets Wu-Tang Clan in the Texas-based duo's surprisingly fresh take on 70s soul… a debut so perfectly realised." – THE GUARDIAN
Black Pumas is Eric Burton and Adrian Quesada. The band's self-titled debut album was produced by Quesada in his Austin home studio and colored by Burton's dark imagery and haunting vocals. It is equally indebted to East Coast hip-hop as it is to classic funk and soul, resulting in a project that is of the moment rather than retro. Quesada had been working on a new project inspired by a mix of woozy Ghostface Killah instrumentals, crispy Motown soul, and the introspective grandeur of dusty highway folk-rock, and, after hearing him audition over the phone, Burton slotted in beautifully. Pulling from his myriad performance backgrounds — singing in the church, acting in musical theater, and busking at the Santa Monica Pier — Burton injects Quesada's instrumentals with a howling croon and surrealist lyrical bent.
BRITTANY HOWARD
BEST ROCK PERFORMANCE ("HISTORY REPEATS")
BEST ROCK SONG ("HISTORY REPEATS")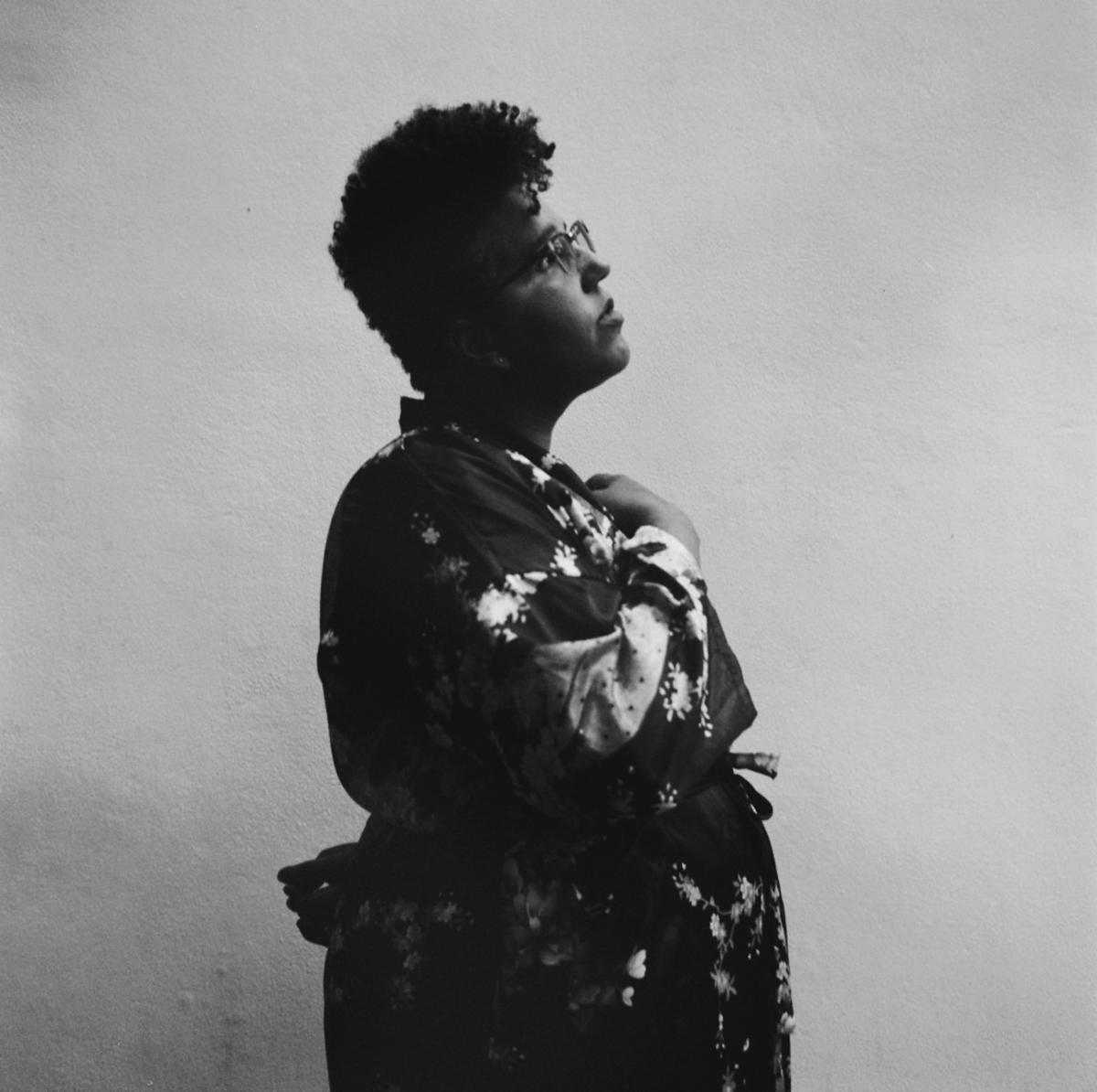 Photo credit: Danny Clinch

WATCH: "STAY HIGH" MUSIC VIDEO

"Exceptional…a thrilling opus that pushes the boundaries of voice, sound, and soul to new extremes." – PITCHFORK

"History Repeats" was the first single on the debut solo album from Brittany Howard, the frontwoman and guitarist for Alabama Shakes. Howard has become one of music's most celebrated figures—the band has won four Grammys (out of its nine nominations), and she has performed everywhere from the Obama White House to the main stage at Lollapalooza, where she sang with Paul McCartney at his invitation. But for her solo debut, Jaime, Howard boldly decided to explore new directions, with diverse instrumentation and arrangements and intimate, revelatory lyrics. As the first project to come out under Brittany Howard's own name, Jaime represents an enormous step both musically and personally.

EMILY KING

BEST R&B SONG ("LOOK AT ME NOW")

BEST ENGINEERED ALBUM, NON-CLASSICAL (SCENERY)

WATCH: "LOOK AT ME NOW" LIVE VIDEO

"Sleek, vibrant R&B that's packed with 1980s soundtrack flourishes and big moments; it's the perfect frame for her extraordinary voice." – PITCHFORK

For Emily King, the artist from New York City who spent her first three decades living on the same downtown block, that notion was always easier said than done. A proud New Yorker, she loved her home, her family, her friends, and her life there. But she resolved to challenge herself by moving out of her comfort zone, positive changes started taking shape immediately. In Upstate New York, the fresh air and fresh mentality gave her the proper space and perspective to create what would become the album of her career. Its name: Scenery. Following its release, Emily has performed at Coachella and Lollapalooza as well as TV shows like Jimmy Kimmel Live and Seth Meyers. She is currently on a national arena tour with Sara Bareilles.

RODRIGO Y GABRIELA

BEST CONTEMPORARY INSTRUMENTAL ALBUM (METTAVOLUTION)

Photo credit: Ebru Yildiz

WATCH: "METTAVOLUTION" MUSIC VIDEO

"With a relentless and thought-out counterpoint of rhythm and melody that renders percussion (and vocals) unnecessary, Rodrigo and Gabriela's signature acoustic sound, grounded on heavy metal influences, is virtuoso rock 'n roll." – BILLBOARD

Acclaimed guitar virtuosos Rodrigo y Gabriela have been nominated for their album 'Mettavolution.' This marks the first time the duo has ever been nominated in their remarkable two-decade career – it's their fifth studio LP and first album in five years. The LP embraces the duo's passionate interest in Buddhism, the history of human evolution, and the liberation of the potential we have as a species, all expressed through the medium of two acoustic guitars. Conceived and composed in their studio in Ixtapa on the Mexican Pacific Coast, 'Mettavolution' was produced by multiple GRAMMY-winning producer Dave Sardy (Oasis, LCD Soundsystem, Band of Horses).

ALTIN GÜN

BEST WORLD MUSIC ALBUM (GECE)

Photo credit: Sanja Marusic

WATCH: "SÜPÜRGESI YONCADAN" LIVE ON KEXP

"Altin Gün's groovy globalism is infectious." – NPR

Psychedelic Turkish folk rock group Altin Gün have been nominated for their sophomore album. The nomination puts an exclamation point on an already exciting year for the Amsterdam-based group, for whom 2019 saw a tour supporting Tame Impala, festival slots at Outside Lands, Pickathon, Desert Daze and more, as well as sell-out performances in Brooklyn, Seattle, Philadelphia and more. Self described as "a folk band who play traditional standards," the six-piece reinterprets lesser-known Anatolian rock and folk songs.