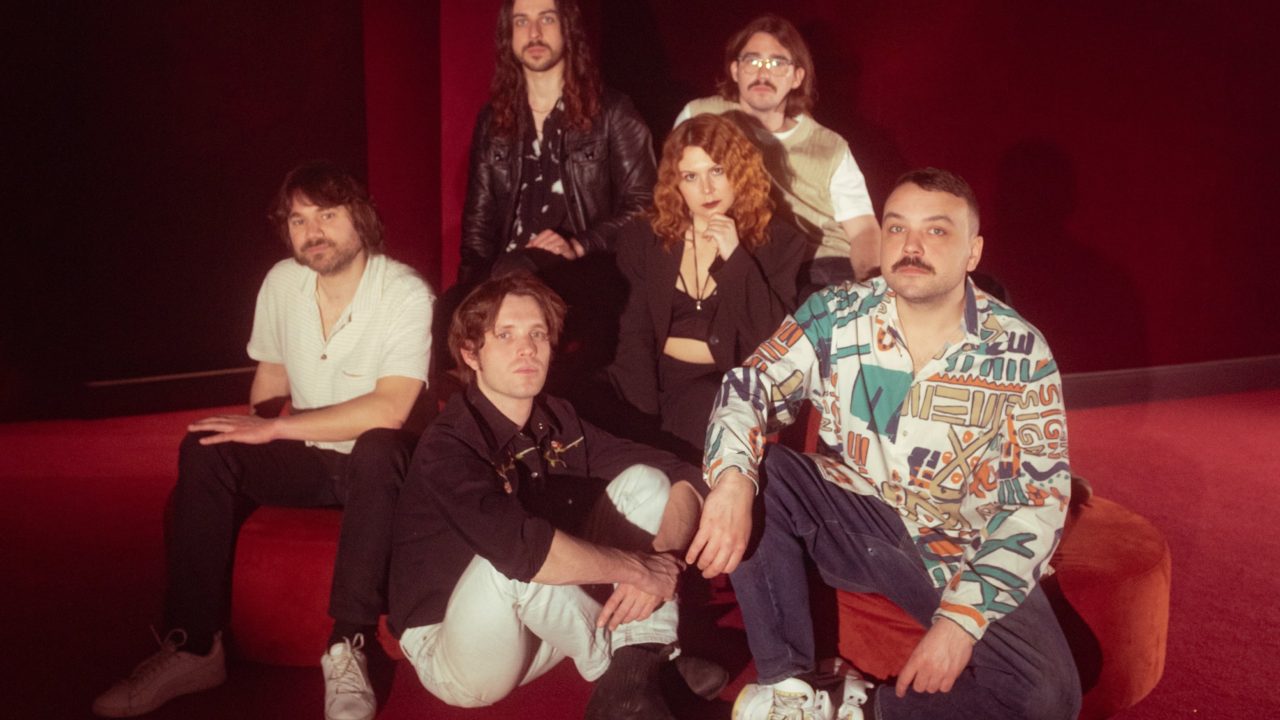 Altin Gün Share Remixes Of "Kalk Gidelim" & "Su Siziyor"
GRAMMY® Award-nominated Turkish psych-folk innovators Altın Gün have shared new remixes of two highlights from this year's sublime new album Aşk (out now via ATO Records). "Kalk Gidelim" (remixed by the band's percussionist Chris Bruining) is a cumbia-driven remix, inspired by Argentina's cumbia villera movement, while "Su Sızıyor" (remixed by Bruining in tandem with Altin Gün bassistJasper Verhulst) is a digidub-style remix with lots of King Tubby-inspired reverbs and phasers. Not only are the remixes inspiring in their own right, but they're a prime showcase of the band's tendency towards constantly-shifting sonic reinvention.
The remixes arrive just ahead of the band's biggest North American tour to date, which begins tomorrow and culminates in a performance at Brooklyn Steel on July 31. The band will then return Stateside once again in the fall, for a routing that includes a coveted slot at the now-legendary Levitation Festival in Austin, TX. See below for the full list of tour dates.
HEAR THE "KALK GIDELIM" & "SU SIZIYOR" REMIXES
Altin Gün recently contributed several new songs to the new Star Wars: Jedi Survivor Original Video Game Soundtrack, portrayed in-game as a character called "Altin Lazer Blaster." The game is now available, and the soundtrack is out now on Walt Disney Records.
Boasting a 15% sales increase on their 2021 album Yol, Aşk notched several career-high Billboard chart positions in its first week, including #4 on the Heatseekers chart, #15 at Independent Albums, and #112 at Top Album Sales. The album also hit #1 on the World Music chart at U.S. college radio.
The album has continued to garner significant international praise since its release. MOJO was one of the first to weigh in with a four-star review in their new issue. Exclaim! said that Aşk "captures a band more comfortable roasting in the sweaty, late-night heat of their notoriously fiery concerts, and is imbued with that invigorating immediacy," while PopMatters praised the band for the way their music "plays up the psychedelic aspects of the Anatolian scene with ecstatic relish." In their Album Of The Day review, Bandcamp Dailyenthused that "On A​ş​k, the arrangements are slicker than ever, their vocals are more varied than their forebears, and both the saz and guitar playing are as spirited as anything in Anatolian rock's history. They're not just carrying the torch, they're leading the way."
LISTEN TO "SU SIZIYOR"
LISTEN TO "RAKIYA SU KATAMAM"
WATCH OFFICIAL MUSIC VIDEO
LISTEN TO "GÜZELLIĞIN ON PARA ETMEZ"
Rooted in antiquity yet blazing with contemporary relevance and vitality, Aşk includes such recently released tracks as the pulse-pounding "Rakıya Su Katamam" and the deeply atmospheric "Güzelligin On Para Etmez," both of which are available now at all DSPs and streaming services.
An exuberant return to the 70s Anatolian folk-rock sound that characterized Altın Gün's landmark first two albums, Aşk sees Altın Gün veering away from the electronic, synth-drenched sound of their critically acclaimed 2021 albums, Âlem and Yol, to capture all the infectious power and urgency of the Amsterdam-based band's famously propulsive live performances. Recorded using vintage equipment and techniques, the album's ten groundbreaking tracks all represent visionary new readings of traditional Turkish folk tunes, revealing how these ancient songs remain eternally resonant and ripe for reinterpretation.
Aşk also includes Altın Gün's dazzling reinvention of "Leylim Ley," a classic song of lost love and exile available now at all DSPs and streaming services. Recently named as "Today's Top Tune" by the influential KCRW, "Lelim Ley" features music composed by renowned Turkish musician, author, poet, and politician Zülfü Livaneli and lyrics written by the late Turkish novelist, short-story writer, poet, and journalist Sabahattin Ali (1907–1948). Taken from Ali's 1937 short story, "Ses," "Lelim Ley" was joined by music composed by Livaneli in 1975 and has since been embraced as one of the most well-known and beloved songs among Turkish people everywhere.
"These songs have been covered so many times, always," says vocalist/keyboardist Merve Dasdemir.
"But not really in psychedelic pop versions," adds bassist Jasper Verhulst. "It's definitely connecting more with a live sound – almost like a live album. We, as a band, just going into a rehearsal space together and creating music together instead of demoing at home."
LISTEN TO "LEYLIM LEY"
Renowned for their dizzyingly hypnotic live performances, Altın Gün will embark on a wide ranging EU/UK headline run in March 2023, with their biggest North American headline tour to date – including headline shows and appearances at such upcoming festivals as Montreal, QC's Osheaga Festival (August 4) – getting underway July 12 at Pittsburgh, PA's Thunderbird and then traveling through early August. Complete details and ticket information is available now HERE.
ALTIN GÜN
NORTH AMERICAN TOUR 2023
JULY
12 –Thunderbird – Pittsburgh, PA
13  – Beachland Ballroom – Cleveland, OH
14 – Magic Stick – Detroit, MI
15 – Thalia Hall – Chicago, IL
17 – Turner Hall – Milwaukee, WI
18 – Varsity Theatre – Minneapolis, MN
19 – Wooly's – Des Moines, IA
21 – The Vogue – Indianapolis, IN
24 – Basement East – Nashville, TN
25 – Terminal West – Atlanta, GA
27 – Haw River Ballroom – Saxapahaw, NC
28 – The Howard – Washington, DC
29 – Union Transfer – Philadelphia, PA
31 –  Brooklyn Steel – Brooklyn, NY
AUGUST
2 – Toronto, ON – Danforth Music Hall
3 – Ottawa, ON – The Bronson Center
4 – Montreal, QC – Osheaga Festival *
5 – Boston, MA – Royale
OCTOBER
26 – Suwannee Hulaween – Live Oak, FL *
27 – Toulouse Theatre – New Orleans, LA #
29 – Levitation Festival – Austin, TX *
30 – Ferris Wheelers Backyard and BBQ – Dallas, TX
NOVEMBER
4 – Hipnosis Festival – Mexico City, MX  *
8 – The Music Box – San Diego, CA
9 – The Belasco – Los Angeles, CA
10 – Felton Music Hall – Felton, CA
11 – The UC Theater – Berkeley, CA
14 – The Neptune Theatre – Seattle, WA
15 – The Commodore Ballroom –  Vancouver, BC
17 – McMenamins Crystal Ballroom – Portland, OR
* Festival Appearance
# # #
Hailing from Amsterdam but coming from various backgrounds (Turkish, Indonesian, Dutch), Altın Gün have captured the world's imagination with their indelible fusion of psychedelic rock, deep funk, synthpop, cosmic reggae, and more with the rich and incredibly diverse traditions of Anatolian and Turkish folk music. The band captured the world's attention with their 2018 debut, On, and quickly earned a prestigious GRAMMY® Award nomination for "Best World Album" with their 2019 sophomore LP, Gece.
Altın Gün has spent much of this past year lighting up stages around the world, including sold out headline tours in North America, Europe, and the UK, along with show-stopping sets at such top international festivals as Indio, CA's Coachella Valley Music and Arts Festival, the Netherlands' Best Kept Secret, Barcelona, Spain's Primavera Sound, and Reykjavik, Iceland's Iceland Airwaves to name but a few.
Altın Gün is: Merve Dasdemir (vocals and keyboards), Erdinc Ecevit (vocals and keyboards), Thijs Elzinga (guitar), Jasper Verhulst (bass), Daniel Smienk (drums), Chris Bruining (percussion).
# # #
ALTIN GÜN
AŞK
(ATO Records)
TRACKLIST
1. Badi Sabah Olmadan
2. Su Sızıyor
3. Dere Geliyor
4. Leylim Ley
5. Çıt Çıt Çedene
6. Rakıya Su Katamam
7. Doktor Civanım
8. Canım Oy
9. Kalk Gidelim
10. Güzelliğin On Para Etmez
# # #
CONNECT WITH ALTIN GÜN