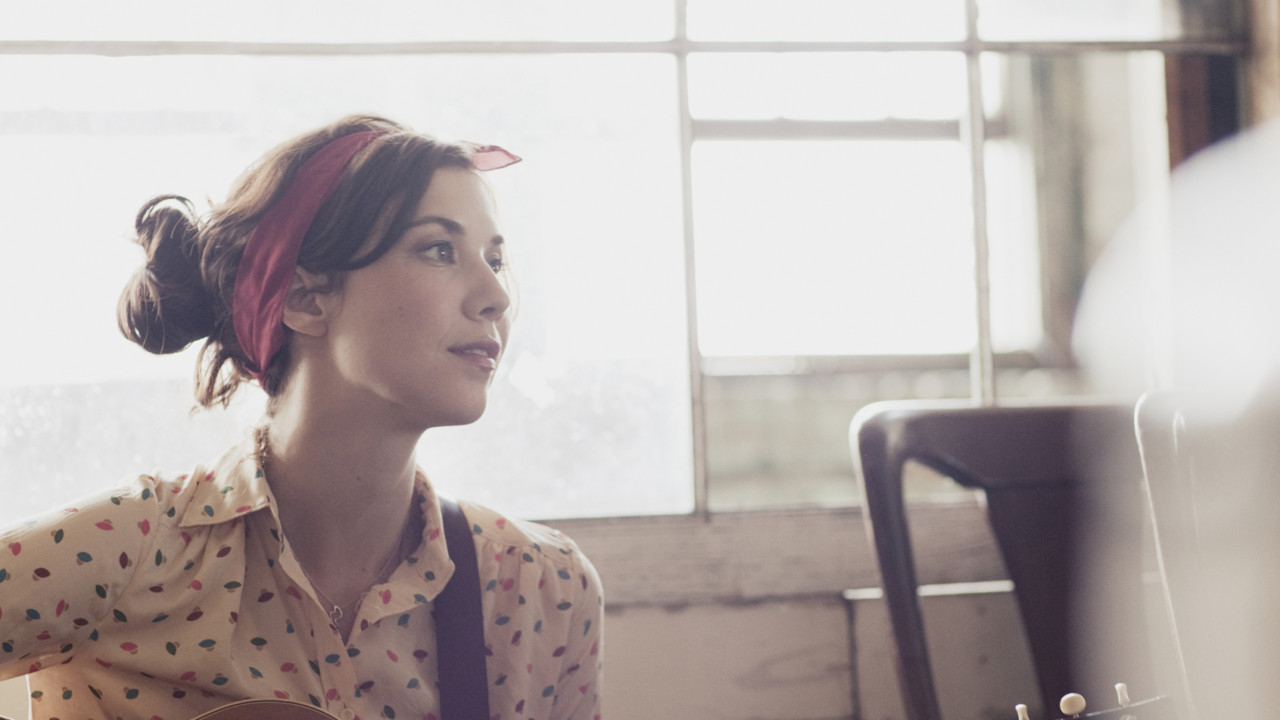 Lisa Hannigan
In 2015, Lisa Hannigan made her film debut, providing the voice for a Selkie – that is to say, a mermaid – in the Oscar-nominated Irish animation Song of the Sea. Anyone who knows her music will recognize this as an inspired bit of casting. The sea recurs constantly as an image in her work, a great unknowable that can drown us or can bring us together, as a songwriter, she has the mermaid-like ability to go to places where, strictly speaking, we shouldn't be able to go.
At Swim is her third album, and arguably her most bewitching collection yet.
From the very start – autumn-tinged "Fall", co-written with producer and Renaissance man Joe Henry – it crackles with an eerie Hallowe'en magic. The song begins with an acoustic guitar and a whispered invitation: "Hop the fences, steal the cars/Run on fumes and from the law/And burn for us right through the fall…" As the voices and the guitars chime in, we're up and running, off on an outlaw journey. With every song that follows we travel deeper into a darkly magical space where the boundaries between love and death, past and present, grief and happiness, are dissolved. Hannigan's never been a singer who's afraid of the dark, but here she handles her themes with an empathy and directness that can only come with experience. So it's a surprise to learn that the record didn't come easily, at least not at first.
"I toured with Passenger for nearly two years," Lisa says. "And then I came back and sat down to write the new one. But this time I found it really hard."
One reason was that, because of a new relationship, she was dividing her time between Dublin and London. "London's such an amazing city in many ways, but all of the clichés you hear about it are true," she says. "It's very big and very alienating. I was away from home, away from my usual anchors and points of reference, and I felt a bit adrift and lost." Used to having musician friends to bounce ideas off and test new songs on, she now found herself writing on her own – or not writing. Landlocked? "You could say that," she laughs. "And it's kind of a vicious circle. The longer you're not writing, the larger it looms."
The breakthrough came when she got an email out of the blue from Aaron Dessner, guitarist with indie superstars The National and producer of the bestselling Dark Is the Night. "He'd seen a clip of me singing and he wrote to say, 'Hey, if you ever want to do something together…' And of course I wrote back straight away: 'Yes!' So he started sending me these pieces of music, and I'd put them on and record myself humming along into my phone, and suddenly all of these songs started appearing."
"Lo" was the first song they wrote together – a hypnotic ode to insomnia that starts in a state of small-hours dread but arrives at a state close to exaltation. Listening to it, it's as if you can hear Hannigan's heart lift as she works out how to confront the darkness that's been oppressing her, take hold of it and transform it into something else. Working with Dessner, rediscovering the collaborative spirit she'd missed in Dublin enabled Lisa to see her life in London in a different light. So while At Swim is in part about homesickness and isolation, it's also – profoundly and very movingly – about love.
"I was adrift and caught in the ropes/Under a pinhole sky, blowing off course…" begins "Ora", a gorgeous aquatic ballad worthy of her mermaid alter ego in "Song of the Sea". "Aaron sent me the music, just the piano," Lisa says. "And the way he played it immediately conjured up in my mind the heave and the haul of oars on water. Next thing the words and the melody had just arrived in my head." From that sense of lostness and uncertainty comes a new hope, and a fragile, ravishing dream of love. "You'll be the boat and/I'll be the sea," it closes. "Won't you come with me?" Who could resist?
"A Prayer for the Dying" was inspired by the death of a friend's parent after a long illness. "They'd had a very long and happy marriage and the loss was devastating," Lisa recalls. "I wanted to try and express that grief but also to pay tribute to their marriage." Hence the song's passage from Patsy Cline-esque lament to its starlit, shimmering chorus: "Your heart, my heart" – four words that here somehow convey all of the power of a whole anthology of love poetry.
Dessner and Hannigan finally met in Denmark, some months after they'd begun emailing, and began to map out the album. The following September, she travelled to Hudson, New York, where Dessner lives. "It's upstate New York, proper rural, with sheep and chickens on the side of the road." It's also home to Future Past Studio, a huge converted church where, with Dessner on guitar, Logan Coale on bass, and Ross Turner (of I Am the Cosmos) on drums – most of the album was recorded in just 7 days.
Then, in the weeks that followed, Dessner continued to work on the music in his home studio. "He didn't want it to sound too pretty," Lisa says. "He wanted it to have a texture rather than have big arcing melodies." Hence the strange sounds that lurk beneath the surface of the album, and strokes of idiosyncratic genius like the trombone chorale that plays the funeral horns at the end of "We, the Drowned", and the strings – brilliantly arranged by German composer, conductor and erstwhile Gorillaz collaborator André de Ridder – that lean slightly askew throughout.
"I think Aaron would have liked a few more guitar solos," she laughs. "But whenever he'd suggest it I'd say, 'Hmm, maybe we should have a violin instead.'" (The album does feature Lisa's first-ever banjo solo, however – on "Undertow", an addictive, propulsive number about sex and desire.)
You can order you copy of At Swim here.