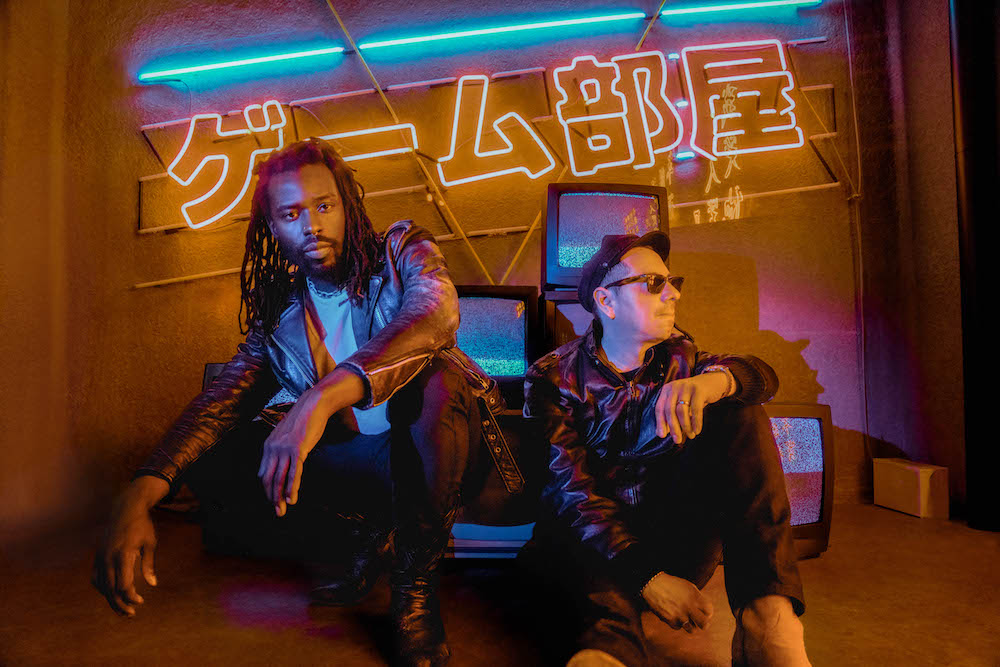 Black Pumas
When Black Pumas made their self-titled debut in 2019, the Austin-bred duo set off a reaction almost as combustible and rapturous as their music itself. Along with earning a career total of seven Grammy Award nominations (including Album Of The Year) and winning praise from leading outlets like Pitchfork and Rolling Stone, singer/songwriter Eric Burton and guitarist/producer Adrian Quesada achieved massive success as a live act, touring large theaters all over Europe and North and South America and delivering a transcendent show Burton aptly refers to as "electric church." As they set to work on their highly awaited sophomore album, the band broadened their palette to include a dazzling expanse of musical forms: heavenly hybrids of soul and symphonic pop, mind-bending excursions into jazz-funk and psychedelia, starry-eyed love songs that feel dropped down from the cosmos. Wilder and weirder and more extravagantly composed than its predecessor, Chronicles of a Diamond arrives as the fullest expression yet of Black Pumas' frenetic creativity and limitless vision.
 In creating the follow-up to one of the most celebrated debuts in recent years, Black Pumas made a point of tuning out any sense of anticipation from the outside world. "I knew the first record was good when we finished it, but I had no idea people would respond like they did," says Quesada. "This time around there was a lot of pressure and expectation that we hadn't felt before, which was overwhelming at times, but we did our best to tune that out and focus on trusting ourselves like we always have." As a result, Chronicles of a Diamond wholly echoes an essential intention behind its creation. "More than anything I wanted to make something we'd be thrilled to play live 200 days a year," says Burton. "I wanted to be able to laugh, cry, bob my head, do the thing: it was all very much a selfish endeavor."
 Like Black Pumas, Chronicles of a Diamond once again harnesses the lightning-in-a-bottle chemistry between Burton (a self-taught musician who got his start busking on beaches and subway platforms in his native Los Angeles) and Quesada (a Grammy Award winner whose background includes playing in Latin-funk orchestra Grupo Fantasma and accompanying legendary artists like Prince). Produced by Quesada and primarily mixed by six-time Grammy Award winner Shawn Everett (Alabama Shakes, The War on Drugs), the ten-song LP finds Burton taking the role of co-producer and infusing his free-spirited musicality into every track. Although Black Pumas made much of the album at Quesada's own Electric Deluxe Recorders in Austin, Chronicles of a Diamond also came to life in such far-flung cities as Amsterdam and Mexico City and San Francisco, with their longtime band joining in to shape the album's explosive yet artfully crafted sound. "On the first record my goal was to make something that felt modern but without using any loops or programming or editing of any kind—everything was completely live," says Quesada. "With this record, we threw out all those rules and created something that's very much a studio album but also captures that crazy energy that happens in the live show."
The first piece recorded for Chronicles of a Diamond, opening track "More Than a Love Song" instantly reveals the heightened creative freedom Black Pumas brought to the album-making process. After building a potent momentum with its brisk beats, effervescent strings, and brightly buzzing guitar riffs, the long-beloved live staple shapeshifts into a moment of pure unbridled exultation powered by radiant gospel harmonies and a spellbinding bit of spoken word from Burton. "My entire approach to singing was definitely informed by our live show," Burton points out. "Whenever we take the stage it's the classic us-against-the-world kind of thing, and in reaching for my greatest strengths I ended up discovering new ones. With this album I felt very free in my vocal performance, which has a lot to do with Adrian hearing something in my voice and helping me to explore that."
Next, on "Ice Cream (Pay Phone)," Black Pumas present a fuzzed-out and falsetto-laced love song Burton wrote years ago, then further developed with bassist/keyboardist Josh Blue during an impromptu session at two in the morning. "When left alone I tend to work in an unorthodox way, where the colors don't go together quite like you'd expect them to," says Burton, whose lyrics playfully interpolate a classic jump-rope rhyme. "With that song the big distorted guitar doesn't seem like it should work with how I'm singing, but it sounded so soulful in a way that felt just right to me." Completed by Quesada at his studio, "Ice Cream (Pay Phone)" ultimately induces a trance-like euphoria thanks to its hypnotic rhythms and swirling guitar lines. "A lot of Eric's ideas lately have had a meditative quality, where all these repetitive motifs are happening in the background while the song changes around them," says Quesada. "As soon as I heard 'Ice Cream' I loved it, because it was so radically different from anything we'd done before, or anything I would've come up with on my own."
 On songs like "Mrs. Postman," Black Pumas reaffirm their status as a vital force in moving the genre of soul music forward. A piano-driven serenade spotlighting the phenomenal versatility of keyboardist JaRon Marshall, the timeless yet exquisitely left-of-center track took shape from an off-the-cuff collaboration between Marshall and Quesada. "JaRon and I used to get together on afternoons and make hip-hop beats for fun, and 'Mrs. Postman' ended up coming out of one of those sessions," says Quesada, noting that the song marks the first time Black Pumas have co-written with another musician. In adding his contribution to "Mrs. Postman," Burton imbued his lyrics with equal parts idiosyncratic poetry and humanistic sensitivity. "I was partly thinking about how much joy the postmen can bring to people's lives, but I also wanted to encourage the people in my family and anyone else working a blue-collar job," he says. "I know from firsthand experience how arduous it can be, and I wanted to send a message saying, 'I still see all the beauty and light in you.'"
As Chronicles of a Diamond unfolds, Black Pumas endlessly follow their outsize imagination into unexpected directions. To that end, the album's sprawling title track emerged after Quesada unearthed a full-band recording they'd cut live at a San Francisco studio years earlier, then sampled and looped the most dynamic elements of that performance. Meanwhile, Burton dreamed up the lyrics to "Chronicles of a Diamond" by tapping into his deep affinity for Curtis Mayfield and penning a song from the perspective of a diamond in the back of a Cadillac. On "Angel," the band shares a mesmerizing slow-burner graced with majestic guitar work, moody mellotron melodies, and soul-baring lyrics Burton composed in a laundromat over a decade ago. "I remember feeling overwhelmed by everything going on with my family and the neighborhood I was living in, and hoping to find sanctuary in the actual voice of an angel," he says. "There was a laundromat nearby that served as a quiet place for me, and that song started to come to me as I stared into a still-life painting of flowers." And on "Hello," Chronicles of a Diamond takes on an otherworldly quality, casting a powerful spell with the track's sublime synth tones and celestial harmonies (courtesy of Black Pumas background vocalists Lauren Cervantes and Angela Miller). "Eric brought in that odd synth loop, and I loved the idea of building a song around something so out of the ordinary for us," says Quesada. "It was probably the most challenging song for me to finish, but mostly because I was completely obsessed with it and needed to get it right."
On "Rock and Roll," Chronicles of a Diamond closes out with a gloriously strange epic that Black Pumas first began developing during sound checks and mainly recorded at a spur-of-the-moment session at an Amsterdam studio. "We were on tour and I was feeling excited about life and wanted to capture that, and somehow convinced everyone that going into the studio was the most fun thing we could do with our time in Amsterdam," says Burton. One of several tracks featuring additional production from John Congleton (a Grammy Award winner known for his work with St. Vincent and Angel Olsen), "Rock and Roll" fully channels the raw urgency of that session while encompassing so many eccentric details, including a deluge of delightfully warped vocal effects. "Eric was in my studio and we started running his vocals through my Space Echo—a tape-delay unit from the '70s—then manipulated that into what you hear at the end of the song," says Quesada. "At one point the track was almost ten-minutes-long; we were just having so much fun playing around and recording the craziest sounds we could come up with."
For Quesada, one of the most memorable experiences in the making of Chronicles of a Diamond took place on a solo trip to Mexico City in the final stages of the album's production. "I was finishing up a lot of the sonic manipulation of the tracks and needed to be completely immersed, which ended up feeling like a very full-circle moment," he recalls. "That same summer when I first started working with Eric, it was in Mexico City that I got inspired by the whole jungle-cats motif—which is how we came up with the name Black Pumas." First introduced by a mutual friend back in 2017, after Quesada began seeking a potential collaborator who "liked Neil Young as much as Sam Cooke," the two musicians quickly felt a near-telepathic musical connection. "We never had to discuss much or plot out what we wanted to do with the project—it all came together so easily and naturally," says Quesada. "The way Eric creates is so in-the-moment and fits perfectly with how my brain works, and it makes everything immediately come to life in a way that's so exciting and inspiring."
When it came time to create Chronicles of a Diamond, Black Pumas leaned into that intuitive understanding while pushing their artistry to an entirely new level. "Making this album was much different from playing acoustic guitar by myself and writing from a place of self-reflection like I have in the past," says Burton. "It felt like a metamorphosis in a way that was both beautiful and difficult, but in the end feels more true to who we are as collaborators." In sharing the album with the world, the band hopes to impart a similarly transformative sense of joy and discovery. "I hope when people hear the record they feel the same excitement that we felt while we were making it," says Burton. "And I hope they understand that being excited about life isn't synonymous with having everything you've always wanted—it's something we can all choose today, and every single day moving forward."
–
One of the most electrifying new acts to emerge in recent years, Black Pumas first brought their unbridled breed of psychedelic soul to their 2019 self-titled debut—a widely acclaimed LP whose deluxe edition landed a Grammy Award nomination for Album of the Year. With seven Grammy nominations now under their belt, the Austin-bred duo have made a major cultural impact with smash singles like "Colors": a gold-certified anthem that's amassed over 450 million streams, in addition to hitting No. 1 at AAA Radio and earning Grammy nominations for Record of the Year and Best American Roots Performance. Known for their exhilarating live show (as shown on multiple sold-out tours across North and South America and Europe), singer/songwriter Eric Burton and guitarist/producer Adrian Quesada first discovered their once-in-a-lifetime chemistry back in 2017, after Quesada began searching for a potential collaborator and connected with Burton through a mutual friend. Thanks to the potent collision of their distinct sensibilities—Burton is a self-taught musician who got his start busking in his native Los Angeles, Quesada is a Grammy winner whose background includes playing in Latin-funk orchestra Grupo Fantasma—Black Pumas soon set off on a meteoric rise that's included performing at the Grammys and at President Biden's inauguration, making high-profile appearances on shows like "The Tonight Show Starring Jimmy Fallon" and "Jimmy Kimmel Live!", winning Emerging Act of the Year from the Americana Music Association, and selling over a million album equivalents worldwide. Produced by Quesada and co-produced by Burton, their massively anticipated sophomore album Chronicles of a Diamond finds Black Pumas bringing their singular vision to life with more power, passion, and daring originality than ever before.