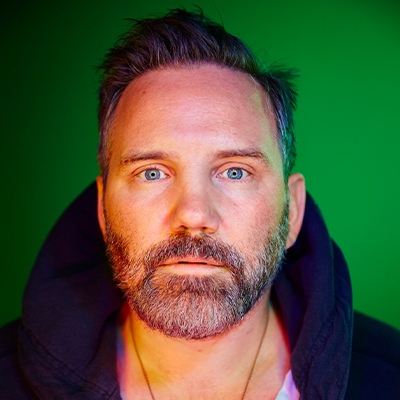 Thad Cockrell
Soon after the release of his most recent album—2009's To Be Loved—singer/songwriter Thad Cockrell decided to abandon his music career altogether. Burnt-out and disheartened, Cockrell left Nashville for his native North Carolina in search of work "doing anything other than music," but quickly found himself flooded with song ideas—an unwelcome turn of events that nonetheless led to the founding of his widely beloved band LEAGUES. While finishing up the band's 2016 album Alone Together, he again felt compelled to make new music, this time of a far more personal and sometimes painfully vulnerable nature. Buoyed by the support of Brittany Howard, whom he first met over a 4 a.m. pitcher of homemade margaritas, Cockrell then set to work on his first solo effort in over a decade: an album that exposes his deepest insecurities and weaknesses, all for the sake of creating a transcendent connection with the audience.
Produced mainly by Tony Berg (an industry veteran who's worked with everyone from Phoebe Bridgers to the Replacements), Cockrell's ATO Records debut If in Case You Feel the Same taps into the tremendous depth of expression he's brought to co-writing for such artists as Joy Williams (on her GRAMMY-nominated 2019 album Front Porch), Devon Gilfillian, Joseph and Mathew Caws of Nada Surf. With its subtle suggestion of emotional risk and possible reward, the album's title came to Cockrell as a sudden revelation while walking through Nashville's Shelby Bottoms in the middle of the winter. "I was looking for a concept that was big enough to house all these different songs and ideas, and when that title struck me I got chills," he says. "I love the inclusivity of it: how it holds space for oneself, but also holds space for others."
Throughout If in Case You Feel the Same, Cockrell reveals his rare ability to create songs that instantly hit on a visceral level, yet subtly invite intense contemplation. Co-written with Z Berg (formerly of The Like), the album's heavy-hearted but triumphant lead single "Swingin'" draws inspiration from David Bowie and his uncanny knack for mining massive energy from 12-string acoustic guitar parts—an element that shines especially bright at the song's wildly defiant chorus (key lyric: "If I'm gonna go down/I wanna go down swingin'"). Another galvanizing moment, graced with Brittany Howard's soul-stirring guest vocals, "Higher" slips into gospel territory as Cockrell reflects on several significant losses (including a brutal breakup and the death of his grandmother). "I wrote 'Higher' in one of the most difficult times in my life, and I started thinking about how you never hear songs about showing gratitude for difficult things," says Cockrell. "It became a song about being grateful for the defeat, the heartbreak, the sadness. It could be directed to a higher power, but to me it's more about lifting each other up on a human-to-human level."
Elsewhere on the album Cockrell drifts into more soulful terrain, adorning the slow-burning "Love Moves In" with tender vocal work that pays homage to R&B chanteuse Sade ("That's me sending a love letter to her, saying thank you for completely capturing a kid's imagination," he notes). And for the centerpiece to If in Case You Feel the Same, Cockrell presents a particularly potent track called "Slow and Steady," a gloriously unhinged meditation on letting go and holding on. With its simple yet devastating lyrical refrain ("I'll get over you in time/I'm not ready/I'll get over you in time/Slow and steady"), the song was sparked from a riff Cockrell stumbled upon while messing around with a stack of guitar pedals at the Nashville studio of producer/engineer Vance Powell, then took on a life of its own as he teamed up with a longtime friend, Roman Candle's Logan Matheny.
"I called Logan up and told him, 'I need to record this song with you,'" says Cockrell. "With that song I just really needed to feel like I was building a fort with my buddy in the backyard." Equal parts reflection and pure catharsis, "Slow and Steady" essentially makes an irrefutable case for honoring your emotional truth no matter how great the cost, the song's impact undeniably heightened by its kinetic intensity. "When I went and played that one for Tony Berg, I asked what we could do to make it better and he said to me: 'Nothing—it's done,'" says Cockrell. "So what you hear on the album is just two friends playing together with all our hearts. I don't know if I've ever recorded anything more powerful."
For Cockrell, one of his greatest hopes for If in Case You Feel the Same: the potential for creating an unlikely unity among those from entirely different walks of life. "One of the things I really wanted to do with this album was make a record with people who didn't look, think, or believe like me," says Cockrell. "I had this idea that if we created something really special, maybe it would have some kind of ripple effect—so that when we play these songs live, the people in the audience don't all look, think, and believe the same too. To me unity comes from diversity, not from sameness, and that's what makes things really powerful."