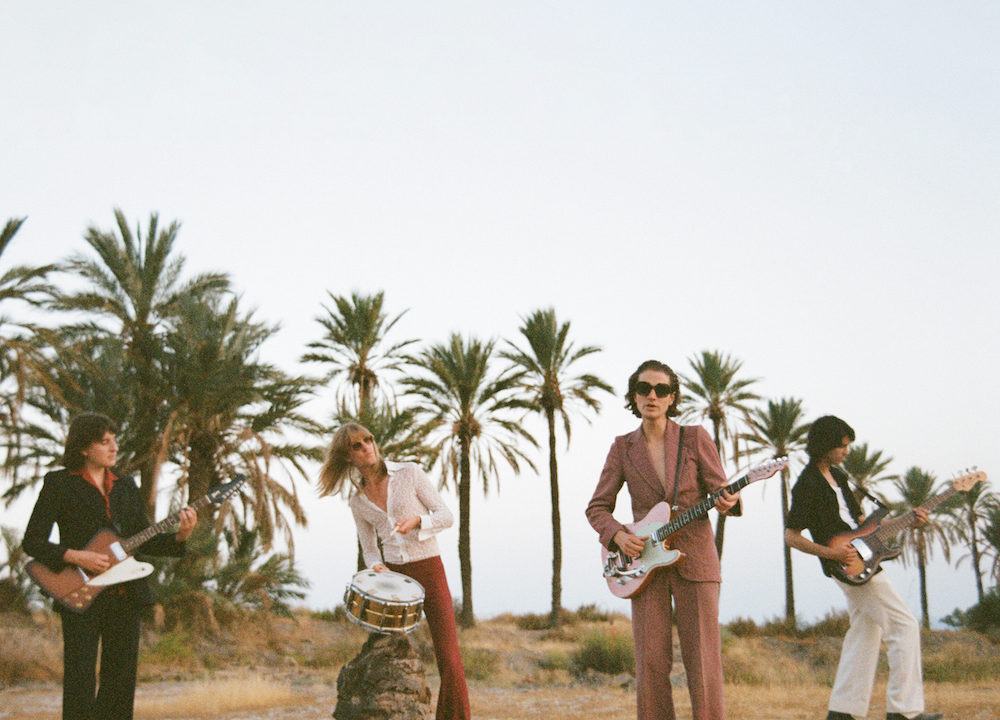 Temples
Deep in the making of their new album Exotico, British psych-rockers Temples learned of the early-modern phenomenon of phantom islands: bodies of land included on maps for a period of time but later found to be nonexistent, often the consequence of oceanic mirage or deliberate mythmaking. Produced by Sean Ono Lennon, the Kettering-bred band's fourth full-length takes place in a similarly mystical setting, an impossibly utopic island dreamed up by singer/guitarist James Bagshaw, bassist Tom Walmsley, keyboardist/guitarist Adam Smith, and drummer Rens Ottink. With its resplendent collage of psychedelia and krautrock and time-bending dream-pop, Exotico brings that world to life in crystalline detail, all while exploring an entire spectrum of existential themes: impermanence, mortality, our connection with nature and the wild immensity of the mind. Equal parts cerebral and celestial, the result is a truly immersive body of work, fully affirming Temples as one of today's most forward-thinking and endlessly inventive rock bands.
Mixed by Dave Fridmann (Beach House, Spoon, The Flaming Lips) and mainly recorded at Lennon's studio in upstate New York, Exotico continues the collaboration begun on Temples' Lennon-produced 2020 single "Paraphernalia." While touring behind their 2019 album Hot Motion, Temples crossed paths with Lennon at the Desert Daze festival in Southern California and instantly felt a profound creative connection with the songwriter/musician/producer. "Everything that Sean does, he puts his heart into completely," says Walmsley. "Because of that, he ended up treating our songs with as much care, dedication, and passion as if they were his own."
Although Temples created portions of Exotico at their home studio back in England, their 12 days of sessions at Lennon's studio marked a significant departure from the self-contained approach they'd adhered to since their debut album Sun Structures (a 2014 release The Quietus likened to a series of "woozy daydreams that will embed themselves further in with each listen"). To that end, the band broadened their musical palette to include a vast expanse of instrumentation—a fitting choice for a body of work inspired by everything from classical symphonies to Italian horror soundtracks to Brill Building-era girl groups. "On previous albums the way we recorded was all very DIY, so it was a fantastic creative experience to work with someone like Sean," says Bagshaw. "If we had an idea but weren't necessarily sure how to get that exact sound, we could communicate what we were looking for and he'd have everything all set up before we even finished the sentence."
A perfect embodiment of Exotico's kaleidoscopic soundscape, the album's title track spins a vivid portrait of Temples' halcyon island, a postcard-perfect atmosphere conducive to both tranquil contemplation and unabashed pleasure-seeking. "The idea of the record is that we're transporting people to a place they've never experienced, a beautiful destination that's meant for everybody," says Bagshaw. On the album-opening "Liquid Air," Temples provide an immediate portal to that oddly enchanted Shangri-la, blurring out reality with the track's spacey textures and hypnotic rhythms (an element Bagshaw attributes to Ottink's "sludgy and sleazy yet beautifully jazzy" drumming). "In the past we've toploaded our albums with the big singles, but for this one it felt right to open with a six-minute song that really takes its time," says Smith. "I think it sets everyone up for something that's much more of a listening experience than a collection of songs."
After "Liquid Air," Exotico launches into the unbound urgency of lead single "Gamma Rays," a lush and lustrous track ostensibly steeped in the pure euphoria of holiday. "In the verse lyrics we're talking about the grandness of nature, and then the chorus flips that on its head," says Bagshaw. "It sounds like a rejoiceful summer tune about soaking up the rays, but the truth is that soaking up gamma rays will kill you. So it's about that juxtaposition of beauty and danger that we often find in nature." Building a brilliant tension between its effervescent melody and ominously fuzzed-out bass, "Gamma Rays" also exemplifies Temples' unorthodox approach to song construction. "We could've easily layered that song up with four guitars playing the same thing, but instead the guitar is more of an atmospheric element," says Bagshaw. "We feel that you don't always have to chugging away at the guitar; you can leave space and let the other instruments take the lead."
One of Exotico's most explosive moments, "Cicada" unfolds as a frenetic meditation on rebirth and renewal. "That song came from being inspired by the sound of cicadas, and the idea of emerging from the underground after a long time of being suppressed," says Walmsley. "We were attempting to turn that sound into a sort of dance rhythm, and once we started working with Sean we really built up the production by digging into his cupboard of keyboards and synths." Made with the help of a Marvin—a copper instrument Bagshaw describes as "something out of a steampunk museum"—"Cicada" soon takes on a delirious intensity thanks in part to its furious drumming and dizzying strings. "You never really see cicadas but you can imagine them having a frantic life, and to me that song feels like a huge army of them whipped into a frenzy," says Bagshaw.
A potent shift in mood, Exotico next drifts into a dreamlike haze as Temples surrender to the sweet melancholy of nostalgia. Once again demonstrating the band's ingenious use of contrast, "Oval Stones" merges its pensive lyrics with sunshine-pop melodies and sugar-coated harmonies. "One of the vital parts of this record is this character we call The Templettes," says Bagshaw. "The engineers would set up some wonderful, old, almost lo-fidelity microphones, and we'd sing these very Ronettes-esque backing vocals together. It made sense to do those vocals as a group, even if one of us would be out of tune on a take and the whole thing would take a bit longer. It was all worth it for the texture, and for making the songs bigger whenever they needed to be."
Before closing out with "Movements Of Time"—one of several instrumental pieces threaded throughout the album—Exotico conjures the bittersweet ache of a glorious day coming to an end on the sublimely shimmering "Afterlife." "As we were putting tracklist together we envisioned a jet or spaceship arriving on the island and then some sort of journey across this imagined place," says Walmsley. "By the second half of the record we're moving into twilight, and 'Afterlife' is definitely one of the evening tracks." With its elegant collision of soulful grooves, futuristic synth, and spellbinding guitar tones, "Afterlife" leaves Exotico on a heavy-hearted yet undeniably hopeful note. "As much as we weren't interested in writing a pandemic album, we were all faced with some degree of isolation and separation during the time we were writing this record," says Walmsley. "Like everyone else, we were dealing with being apart from loved ones and wondering if a sense of normality would ever return. 'Afterlife' partly came from trying to find some sort of resolution in all that, which is why it felt important to make the music more uplifting."
For Temples, the act of creating Exotico fulfilled both their hyper-imaginative impulses and an understandable need for escape from the real world. "This record is essentially something we made for ourselves to find joy in at the time we were making it," says Bagshaw. "There are songs to dance to, songs to reflect with, and through that we ended up delving into every aspect of our musical vocabulary." Walmsley adds: "There are so many different influences across the songs, which goes back to having free rein in the studio and being as spontaneous as we could be." Because of that unmitigated freedom, Temples ultimately shook off any lingering inhibitions in the creative process. "We learned to see the magic in the mistakes, and in the unpredictability of an instrument or your own voice," says Bagshaw. "It taught us to be less concerned about what genre something might sit in, or even stop worrying about genre altogether. The genre should always just be Temples."