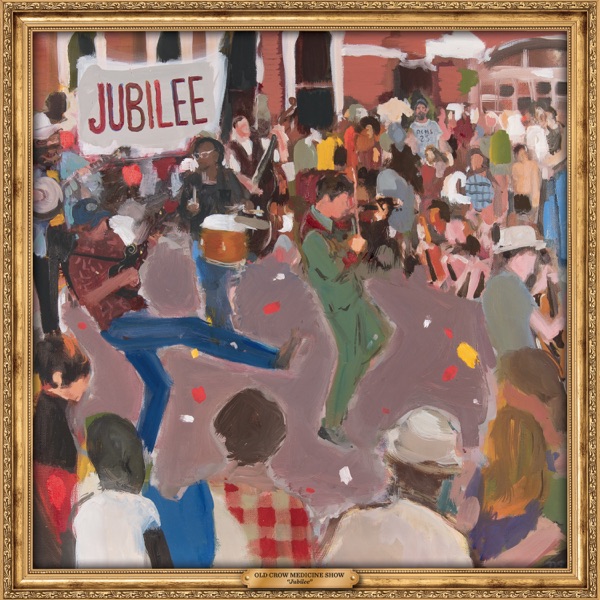 Old Crow Medicine Show Announces New Album 'Jubilee'
Today, Old Crow Medicine Show announces the August 25 release of their new album Jubilee via ATO Records. Arriving as the two-time GRAMMY award-winning band gears up to celebrate their  25th anniversary, Jubilee finds the group once again co-producing with Matt Ross-Spang (Drive-By Truckers, St. Paul & the Broken Bones) and recording at their own  Hartland Studios. The album features appearances from legendary soul singer Mavis Staples and singer/songwriter Sierra Ferrell. Along with the announcement, the band shares the debut single "Miles Away," a sweetly reflective track co-written by bandleader Ketch Secor and bluegrass virtuoso Molly Tuttle, with guest vocals from Old Crow Medicine Show co-founder Willie Watson.
About the debut single, Ketch Secor explains: "This is one of those rearview songs where objects in the mirror are closer than they appear. 25 years of making music on the road means you're always coming back to the same places as a different person; there's a reminder of your past self and the choices you made back when. Molly Tuttle and I wrote this one together and when it was through, I asked my Old Crow co-founder Willie Watson to make his first appearance on an Old Crow record in years. After all, this is a song about amends, of bygones being bygones, and of renewal."
"Miles Away" marks the first time Willie Watson has recorded with Old Crow Medicine Show in over 10 years. He will hit the road with the band this fall, performing as an opening act in addition to joining them on stage.
While songs like "Miles Away" embody a bittersweet gravity, much of Jubilee harnesses the unruly exuberance that Old Crow Medicine Show unfailingly channels into their live show. The new album finds the band doubling down on their commitment to creating roots music that bears an undeniable urgency, encompassing everything from jug-band tunes to Irish folk songs to exultant gospel jams. The result is a wildly expansive body of work showcasing the dazzling musicality and poetic yet powerfully trenchant storytelling that has made Old Crow Medicine Show one of the most potent and influential forces in American roots music for more than two decades.
The band's eighth studio album serves as somewhat of a companion piece to their critically acclaimed 2022 release Paint This Town, which hit #1 on the Americana Radio Albums Chart and debuted at the top of Billboard's Bluegrass Albums Chart. The group appeared on NPR's World Cafe and CBS Saturday Morning, and garnered acclaim from Associated Press,Consequence, SPIN, Rolling Stone and NPR Music, who raved, "If this is any indication of what Old Crow Medicine Show still has in store so many recordings in its career, we should count ourselves lucky."
Earlier this year, Old Crow Medicine Show released a powerful protest song called "Louder Than Guns," written in the aftermath of the devastating Covenant School shooting. A father of two and co-founder of The Episcopal School of Nashville, Ketch Secor was compelled to speak out in an effort to unite Nashville's music community in the fight for gun reform. He penned a compelling guest essay for The New York Times, spoke with Rolling Stone, CNN's The Assignment with Audie Cornish and The CBC, and made impassioned appearances on CNN Tonight, MSNBC's Morning Joe and KCRW's Left, Right & Center.
As Secor explains, Old Crow Medicine Show's boundless passion for imbuing a timely vitality into traditional music has played a major part in the band's longevity. "Being the type of songwriters and performers that we've always been, we tend toward the topical material and what's going on right now—the issues currently faced by our species, our country, our beloved Southlands. So as long as these things keep happening in our world, and as long as banjos are around to be plucked and fiddles are there for us to drag a bow across, you can bet we'll still be interested in making this kind of music. At this point it's just our second nature."
Jubilee Tracklist
Ballad of Jubilee Jones
Miles Away (ft. Willie Watson)
Keel Over and Die
Allegheny Lullaby
I Want It Now
Smoky Mountain Girl
Belle Meade Cockfight (ft. Sierra Ferrell)
Shit Kicked In
Daughter of the Highlands
Wolfman of the Ozarks
Nameless, TN
One Drop (ft. Mavis Staples)
Old Crow Medicine Show 2023 Tour Dates:
June 23 – Mount Solon, VA @ Red Wing Roots Festival
June 24 – Owensboro, KY @ ROMP Fest
July 6 – Jacksonville, OR @ Britt Music & Arts Festival ^
July 7 – Ridgefield, WA @ RV Inn Style Resorts Amphitheater +
July 8 – Auburn, WA @ White River Amphitheatre +
July 9 – Spokane, WA @ Martin Woldson Theater at The Fox ^
July 11 – Bonner, MT @ KettleHouse Amphitheater ^
July 12 – Bozeman, MT @ The ELM ^
July 13 – Park City, UT @ Deer Valley Summer Concert Series ^
July 14 – Nampa, ID @ Ford Idaho Center Amphitheater +
July 15 – Fort Collins, CO @ The Gardens at Spring Creek SOLD OUT
July 16 – Vail, CO @ Gerald R. Ford Amphitheater %
July 17 – Grand Junction, CO @ Amphitheater at Las Colonias Park %
July 19 – Tucson, AZ @ Fox Tucson Theatre %
July 20 – San Diego, CA @ Humphreys Concerts by the Bay %
July 21 – Irvine, CA @ FivePoint Amphitheater +
July 22 – Chandler, AZ @ Chandler Center for the Arts %
July 23 – Flagstaff, AZ @ Pepsi Amphitheater %
July 28 – Philadelphia, PA @ Lincoln Financial Field #
August 2 – Redmond, OR @ Deschutes County Fairgrounds
August 5 – Ninilchik, AK @ SalmonFest
August 12 – Edmonton, AB @ Edmonton Folk Festival (Gallagher Park)
August 23 – Deerfield, MA @ Tree House Brewing Company SOLD OUT
August 24 – Shelburne, VT @ Concerts on the Green SOLD OUT
August 25 – Bangor, ME @ Maine Savings Amphitheater +
August 26 – Gilford, NH @ Bank of New Hampshire Pavilion +
August 27 – Hammondsport, NY @ Point of the Bluff Vineyards
September 7 – Cleveland Heights, OH @ Evans Amphitheater – Cain Park
September 8 – Mount Vernon, KY @ Renfro Valley Entertainment Center
September 9 – Shipshewana, IN @ Blue Gate PAC
September 16 – Louisville, KY @ Bourbon & Beyond
September 22 – Camden, NJ @ XPoNential Music Festival
October 6 – Monterey, CA @ Rebels & Renegades Music Festival
December 30 – Nashville, TN @ Ryman Auditorium
December 31 – Nashville, TN @ Ryman Auditorium
^ with Willie Watson
+ with Hank Williams Jr.
% with Pillbox Patti
# with Luke Combs