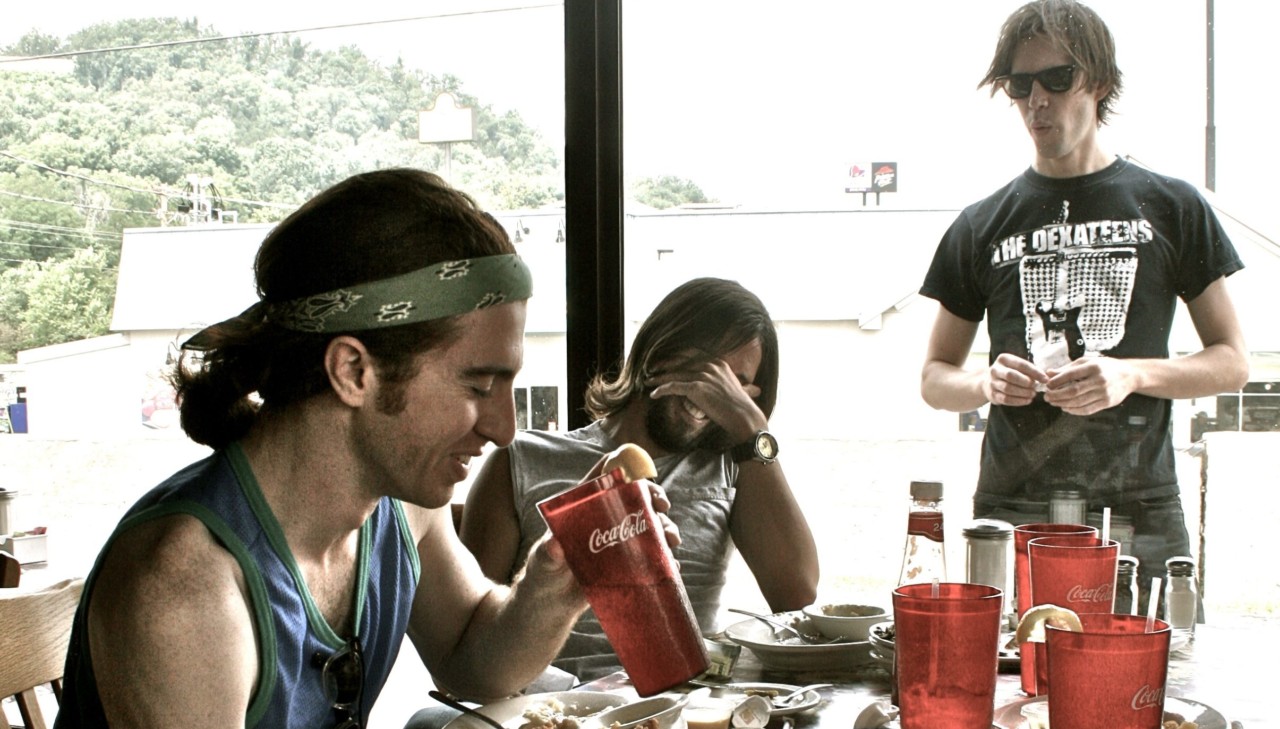 The Whigs
With their stunning third album, IN THE DARK, the Whigs have gone widescreen. Bursting with energy, emotion, and unpredictable experimentation, the Athens, GA-based trio tear open the artistic envelope, bringing both nuance and eclectic strength to songs like "Hundred / Million" and the raucous first single, "Kill Me Carolyne." IN THE DARK is both atmospheric and ambitious, without losing the pedal-to-the-metal power that earned them universal praise as one of America's finest young rock 'n' roll bands.
Much of the album's amplified creative direction can be attributed to the involvement of bassist Tim Deaux, who joined founding members Parker Gispert (guitar/vocals) and Julian Dorio (drums) just prior to the 2008 release of the Whigs' acclaimed second album, MISSION CONTROL.
"There aren't words to describe how lucky we are to have found Tim," Dorio laughs. "Parker and I would just be sitting here, staring at each other."
An exuberant, no-holds-barred live act, the Whigs followed the release of MISSION CONTROL with nearly non-stop touring, spending much of 2008 traversing the planet as a headline act, special guests of Kings of Leon, The Kooks and Drive-By Truckers, and with stage-stealing festival performances at such international events as Lollapalooza, Fuji Rock, and T In The Park.
"We'd had a good time touring and traveling," says Dorio. "We had absorbed a lot of music and new experiences, so there was a lot in us to pour out. There was no shortage of ideas."
While previous Whigs recordings kicked off with Gispert's songwriting, this time the rhythm section took the reins. Dorio and Deaux began collaborating in the band's practice space, crafting near-complete songs built upon drumbeats and bass lines.
"It just kinda clicked," Dorio says. "We ended up going in every single day, almost as if we were clocking in to go to work."
"It was really important that Tim was a part of this record from the ground up," Gispert says. "From day one, he's been knee-deep involved in this record, which is how it should be."
The detailed rhythm tracks provided a solid foundation for Gispert, allowing him the opportunity to write in a more responsive fashion. As a result, his guitar lines and vocal parts became increasingly dynamic and precise.
"It was really exciting for me," Gispert says. "To have an idea already in place that I could instinctually react to, as a guitar player and as a singer. It allowed me to not over think things before they had even gotten started and to spend more time working on things I don't normally work on."
The Whigs laid down demos throughout the first part of 2009 and on June 1st, entered Athens' Chase Park Transduction studio with longtime friend Ben H. Allen producing. Allen – who had been behind the board for two of the past decade's most pivotal works: Gnarls Barkley's "ST. ELSEWHERE" and Animal Collective's "MERRIWEATHER POST PAVILION" – was an avowed fan of the Whigs from the very start. Allen was present at the Whigs' very first gig and had even helped record the band's early demos.
"We thought, who better to understand where we were coming from," Dorio says. "He knows the band's trajectory and what we wanted to do with this record. Who better than a guy that really knows us and loves our band?"
"There didn't need to be a lot of explanation," Gispert says. "Ben already knows us, he knows what we like, he knows us as people. Everybody had a common goal, so it was able to happen pretty quickly."
Allen supported the band's decision to open up their musical approach. Songs like "Hundred / Million" and the title track are centered on Dorio and Deaux's initial tracks, with Gispert's powerful guitar only arriving in the explosive choruses.
"In the past we've always been this full-throttle, fifth-gear rock n' roll band," Dorio says. "Ben didn't want us just bashing away all the time. I think there's a little bit more space. He really encouraged that."
A month of sessions was followed by further touring, including a trip through North America's arenas alongside Kings of Leon. Playing such large-scale venues had a remarkable effect on the Whigs' sound, driving them back to the studio in order to capture that new found sonic sensibility.
"Being on some bigger stages, you start hearing different things coming out of your amps," Gispert explains. "The way it's hitting the open air as opposed to a wall that's 40 feet in front of it. Things start sounding a little different and to turn your back on that, to the different sounds that are happening, would not be cool."
"Playing those rooms is a unique challenge," Dorio says. "I thought if we're ever so lucky to have that kind of success and popularity, could a band this small fill the room with sound? It was kinda reassuring to realize, yeah, we can hang here."
In October, the Whigs hit Nashville for a week's worth of sessions with producers Jay Joyce (Cage The Elephant) and Angelo Petraglia (Kings of Leon). Each producer brought something unique to the table, with Joyce helping to fire up the high-octane riff rock of "Someone's Daughter" and Petraglia adding muscular clarity to such tracks as the album's first single, "Kill Me Carolyne." To the Whigs' credit, IN THE DARK stands as a remarkably cohesive collection, with the various producers helping the band to explore their own creative palette.
While the band's overall sound was growing more expansive, Gispert was determined to increase his focus as both singer and as a lyricist. Songs like "Dying" and "I Don't Even Care About The One I Love" are confident and concise, adding introspection and emotional oomph to the Whigs' overall anthemic power.
"I tried to be more honest," he says. "I was more comfortable with saying what I meant and letting it sit there. I wasn't so hung up on like, 'Wow, I really said that in a cool way.' My goal was more like, 'Can you understand what I'm saying here? Am I making myself clear?'"
With its impressive range and undeniable vigor, IN THE DARK sees the Whigs doing what all great bands do – furthering their artistic scope with each successive effort.
"We have a lot of different things that we'd like to do," Dorio says. "Of course we're a rock 'n' roll band, but we really like writing really fun pop tunes that you can sing along to, we also like writing songs that are a little bit weirder. There's a little bit of a variety that we think adds to the listenability and the longevity of the album."
"I hope that we're always changing," Gispert promises, "in the sense that we're always keeping our ears open to what's happening around us. Responding to the sounds we hear walking around Athens or what's on the radio or what's in the back of the bins in the record store."
"But at the core of this," he avows, "the band is always going to be a rock band. When we hit the stage, we are who we are."