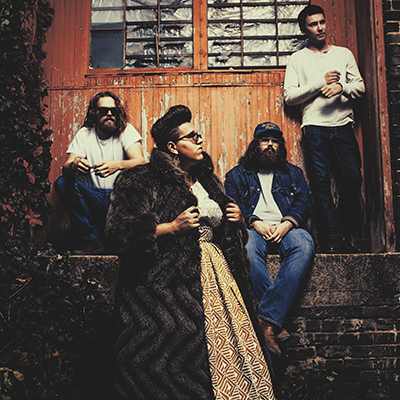 Alabama Shakes "I Found You" (from their 2012 debut "Boys & Girls") is featured in the trailer for the series finale of "Mad Men"!
Preorder new Alabama Shakes album "Sound & Color":
iTunes | Amazon | ATO Official Store | Local Record Store (CD or Vinyl)
Alabama Shakes are heading out on tour, and the New York Times just published a tremendous review of last night's Beacon Theater show. Check out the tour dates below, and buy tickets at their website.
Mar 14 | Chicago, IL @ Chicago Theatre (SOLD OUT)
Mar 15 | Milwaukee, WI @ Riverside Theatre (SOLD OUT)
Mar 17 | Madison, WI @ Overture Center for the ARts
Mar 18 | Champaign, IL @ Virginia Theatre
Mar 20 | Memphis, TN @ Minglewood Hall (SOLD OUT)
Mar 21 | Knoxville, TN @ Tennessee Theatre (SOLD OUT)
Apr 10 | Coachella (SOLD OUT)
Apr 11 | Berkeley, CA @ Greek Theatre
Apr 17 | Coachella (SOLD OUT)
Apr 18 | Las Vegas, NV @ Brooklyn Bowl Las Vegas
May 28 | St. Louis, MO @ The Fabulous Fox Theatre
May 29 | Kansas City, MO @ Starlight Theatre
Ma 30 | Minneapolis, MN @ Hall's Island (SOLD OUT)
Jun 2 | Indianapolis, IN @ Farm Bureau Insurance Lawn at White River State Park
Jun 3 | Detroit, MI @ Masonic Temple
Jun 4 | Hunter, NY @ Mountain Jam Festival
Jun 5 | Monmouth, NJ @ Gentlemen of the Road Stopover
Jun 6 | Toronto, ON @ Garrison Common, Fort York
Jun 9 | Charlottesville, VA @ nTelos Wireless Pavilion
Jun 10 | Cary, NC @ Koka Booth Amphitheatre
Jun 11 | Manchester, TN @ Bonnaroo
Aug 16 | Morrison, CO @ Red Rocks Amphitheatre