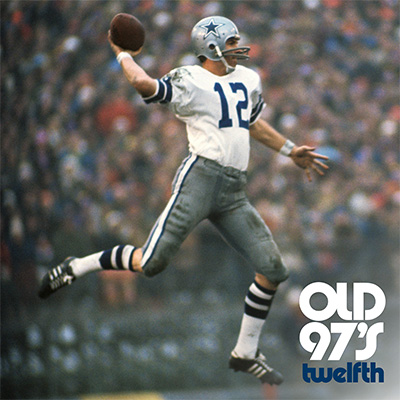 2020
Twelfth
The Dropouts
This House Got Ghosts
Turn Off The TV
I Like You Better
Happy Hour
Belmont Hotel
Confessional Boxing
Diamonds On Neptune
Our Year
Bottle Rocket Baby
Absence (What We've Got)
Why Don't We Ever Say We're Sorry
Formed in Dallas, Texas, Old 97's first emerged in the early '90s with an adrenaline-pumping blend of rock and roll swagger, punk snarl, and old-school twang that quickly brought them into the national spotlight. Conventional wisdom places the band at the forefront of a musical movement that would come to be known as "alternative country," but, as the New York Times so succinctly put it, their sound always "leaned more toward the Clash than the Carter Family." Fueled by breakneck tempos, distorted guitars, and wry storytelling, the foursome built a reputation for high-energy albums and even higher energy shows, earning themselves performances everywhere from Conan and Letterman to Bonnaroo and Lollapalooza alongside countless rave reviews. NPR lauded the group as a "pioneering force," while Rolling Stone hailed their music's "whiskey-wrecked nihilism and slow-burn heartbreak," and The New Yorker praised their songwriting as "blistered, blasted, and brilliant." On top of his prodigious output with Old 97's, Miller simultaneously established himself as a prolific solo artist, as well, releasing eight studio albums under his own name that garnered similarly wide-ranging acclaim and landed in a slew of prominent film and television soundtracks. A gifted writer beyond his music, Miller also contributed essays and short stories to The Atlantic, Salon, McSweeney's, and Sports Illustrated among others, and in 2019, he released his debut book, a collection of poetry for children, via Little, Brown and Company.
"Back when we were in our 20's, we put ourselves through these terrible trials because we thought we could survive anything," says Miller. "But over the last few years, it started becoming clear that we're human."
Rather than slow things down, the band decided to embrace their mortality as all the more reason to seize the day. Life is short—a lesson that was hammered home on the group's first day of recording in Nashville, when a series of deadly tornadoes ripped through town—and Twelfth is the sound of Old 97's recommitting themselves to making the most of every moment they've got left. Addictive opener "The Dropouts" sets the stage, taking stock of the band's journey from its very first days, when they cut their teeth playing the bars of Deep Ellum in exchange for pitchers of beer and pizza. Like much of the record to come, it's a nostalgic look back on simpler times, but it smartly avoids looking at the past through rose-colored glasses, instead recognizing that change is neither inherently good nor bad, only inevitable.
Old 97's may be human, but somehow what they've got never breaks down.