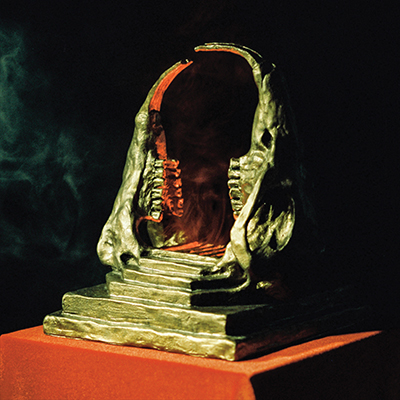 2019
Infest The Rats' Nest
Planet B
Mars for the Rich
Organ Farmer
Superbug
Venusian 1
Perihelion
Venusian 2
Self-Immolate
Hell
The planet is in trouble. Dire trouble. But fear not: Melbourne seven-piece King Gizzard & The Lizard Wizard return to save us all, this time armed only with blast beats, an arsenal of well-oiled guitars that are locked and loaded, and a desire to melt faces clean off.
Their fifteenth studio album, Infest The Rats' Nest, is by far The Gizz's hardest and heaviest album to date. How metal is it? Very Metal. Maybe even more.
Released just six months after the uplifting blues-rock boogie and deep electro explorations of Fishing For Fishes and drawing on the mid/late 1980s golden period of thrash metal – Metallica and Slayer, certainly, but also lesser-cited bands such as Exodus, Kreator and Overkill – Infest The Rats' Nest sees a wholly unexpected creative detour into new sonic terrain.
King Gizzard & The Lizard Wizard aren't mere dabbling dilletantes either. Their love of this ferocious music runs deep, and was previously explored on 2017's apocalyptic concept album Murder Of The Universe, hinted at during 2016's award-winning Nonagon Infinity's more bludgeoning moments and elsewhere in numerous hardcore psychedelic freak-outs in their back catalogue.
"In year 4 there was an older kid who was into Rammstein," explains Stu of his early discover discovery of metal's extremities. "I made friends with him and we put together a performance at our school assembly where we headbanged to 'Du Hast'. I got whiplash, which I thought was pretty cool. That was my introduction to heavy metal, and soon Rammstein led to Metallica, Metallica led to Slayer, Slayer led to Kreator and Sodom. The German bands really kicked my ass and scared the hell out of me too. Later on, when I picked up a guitar I realised that shit was too hard to play, so I got into rock 'n' roll and garage. That was liberating."
Infest The Rats' Nest is the sound of King Gizzard & The Lizard Wizard scratching the thrash metal itch, fully and unequivocally. Ferocious and direct, 'Organ Farmer' is built on drums that gallop away like a battalion of wild horses over the horizon and a triple guitar attack set to stun. It's the type of sub-three minute song you wish Hetfield and co. still made. 'Venusian 1' goes at it even harder, a shredding collection featuring an army of guitars. A guitarmy, if you will. This is an album dripping with disdain and disgust for a planet consuming itself in a mass act of cannibalism. 'Superbug' sings of the type of lurgy that will one day destroy us all, while the utterly nihilistic 'Self-Immolate' sees riff piled upon riff and Stu Mackenzie delivering a vocal display to stand alongside the likes of Tom Araya or Max Cavalera. "I'm a pretty shit singer but I do think of my voice as an instrument," laughs the frontman. "You've got lots of tones and different sounds in there you can experiment with."