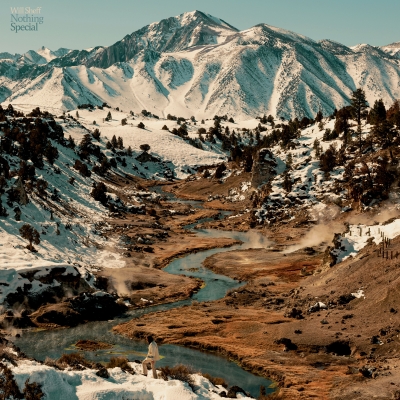 Will Sheff Releases Debut Solo Album, Nothing Special, Out Now
Will Sheff  has released his debut solo album, Nothing Special. Produced by Sheff and recorded over three different sessions with John Congleton (St. Vincent, The War On Drugs), Matt Linesch (Edward Sharpe, Gil Landry), andMarshall Vore (Phoebe Bridgers, Conor Oberst), Nothing Special finds Sheff reprocessing his sense of self, reflecting on misguided past ambitions, and reclaiming his sense of purpose. It's an album that consolidates Sheff's considerable strengths as a songwriter — deft poeticism, earnest and earned emotionality, a knack for melodic catharsis — and casts them onto a broad and unhurried sonic architecture. Like the album's artwork, it finds Sheff gazing out into the expanse and witnessing the possibilities that await.
Listen to Nothing Special here.
Watch the video for album opener "The Spiral Season" — a triumphant piece of music that depicts Sheff's personal journey with fantastical metaphors, before culminating in an ecstatic guitar solo — here.
Says Sheff about "The Spiral Season":
"The Spiral Season" went through many incarnations. It was a fantasy narrative, and then an autobiography of myself, and then it turned into an autobiography of a 16th century magician, and then I opened the window and all of those ideas flew out and the California landscape came crashing in with all its grandeur and its vulnerability, and fireworks went off and the moon rose overhead and Benjamin Lazar Davis and I wrote a big shouty chorus and everything finally started to make sense. And then we went into the studio and everybody played it wonderfully, and Will Graefe jumped in with that soaring guitar solo that we just let run out as long as it needed to be because it felt so good."
Recording with some old friends (guitarist Will Graefe and bassist Benjamin Lazar Davis) as well as new collaborators (singer/songwriter Christian Lee Hutson, Dawes drummer Griffin Goldsmith, and Death Cab For Cutie pianist Zac Rae, as well as guest vocals from Cassandra Jenkins and Eric D. Johnson of Fruit Bats and Bonny Light Horseman), Sheff took a less participatory and more painterly approach than his production on Okkervil River records. The result is a gorgeously orchestrated record that eschews pop orthodoxy in favor of letting its knotty narratives play out and allowing the musicians to explore the more daring passages just a little longer.
Will Sheff has also announced national headlining tour dates in support of Nothing Special. See full dates below.
Tour Dates
10/07 — Los Angeles, CA @ Masonic Lodge @ Hollywood Forever
11/03 — Iowa City, IA    @ Englert Theatre
11/04 — Minneapolis, MN @ Cedar Cultural Center
11/05 — Chicago, IL @ Old Town School of Folk Music
11/06 — Milwaukee, WI @ Collectivo
11/08 — Bloomington, IN @ Buskirk-Chumley Theater
11/09 — Grand Rapids @ Pyramid Scheme
11/10 — Toronto, ON @ Great Hall
11/11 — Ferndale, MI @ Otus Supply
11/13 — Atlanta, GA @ The Earl
11/14 — Asheville, NC @ The Grey Eagle
11/15 — Washington DC @ Black Cat
11/17 — Philadelphia, PA @ World Cafe Live
11/18 — New York, NY @ Le Poisson Rouge
11/19 — Woodstock, NY @ Colony
11/20 — Somerville, MA @ Crystal Ballroom
11/21 — Portland, ME    @ SPACE
1/18 — Vancouver, BC @ Wise Hall
1/19 — Seattle, WA @ Madame Lou's
1/20 — Portland, OR @ Mississippi Studios
1/21 — Arcata, CA @ Arcata Theatre Lounge
1/22 — San Francisco, CA @ The Independent
1/25 — San Diego, CA @ Casbah
1/26 — Phoenix, AZ @ Valley Bar
1/27 — Tucson, AZ @ 191 Toole
1/28 — Sante Fe, NM @ Meow Wolf
1/29 — Boulder, CO @ eTown Hall
1/31 — Denver, CO @ Bluebird
2/1 — Ft Collins, CO @ Bohemian (The Armory)
2/3 — Salt Lake City, UT @ Urban Lounge
2/4 — Flagstaff, AZ @ Yucca North
3/2 — Liverpool, UK @ Futureyard
3/3 — Manchester, UK @ Deaf Institute
3/4 — Glasgow, UK @ Stereo
3/5 — Leeds, UK @ Brudenell Social Club
3/7 — Bristol, UK @ Rough Trade
3/8 — London, UK @ Omeara
3/10 — Brussels, BE @ Botanique Rotonde
3/11 — Paris, FR @ La Boule Noire
3/12 — Amsterdam, NL @ Paradiso
3/14 — Hamburg, DE @ Molotow
3/15 — Berlin, DE @ Urban Spree
3/16 — Copenhagen, DK @ Loppen