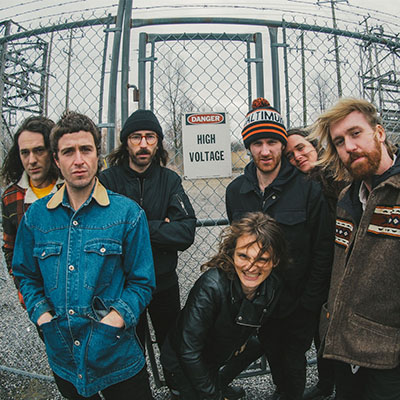 Listen to New King Gizzard song "Crumbling Castle"
King Gizzard & The Lizard Wizard has released a new song "Crumbling Castle" – listen to it above. The band shared the track with a cryptic message:
In the presence of a mirror, my sensory foax-organs detect discontent on my facial image. I cry a digital tear. Motor fluid. Escaping to the floor, it reflects my silhouette. Frigid, slouched, callous. My smell escapes me. A rancid odour. I am everywhere. I am light. I am a reflection. I am that which I am. And I am violent. And I want it to end. Stillness from the grinding gears. I am a raging droid, with a full tank of propellant. Flick the switch. Turn them off. Standby. Cut the cord. Death is a lamb in a wolf's clothes. A blessing from the lord satan. I am on the altar. I want it. The saccharine of eternal rest. I wish to consume it's sickly syrup, and lick it from my many fingers. Take me into the moonless night. I need it. Any way I pass will do.
King Gizzard & The Lizard Wizard 
has announced a plan to release five albums in 2017. Their first three, 
Flying Microtonal Banana
, 
Murder of the Universe
, and 
Sketches of Brunswick East
are out now and the band has done two sold-out headlining tours in the US this year.
Pick up the albums now at the ATO store
and follow the band for updates:
http://kinggizzardandthelizardwizard.com
http://facebook.com/kinggizzardandthelizardwizard
https://twitter.com/kinggizzardband