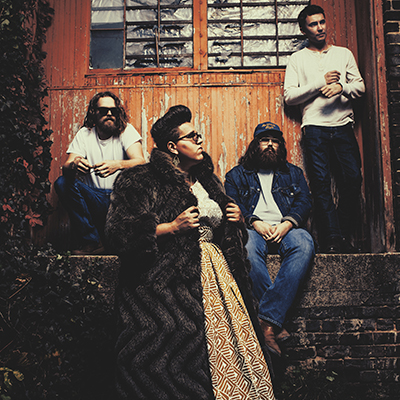 Listen to New Alabama Shakes Songs "Don't Wanna Fight" & "Gimme All Your Love"
Alabama Shakes has announced the release of their new album Sound & Color (out April 21, 2015), and now you can stream the first two tracks, "Don't Wanna Fight" and "Gimme All Your Love". Listen to them below, and pre-order the album to receive an instant download of both tracks:
Preorder "Sound & Color":
iTunes | Amazon | ATO Official Store | Local Record Store (CD or Vinyl)
"We took our time to write this record, and I'm really glad we did," says Brittany Howard, lead singer and guitarist of Alabama Shakes, about the band's new album Sound & Color. "We were able to sit down and think about what's exciting to us, explore all the things we wanted to on our first album. This record is full of genre-bending songs – it's even harder now when people ask, 'What kind of band are you?' I have no clue.
The album's twelve songs reveal a band honed by years on the road, and drawing from a wide range of influences. The bluesy groove of "Shoegaze" or the garage-rock freakout on "The Greatest" give way to the psychedelic space jam "Gemini". The gently swaying, chiming title song opens the album with what Howard calls "more of a visual thing, I think of this whole scene going in," then explodes into the urgent, tightly-coiled funk of "Don't Wanna Fight". Long instrumental intros and passages create hazy atmosphere, and then the intensity of Howard's vocals snaps everything back into riveting focus.
For more on the new album and the band's writing process, check out their artist page.