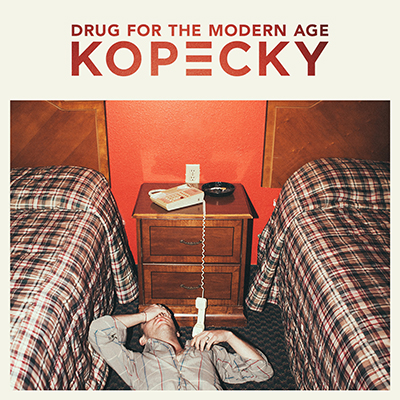 Listen to "Quarterback" from New Kopecky Album Out 5/19!
Kopecky are thrilled to announce their second album, Drug for the Modern Age, set to be released on May 19 via ATO Records. Listen to the lead single "Quarterback", which SPIN premiered and praised as a "melodic three-minute blast with piercing guitar riffs and an adrenaline-pumped chorus."  The album is now available for pre-order on iTunes, Amazon, and Kopecky's official store.
Listen / Share on SoundCloud
Formerly known as the Kopecky Family Band, the Nashville based group has had their music appear on a variety of hit television series including Grey's Anatomy, Parenthood, The Vampire Diaries, and MTV's Awkward to name a few. They've also toured all over the world and have played at some of the largest music festivals including Austin City Limits, Bumbershoot, and Lollapalooza. This year they will be performing at SXSW.
Their upcoming release, Drug for the Modern Age, explores such life-altering events as the sudden loss of a loved one, divorce, and struggles with addiction, along with more joyful happenings like new love and marriage. "The album was written in this weird time of so much pain but also happiness, and that really informed the writing and recording," says vocalist/guitarist Gabe Simon, who co-founded the group with vocalist/keyboardist Kelsey Kopecky in 2007. "Our goal was to talk about all these very serious things we were dealing with, but in a way that felt nothing like wallowing and more like standing triumphantly, or even dancing our way through it."
In achieving that dynamic, Kopecky (whose lineup also includes guitarist Steven Holmes, bassist Corey Oxendine, cellist Markus Midkiff, and drummer David Krohn) offer moments of symphonic grandeur alongside edgy, electronic-leaning innovation. Meanwhile, their daringly intimate lyrics both unsettle and engage, asking questions and encouraging reflection on the part of the listener.
As on their 2012 debut Kids Raising Kids, Kopecky teamed up with Konrad Snyder, but this time around the band took a more slowed-down and deliberate approach. This allowed them to bring new level of sophistication and soulfulness to their songcraft.
Drug for the Modern Age serves up its share of intricately layered love songs as well, revealing Kopecky's endless grace in merging sweetness and melancholy. In its quietly devastating narrative of sex and heartbreak, "Closed Doors" is an epic breakup ballad built on dreamy guitar tones and sensually charged lyrics. A shimmering piece of dance-pop genius, "My Love" sheds light on the ephemeral nature of romance on the road. And with its gritty guitar riffs and bombastic drumbeats, "Quarterback" spins the slyly feel-good story of an underdog who misrepresents himself to get the girl before realizing that, as Gabe explains, "he can love as good as anyone else, and it doesn't matter who he is."
With the band forever bound by their shared passion for purposeful songwriting, all that revelation and sometimes-painful truth-telling ultimately fulfills something central to Kopecky's mission: a deeper and stronger connection with each person listening.
Tour Dates
3/18 – 3/20 at SXSW in Austin, TX
3/20 at Common Grounds in Waco, TX
3/26 at the Hi Fi in Indianapolis, IN
3/27 at Blind Pig in Ann Arbor, MI
3/28 at Verve Night Club in Terre Haute, IN
4/2 at Club Café in Pittsburgh, PA
4/3 at Musica in Akron, OH
4/10 at The Loft in Columbus, GA
4/11 at One Spark Festival in Jacksonville, FL
4/12 at Second Sunday in Macon, GA
4/28 at Pour House in Charleston, SC
4/29 at Jefferson Theater in Charlottesville, VA
5/4 at Mercury Lounge in New York, NY
5/5 at Baby's All Right in Brooklyn, NY
5/8 at Artisphere in Greenville, SC
5/14 at Camp House in Chattanooga, TN
5/15 at Vinyl in Atlanta, GA
5/17 at Hangout Festival in Gulf Shores, AL
5/19 at Basement in Nashville, TN
5/22 at Live Oak in Fort Worth, TX
5/28 at Club Bahia in Los Angeles, CA
5/29 at Bottlerock Festival in Napa, CA
6/4 at Wakarusa in Ozark, AR