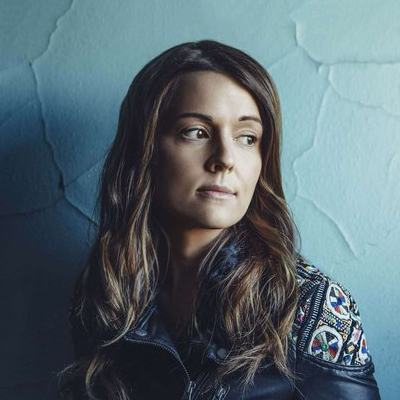 Brandi Carlile "The Firewatcher's Daughter" Out NOW; Watch CONAN Performance
Brandi Carlile's new album (and her first on ATO) The Firewatcher's Daughter is now available on iTunes, Amazon, or from the Official Store.
Watch her performance on CONAN below, and read her interview with NPR's Ann Powers, who calls the album "a glorious storm". Brandi will host intimate release shows in LA (March 4) and NYC (March 11) as well as a limited capacity acoustic, unamplified SXSW "Pin Drop" concert at Austin's Central Presbyterian Church on March 18. See the rest of Brandi's tour dates here.


'The Firewatcher's Daughter' was recorded almost entirely as first takes without any demoing and little rehearsal before gathering at Bear Creek Studio in Washington State.
The result is immediate and electrifying. "The Eye," a song influenced by Crosby, Stills and Nash, is so intimate and hushed you can hear the quiver of Brandi's voice in a flawless 3-part harmony.  Lead-off track and first single "Wherever Is Your Heart" captures a fiery intensity.
The creative spirit of the album is also exemplified in Brandi's sold-out Pin Drop Tour, which wowed audiences this fall.  Playing historic rooms, Brandi and The Twins performed songs new and old without any amplification – no mics, no amps, no PA – relying only on their voices, acoustic instruments and the venues themselves.  The Chicago Tribune attributed Carlile to proving "that sometimes music has more to say than speakers can communicate."
'The Firewatcher's Daughter' follows 2012's 'Bear Creek,' which debuted in the Billboard Top 10, was hailed as "gorgeous" by Rolling Stone and "tremendously assured" by NPR.  Brandi has sold out venues like Red Rocks, back to back nights at The Beacon Theater and performed at Bonnaroo, Austin City Limits and more.
Track listing:
1. Wherever Is Your Heart
2. The Eye
3. The Things I Regret
4. Mainstream Kid
5. Beginning To Feel The Years
6. Wilder (We're Chained)
7. Blood Muscle Skin & Bone
8. I Belong To You
9. Alibi
10. The Stranger At My Door
11. Heroes And Songs
12. Murder In The City