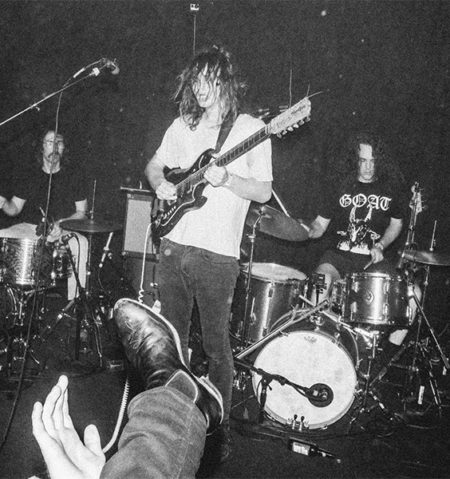 King Gizzard & The Lizard Wizard 'Live in San Francisco '16' Live Album Out Today
King Gizzard & The Lizard Wizard release their new double-LP live album Live in San Francisco '16 today. The record captures one of the band's infamously explosive live shows, at San Francisco's The Independent during a tour in support of their acclaimed 2016 album Nonagon Infinity, which NPR called "not only the band's most explosively ambitious work; it's also a thoroughly realized journey, embedded in a frenzied barrage of riff-heavy head-bangers." Live in San Francisco '16 is streaming everywhere today and available on vinyl in two versions of an eco-friendly double LP, available for purchase here.
Just under a month after delivering their award-winning 2016 album Nonagon Infinity, King Gizzard & The Lizard Wizard took the stage at San Francisco's The Independent for a set both wildly frenetic and meticulously executed. In one of their final club gigs before bursting onto the international scene—soon selling out amphitheaters and headlining festivals—the Melbourne septet laid down a breakneck performance that, in the words of SF Weekly, "made every organ ache just right." Newly unearthed by ATO Records, Live in San Francisco '16 captures an extraordinary moment in the band's increasingly storied history, a 13-song spectacular likely to leave every listener awestruck and adrenalized.
Multi-tracked and impeccably mixed it simultaneously channels the massive energy of King Gizzard & The Lizard Wizard's set while echoing the sweaty intimacy of the 500-capacity venue. Like Nonagon Infinity—the band's eighth full-length and worldwide breakthrough—Live in San Francisco '16 kicks off with "Robot Stop," an immediately transportive track built on blistering riffs and bombastic rhythms. Reaching its majestic climax with a 22-minute rendition of fan favorite "Head On/Pill" (from 2013's Float Along – Fill Your Lungs), the album rushes forward with a furious intensity as the band tears through the entire set without ever breaking—a feat that induces a sort of joyful delirium in anyone who bears witness.
With nearly half the setlist made up of Nonagon Infinity tracks, Live in San Francisco '16 unfolds with the same exquisitely controlled chaos King Gizzard & The Lizard Wizard brought to that arguable masterpiece—a nine-song body of work crafted as the world's first infinitely looping LP (i.e., each track flowing seamlessly into the next, with the album-closing "Road Train" linking straight back into the opener). "2016 was peak tightness for Gizz," notes frontman Stu Mackenzie. "Around this time we were really into tightly composed sets, and the show was like one long song—everything linked, everything planned. We threw that idea out the window later on, but this live record is a great document of that moment in our collective psyche."
An unequivocal turning point for King Gizzard & The Lizard Wizard, Nonagon Infinity arrived in April 2016 and drew major critical acclaim, with NPR hailing it as "masterfully bizarro" and Pitchfork stating that the album "yields some of the most outrageous, exhilarating rock 'n' roll in recent memory." Not only a critical success, Nonagon Infinity won Best Hard Rock/Heavy Metal album at the 2016 ARIA Music Awards, while eternally zeitgeisty director Edgar Wright named it among his favorite records of all time. Two years in the making, the album marked a drastic departure from the folk-and-Tropicalia-tinged psych-pop of its 2015 predecessor Paper Mache Dream Balloon, with the band taking a bold creative leap in its structure. "I wanted to have an album where all these riffs and grooves just kept coming in and out the whole time, so a song wasn't just a song, it was part of a loop, part of this whole experience where it feels like it doesn't end and doesn't need to end," Mackenzie explained back in 2016. When replicated live, that effect is doubly mesmerizing, as frenzied and transcendent as a glorious fever dream.
Looking back on the Nonagon Infinity era, Mackenzie regards that period as a particularly kinetic time for King Gizzard & The Lizard Wizard. "We were dreaming big, experimenting in the studio, messing around with microtonal music, writing a lot on the road," he recalls. And in reflecting on the tour that ultimately gave way to Live in San Francisco '16, Mackenzie speaks to a certain sweetly hazy nostalgia. "It felt mostly like a weird holiday," he says. "We road-tripped a big lap of the U.S.A. in a couple of Ford E-Series vans—I remember driving through the California Redwoods, visiting lots of cities for the first time, lying in piles of trash in Brooklyn. We'd always planned to tape this show, but the recording was buried in dust of time—and then like a boomerang, it came back. And for that I'm glad. I had a lot of fun revisiting it, and I hope everyone can find some joy in this musical time capsule."