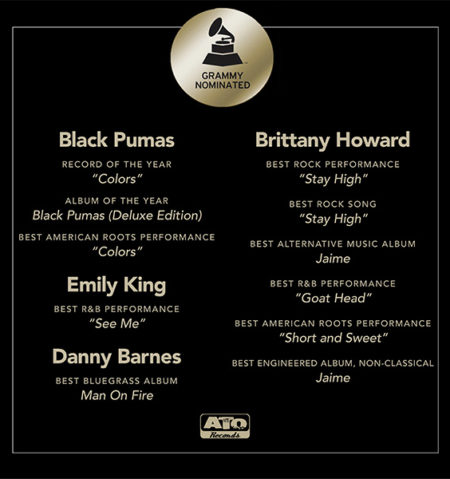 ATO Records Receives 11 Grammy Nominations
CONGRATULATIONS TO BLACK PUMAS, BRITTANY HOWARD, DANNY BARNES, EMILY KING
ATO Records is thrilled to have received 11 nominations for the 2021 GRAMMY Awards and congratulates Black Pumas, Brittany Howard, Danny Barnes, and Emily King on their incredible achievements!
BLACK PUMAS
Album of the Year (Black Pumas (Deluxe Edition))
Record of the Year ("Colors")
Best American Roots Performance ("Colors")
In just a couple of years' time, singer/frontman Eric Burton and producer/band leader Adrian Quesada turned their unplanned meeting into a Grammy-nominated act with songs that have racked up millions of streams and won overwhelming critical praise and multiple sold-out tours across North America and Europe. Their hit single "Colors" has become a unifying anthem The 2020 deluxe edition of their self-titled debut album features a set of exciting new bonus tracks – including new originals like "I'm Ready" and their stunning cover of Tracy Chapman's "Fast Car" – on top of their now-beloved hits like "Colors" and "Fire," both of which hit #1 on Billboard's Adult Alternative Songs Chart this year.
BRITTANY HOWARD
Best Rock Performance ("Stay High")
Best Rock Song ("Stay High")
Best Alternative Music Album (Jaime)
Best R&B Performance ("Goat Head")
Best American Roots Performance ("Short and Sweet")
Best Production, Non-Classical (Jaime)
Brittany Howard's solo debut album Jaime was awarded four stars by Rolling Stone, MOJO and Q and named the Best Album of 2019 by NPR. "Stay High" spent three weeks at No. 1 on Billboard's Adult Alternative Songs chart. It was Public Radio's Most Popular Song of 2019 and named by Pitchfork and others as one of the year's best songs. The New Yorker praised Jaime as "deep, freaky, and heartfelt" and said it shares "spiritual DNA with two of the boldest and most stylistically inscrutable releases of the past century: 'Black Messiah,' the third album by the R. & B. singer D'Angelo, and Sly and the Family Stone's 'There's a Riot Goin' On.'"
EMILY KING
Best R&B Performance ("See Me")
New York singer-songwriter Emily King's 2019 LP Scenery was nominated for a pair of 2020 Grammys, and she followed it with a stunning new track she wrote in response to this summer's Black Lives Matters protest. "See Me" – which originally appeared on ATO Records' Black Lives Matters benefit compilation Silence Is Not an Option (turn this up) – finds King voicing her grief and attempting to connect with others over the tragedy of racial injustice – "Can you hear me now? / Can you see me now? / If I cry out loud / Will you believe me now?". "Feeling so moved by this powerful time," King told Rolling Stone about the song's inception. "Every day watching the world demand justice. I wake up with sadness but also hope. Like people are starting to finally notice how deeply broken things are. Can you hear me now? Can you see me now? I started singing the words and they wouldn't leave my head."
DANNY BARNES
Best Bluegrass Album (Man on Fire)
Man on Fire is a showcase of Barnes' virtuosic playing and was executive produced by Dave Matthews and features Led Zeppelin's John Paul Jones on bass and mandolin, Bill Frisell on guitar, Matt Chamberlain on percussion, and Matthews himself on vocals and Wurlitzer. As star-studded as the album may be, it's Barnes who shines brightest throughout as he delivers poignant portraits of everyday folks struggling to get by in a world that's been rigged against them. Barnes is a former recipient of Steve Martin Prize for Excellence in Banjo and Bluegrass, hailed as "one of bluegrass music's most distinctive and innovative performers."