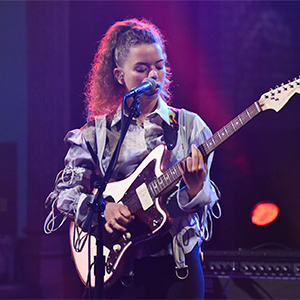 Nilüfer Yanya Makes Her TV Performance Debut On Colbert
"The rapturous debut from the British singer-songwriter takes adventurous pop-rock crucibles to new heights with her illusory songwriting and stunning voice."
-Pitchfork (8.3, Best New Music)
"Her voice is the center of the galaxy"
-Wall Street Journal
"Bona fide indie anthems"
-The Guardian
"On her debut album, Miss Universe, Yanya has pulled one more trick from her sleeve: crafting an entire world unto herself."
-NPR (First Listen)
"Yanya oozes starpower"
-MTV
The brilliant British songstress Nilüfer Yanya kicked off a headlining North America tour with a sold out show at NYC's Music Hall of Williamsburg and her worldwide TV debut on The Late Show with Stephen Colbert. She performed "In Your Ahead" from her album Miss Universe marking her first TV appearence.
Watch The Video Below
Yanya is fresh off a Turkish, U.K. and European headline tour which included multiple high profile festival appearances. Her North American tour includes appearances at Newport Folk Festival, Celebrate Brooklyn, XPONential Festival and Osheaga.
Her ambitious and compelling debut album Miss Universe arrived in March packed with stellar singles and powerful songwriting and has seen widespread acclaim from publications including NPR (First Listen) and Pitchfork who awarded the album Best New Music. Largely recorded in the same remote English studio she used to jam in with her uncle Joe, a former musician himself, Miss Universe features co-productions with both her former school guitar teacher The Invisible's Dave Okumu and her live bandmates Jazzi Bobbi and Luke Bower, as well as producers John Congleton, Oli Barton-Wood, Will Archer and M.T. Hadley. Inventive, expressive and rapturous, the album has seen Yanya deservedly hailed as a true original and a vitally important new voice in indie-rock.
***
See Nilüfer Yanya on tour in 2019: 
July 24 – Washington, DC @ U Street Music Hall
July 25 – Brooklyn, NY @ Celebrate Brooklyn Prospect Park
July 26 – Xponential Festival, New Jersey
July 27 – Newport Folk Festival, Rhode Island
July 30 – Cleveland, OH @ Grog Shop
July 31 – Chicago, IL @ Sleeping Village [SOLD OUT]
August 2 – Detroit, MI @ Deluxx Fluxx
August 3 – Toronto, ON @ Horseshoe Tavern
August 4 – Osheaga Festival, Montreal
August 8-12 – Belle & Sebastian Boaty Weekender
August 15-18 – Pukkelpop Festival, Belgium
August 15-18 – Green Man Festival, Brecon Beacons, Wales
August 24 – Future Yard Festival, Birkenhead Town Hall
August 25 – This Must Be The Place Festival, Headrow House, Leeds
September 21 – Dublin, IE @ Workmans
September 27 – Vancouver, CAN @ Fortune
September 28 – Seattle, WA @ Tractor Tavern
September 29 – Portland, OR @ Mississippi Studios
October 1 – San Francisco, CA @ The Independent
October 2 – Los Angeles, CA @ Lodge Room
October 4 – Phoenix, AZ @ Rebel Lounge
October 6 – Austin City Limits Festival, Texas
October 22 – Aahus, Denmark @ Atlas
October 23 – Copenhagen, Denmark @ Vega
October 24 – Hamburg, GE @ Bahnhof Pauli
October 25 – Under Your Skin Festival, Utrecht
October 27 – Berlin, GE @ Festsaal Kreuzberg
October 29 – Gent, Belgium @ Turbinzall de Centrale
October 30 – Cologne, GE @ Luxor
November 17 – London, UK @ O2 Shepherd's Bush Empire
November 24 – Madrid, Spain @ Sala El Solo
November 25 – Barcelona, Spain @ Razzmatazz