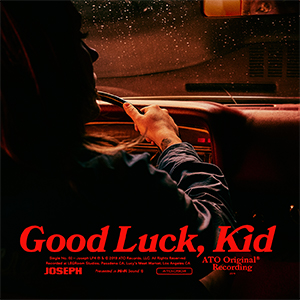 Joseph Release "Good Luck, Kid" Title Track And New Lyric Video
"[The] blend their voices in the eerily close way that only siblings seem able to accomplish" — NPR MUSIC
"a rallying cry and a celebration of the determination and angst that has pulled us all through these toxic times" — NYLON
"Upbeat, anthemic" — BROOKLYN VEGAN
"Dark folk-pop that will make you cry (in the best, most cathartic way possible)" — PAPER
"an uplifting stronghold" — PASTE
Joseph continue to prove they are "back after a three-year absence and fired up for the occasion" (NYLON) with the release of the title track and lyric video from their forthcoming album 'Good Luck, Kid,' out September 13.  The trio—Natalie Schepman and her twin sisters Allison and Meegan Closner— will also embark on a 30+ date tour this fall, starting on the eve of the new album's release and headlining their biggest rooms to date.
Watch "Good Luck, Kid (Official Lyric Video)" Below
The guitar-heavy upbeat track speaks to the eternal quest for independence as the sisters sing of the eternal road to self-discovery. "They handed you the keys / The driver's seat is yours now," the sisters sing over reverberating guitar and intense drums. The song is the only track on the new album solely credited to Schepman, and was inspired by a road trip with her husband Chris, and their long conversations about independence, religion, and the ubiquity of social media.
The girls invite you to come along for a ride in their latest lyric video, featuring an eclectic montage of personal vignettes that mirror the song's theme: taking the driver's seat into adulthood.
Watch via Consequence of Sound, who praise the song's "dizzying guitars" and "driving bass line":
https://consequenceofsound.net/2019/08/joseph-good-luck-kid-origins-stream/
Joseph has garnered attention for their lush, goosebump-inducing harmonies and songs of unity and empowerment. Since its release, 'Good Luck, Kid' lead single "Fighter" cracked the Top 20 in the Triple AAA Radio Chart in just three weeks, an overall rare and impressive feat. Additionally, the sisters recently kicked off an Instagram campaign tied to "Fighter" that shares the extraordinary stories of women across the world under the #THISISAFIGHTER hashtag.
JOSEPH 2019 TOUR DATES
Sept 12 – Vancouver, BC @ Imperial
Sept 13 – Seattle, WA @ Showbox
Sept 14 – Portland, OR @ Roseland
Sept 15 – Portland, OR @ Roseland
Sept 16 – Spokane, WA @ Knitting Factory Concert House
Sept 19 – Iowa City, IA @ Englert Theatre
Sept 20 – Minneapolis, MN @ First Avenue
Sept 21 – Chicago, IL @ Vic Theatre
Sept 22 – Detroit, MI @ The Majestic Theatre
Sept 24 – Toronto, ON @ The Mod Club
Sept 25 – Montreal, QC @ L'Astral
Sept 27 – Boston, MA @ Paradise Rock Club
Sept 28 – New York, NY @ Webster Hall
Sept 29 – Philadelphia, PA @ Union Transfer
Oct 2 – Washington, DC @ 9:30 Club
Oct 3 – Asheville, NC @ The Orange Peel
Oct 4 – Nashville, TN @ Cannery Ballroom
Oct 6 – Austin, TX @ ACL Festival
Oct 9 – Dallas, TX @ Granada Theater
Oct 10 – New Orleans, LA @ Tipitina's
Oct 13 – Austin, TX @ ACL Festival
Oct 16 – Tuczon, AZ @ Rialto Theatre
Oct 18 – Solana Beach, CA @ Belly Up
Oct 19 – Los Angeles, CA @ The Fonda Theatre
Oct 20 – San Francisco, CA @ The Fillmore
Nov 1 – Antwerp, Belgium @ Arenberg
Nov 2 – Groningen, Netherlands @ Take Root Festival
Nov 3 – Amsterdam, Netherlands @ Paradiso Tuinzaal
Nov 4 – Hamberg, Germany @ Uebel & Gefährlich
Nov 6 – Berlin, Germany @ Frannz Club
Nov 7 – Munich, Germany @ Strom
Nov 8 – Cologne, Germany @ Luxor
Nov 9 – Paris, France @ La Boule Noire
Nov 11 – Bristol, UK @ Hare & Hounds
Nov 12 – London, UK @ Bush Hall
Nov 13 – Manchester, UK @ Night People
Nov 14 – Glasgow, UK @ Stereo
Nov 16 – Dublin, Ireland @ The Workman's Club