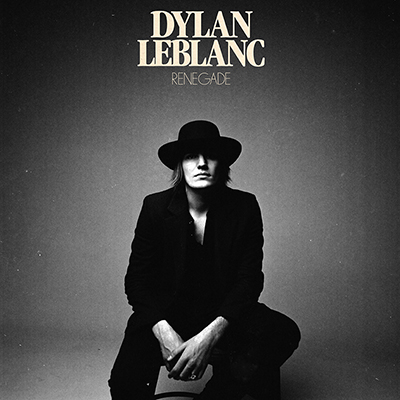 Dylan LeBlanc Announces New Album "Renegade". Listen to the First Single
ATO is excited to announce Dylan LeBlanc's new studio album Renegade, produced by Grammy Award winner Dave Cobb (Brandi Carlile, Chris Stapleton, Sturgill Simpson), available everywhere June 7th.  Pre-order the album on limited-edition vinyl and listen to the scorching 80's inspired title track below.
Recorded at Cobb's RCA Studio A in Nashville, TN, the 10-song album feature LeBlanc and his longtime band, The Pollies. Of the album, LeBlanc shares, "I wanted to write the same type of songs that matched the atmosphere the band and I were bringing live. So, I started with 'Renegade,' which was fitting since I felt myself going in a new, more intense direction with this record. In the studio, I let go almost absolutely and let Dave Cobb do his work. It was a different experience for me—how focused Cobb was and how quickly we would get live takes down. Mostly in one or two takes. Never more than three. It left me spinning at how quickly it all came together. Over the course of ten days Renegade was complete and ready for mastering. And I couldn't be more excited to share it with you."
In celebration of the new album, LeBlanc will embark on an extensive headline tour this spring and summer, including shows at DC's Pearl Street, Brooklyn's Rough Trade, Chicago's Schubas and Nashville's Basement East. He will also perform several shows later this week as part of SXSW. See below for complete details.
DYLAN LEBLANC SXSW SCHEDULE
Thursday, March 14
• 4:00pm—Luck Reunion
• 9:30pm—ATO Records x Caroline Official SXSW Showcase @ Baracuda
Saturday, March 16
• 3:00pm—SXSJ @ Hotel San Jose
DYLAN LEBLANC CONFIRMED TOUR DATES
June 12—Atlanta, GA—The Earl
June 13—Carrboro, NC—Cat's Cradle Back Room
June 14—Washington, DC—Pearl Street
June 15—Philadelphia, PA—Boot & Saddle
June 18—Bethlehem, PA—Blast Furnace
June 19—Brooklyn, NY—Rough Trade
June 20—Pittsburgh, PA—Club Cafe
June 21—Detroit, MI—El Club
June 22—Winnetka, IL—Winnetka Festival
June 23—Chicago, IL—Schubas Tavern
June 25—La Crosse, WI—Charmant Hotel
June 26—Minneapolis, MN—Turf Club
June 27—Iowa City, IA—The Mill
June 28—St Louis, MO—Old Rock House
June 29—Nashville, TN—Basement East