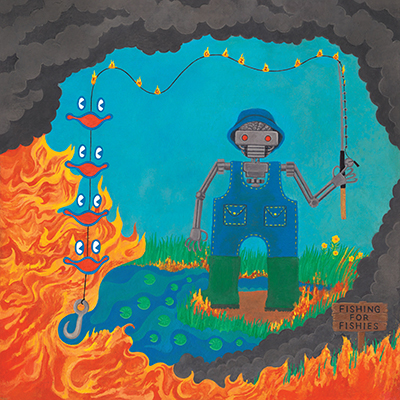 King Gizzard Announce New Album "Fishing for Fishies" Out April 26
King Gizzard & The Lizard Wizard have announced their new album Fishing for Fishies available everywhere April 26th!  ATO's vinyl pre-order will go on sale Friday, March 15th at 9am EST in our official online store.
Sit back and strap yourself in as seven-headed Aussie rock beast King Gizzard & The Lizard Wizard return with Fishing for Fishies, perhaps their most perfectly-realized album to date. Here is a world where the organic meets the automated; where the rustic meets the robotic. Where the past and future collide in the beautiful present.
The fourteenth album since their 2012 debut – and their first following the release of five vastly different albums in 2017 – Fishing for Fishies is a blues-infused blast of sonic boogie that struts and shimmies through several moods and terrains.  From the soft shuffle Outback country of the opening title track through the sunny easy listening of 'The Bird Song' (think the lysergically-soaked Laurel Canyon circa 1973) and on through the party funk of 'Plastic Boogie' (which somehow summons the spirit of Stevie Wonder's Innervisions) the road-trucking, Doors-like highway rock of 'The Cruel Millennial' and 'Real's Not Real' – what The Carpenters might have sounded like had they existed entirely on vegemite and weed – it's a dizzying, dazzling display.

And that's all before we even get to 'Acarine', a futurist blues tune which heads off into previously unchartered territories of shimmering Eno-esque ambient and dark John Carpenter-style electro, and the electro squelch of album-closing single 'Cyboogie', on which five of the seven King Gizzard & the Lizard Wizard members play synths. It's a stomping vocoder-lead anthem akin to Georgio Moroder or Trans-era Neil Young and a triumphant conclusion to an album that is as surprising as it is thrilling, as unexpected as it is effortless.
Newcomers to King Gizzard & The Lizard Wizard will find an entire self-contained universe awaits them in a thrilling body of work. Here are grand concepts where albums overlap, riffs resurface, circular songs chase their own tails, grand narratives are told, cryptic lyrics endlessly analysed and a whole army of fans regurgitate the band's output via a deluge of remixes, memes, visual loops, mind-melting cut-ups and just generally pontificate wildly about everything in The Gizzverse, much of it available on Youtube and internet forums.
Best of all, anyone can step into The Gizzverse – anytime, anywhere. No prior understanding is necessary. So whether it's psyche rock played with breakneck precision (2014's I'm In Your Mind Fuzz), life-giving acoustic folk and Tropicalia (2015's Paper Mâché Dream Balloon), a three-part sci-fi/prog album (2017's Murder Of The Universe) or an album uploaded on an open license so that budding labels worldwide could press their own copies, which they duly did, currently 240 different pressings according to Discogs (2017's, Polygondwanaland), King Gizzard & The Lizard Wizard provide it. As Pitchfork noted, they have waged war against two tired clichés: "One, that rock is dead; and two, that the album is dead."
King Gizzard & The Lizard Wizard return to the US this summer to play their largest venues to date.
8/13 – Los Angeles, CA – Greek Theatre
8/14 – San Francisco, CA – SVN West
8/15 – San Francisco, CA – SVN West
8/16 – Portland, OR – Roseland Theater
8/17 – Vancouver, BC – Harbour Event Centre
8/18 – Seattle, WA – Paramount Theatre
8/20 – Salt Lake City, UT – The Depot
8/21 – Denver, CO – TBA
8/23 – Milwaukee, WI – Riverside Theater
8/24 – Chicago, IL – Aragon Ballroom
8/26 – Montreal, QC – Olympia
8/27 – New Haven, CT – College Street Music Hall
8/28 – New York, NY – SummerStage, Central Park
8/30 – Philadelphia, PA – Franklin Music Hall
8/31 – Washington, DC – 9:30 Club
9/01 – Asheville, NC – New Belgium Brewing Company
9/02 – Atlanta, GA – Tabernacle
9/03 – New Orleans, LA – Joy Theater
9/04 – Austin, TX – Stubb's Outdoor
9/06 – Dallas, TX – The Bomb Factory