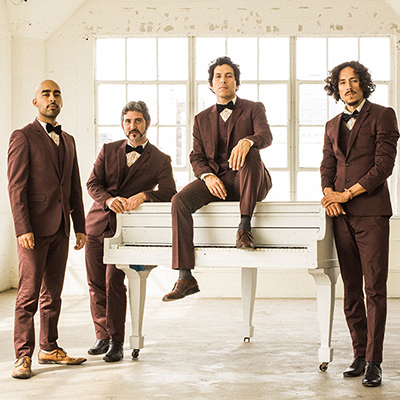 Chicano Batman on tour incl. Coachella – 'Freedom is Free' out now, Watch KEXP Session
LA's psychedelic soul masters Chicano Batman are fresh off the release of their new album Freedom Is Free and have announced a new run of tour dates, including Newport Folk, FYF, KCRW One Pasadena, Central Park Summerstage and more! Scroll below for new tour dates, and get tickets at http://chicanobatman.com/.
Chicano Batman came out of L.A., four young men in vintage formalwear, playing songs that blended Brazilian Tropicalía with early '70s psychedelic soul and the romantic pop of bands like Los Ángeles Negros. It was an immediately addictive sonic brew, and their reputation grew fast. Now, they're making their boldest statement yet with Freedom Is Free.
Watch the band's KEXP session:
Freedom Is Free reflects Chicano Batman's decision to foreground the soul and R&B elements of their sound. To achieve their ambitious sonic goals, the quartet worked with producer Leon Michels (El Michels Affair, The Arcs) in his Diamond Mine Recording studio in Long Island City, NY. Michels, a veteran in the New York soul scene, has performed in Sharon Jones & the Dap Kings, The Black Keys and The Menahan Street Band. In addition to tracking the album to analog tape, Michels contributed keyboards and his trademark horn arrangements (he's been sampled by Jay-Z and Ghostface Killah). The partnership between Michels and Chicano Batman truly captures the band's live energy and brings their aesthetic goals to life.
UPCOMING CHICANO BATMAN TOUR DATES
Apr 11 – Santa Fe, NM – Meow Wolf
Apr 12 – El Paso, TX – The Perch
Apr 13 – Tucson, AZ – 191 Toole
Apr 15 – Indio, CA – Coachella
Apr 20 – San Diego, CA – Music Box
Apr 22 – Indio, CA – Coachella
Apr 29 – Pomona, CA – The Glass House
May 28 – George, WA – Sasquatch Festival
June 17 – Pasadena, CA – KCRW One Pasadena
June 29 – Lawrence, KS – Lawrence, KS
June 30 – Davenport, IA – Daytrotter
July 01 – Chicago, IL – Live on Lincoln
July 02 – Kalamazoo, MI – Bell's Eccentric Café
July 05 – Columbus, OH – A&R Music Bar
July 07 – Saint Paul, MN – Turf Club
July 08 – Des Moines, IA – 80/35 Festival
July 09 – Milwaukee, WI – Milwaukee Summerfest
July 11 – Cleveland, OH – Beachland Ballroom
July 13 – Nashville, TN – Exit/In
Jul 14 – Louisville, KY – Forecastle Festival
July 15 – New York, NY – Central Park SummerStage
July 16 – Greenfield, MA – Green River Festival
July 23 – Los Angeles, CA – FYF Festival
July 29 – Newport, RI – Newport Folk Festival
July 29 – Camden, NJ – Xponential Festival
Sept 17 – Telluride, CO – Telluride Blues & Brews Festival