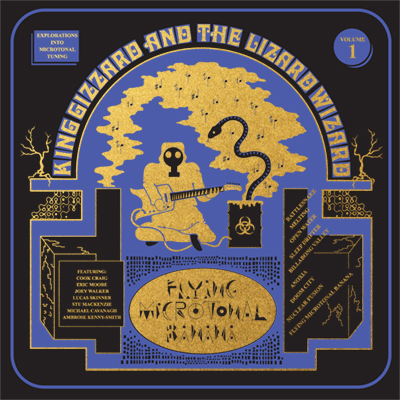 King Gizzard's Flying Microtonal Banana is Out Now! Stream FULL live show via Pitchfork
King Gizzard & The Lizard Wizard are the most exciting head-spinning, third-eye opening, double-drumming goddamn rock 'n' roll band on the planet.
Following the frazzled freakbeat of 2016's Nonagon Infinity, the endlessly inventive septet return in 2017 with new album Flying Microtonal Banana, their ninth studio album in five years, out now. Watch the band's sold-out Webster Hall show via Pitchfork now:

Get Flying Microtonal Banana Now: Official Store | iTunes | Amazon

Flying Microtonal Banana marks another shift in sound as King Gizzard & The Lizard Wizard drive deep into trance-inducing drones, inventive jazz flourishes, non-Western musical scales and metronomic rhythms that motor along like a well-oiled engine. So unique and evolved is the album's sound that it necessitated a total reinvention of the band's instruments after they began experimenting with a custom microtonal guitar made for frontman Stu Mackenzie.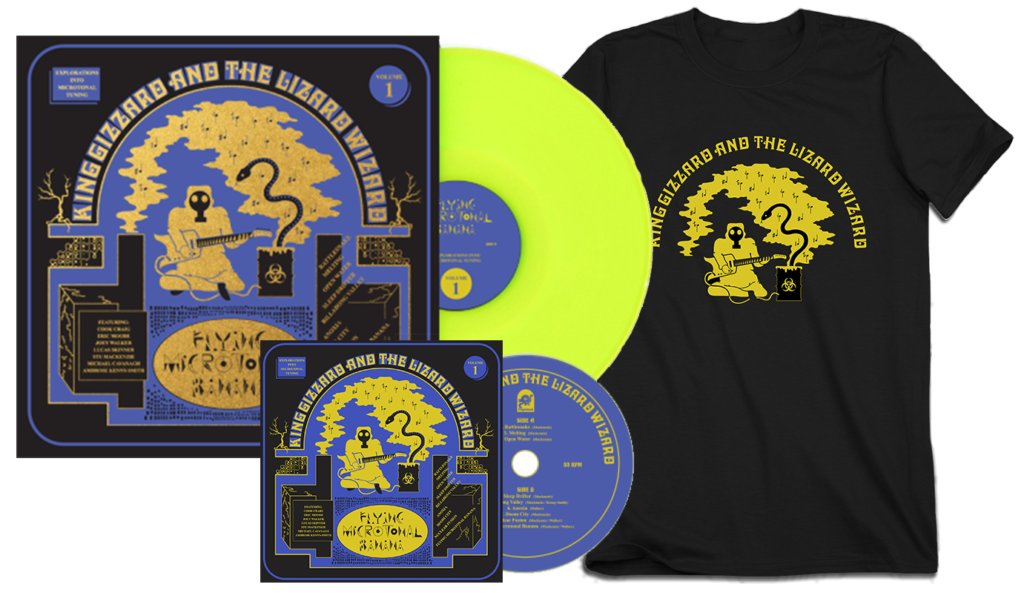 Get Flying Microtonal Banana Now: Official Store | iTunes | Amazon
Inspired by the movable frets of the Turkish bağlama, three cheap old guitars and a bass were customized in order to explore a new set of musical notes. A keyboard and mouth organ followed suit and so Flying Microtonal Banana was born.
Recorded in their own studio Brunswick East in Melbourne, the album also incorporates liberal use of the stirring tones of a Turkish horn called a zurna, as heard on the likes of 'Billabong Valley', the purple smoke-enshrouded, sub-Sabbath 'Doom City' and the moving musical miasma that is the album's utterly transcendental title track. "The zurna's notes are really malleable," says Stu. "It's a bendy, wobbly-sounding instrument, and blends perfectly with the secret notes on the guitar".
After celebrating Flying Microtonal Banana's release with a string of sold-out shows in Melbourne where they'll be playing the album in full, King Gizzard will be headed back to North America! Check out the full tour schedule and get tickets below: 
Wed March 9 – Washington DC @ 9:30 Club
Thurs March 30 – Philadelphia PA @ Trocadero Theater
Fri March 31 – New York NY @ Webster Hall
Sun April 2 – Boston MA @ Royale
Mon April 3 – Portland ME @ Port City Music Hall
Tues April 4 – Montreal QC @ Fairmount Theatre
Wed April 5 – Toronto ON @ Danforth Theater
Thurs April 6 – Detroit MI @ Magic Stick
Fri April 7 – Cleveland OH @ Beachland Ballroom
Sat April 8 – Chicago IL @ Metro Chicago
Sun April 9 – Seattle WA @ Neumos
Mon April 10 – Vancouver BC @ Vogue Theatre
Tues April 11 – Portland OR @ Revolution Hall
Wed April 12 – San Francisco CA @ The Fillmore
Sat April 14 – Indio CA @ Coachella
Mon April 17 – Los Angeles CA @ The Roxy
Tues April 18 – Las Vegas NV @ Hard Rock Hotel Pool
Wed April 19 – Phoenix AZ @ The Crescent Ballroom
Sat April 21 – Indio CA @ Coachella
May 31 to June 4 – Barcelona SPAIN @ Primavera Sound
Sat June 3 – London UK @ Field Day
June 5 to June 8 – Marina di Ravenna ITALY @ Beaches Brew
June 8 to June 10 – Porto PORTUGAL @ NOS Primavera Sound
Wed June 14 – Manchester UK @ Albert Hall
Thurs June 15 – London UK @ O2 Forum Kentish Town
June 16 to June 18 – Mannheim GERMANY @ Maifeld Derby
June 16 to June 18 – Hilvarenbeek, NETHERLANDS @ Best Kept Secret Festival