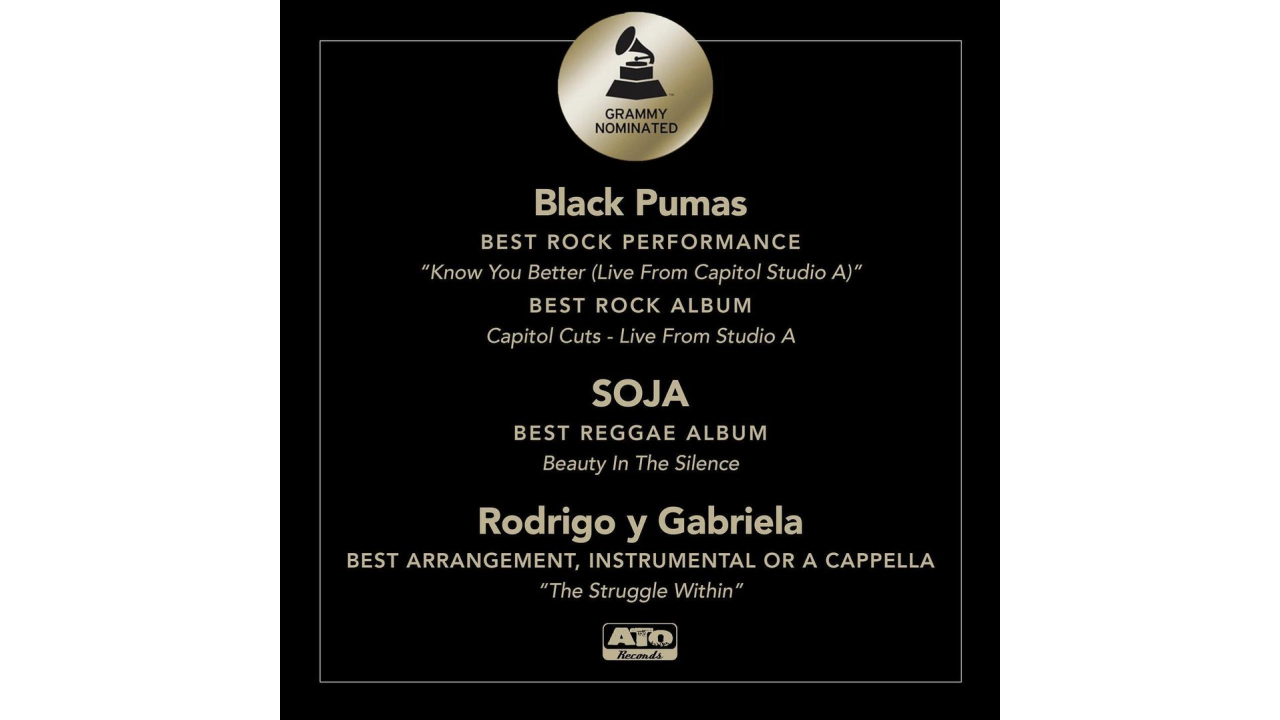 ATO Records Congratulates 2022 Grammy Nominees
CONGRATULATIONS TO BLACK PUMAS, SOJA, and RODRIGO Y GABRIELA!
ATO Records is thrilled to have received nominations for the 2022 GRAMMY Awards and congratulates Black Pumas, SOJA, and Rodrigo y Gabriela on their incredible achievements!
BLACK PUMAS
Best Rock Album (Capitol Cuts – Live From Studio A)
Best Rock Performance ("Know You Better (Live From Capitol Studio A)")
In just a couple of years' time, singer/frontman Eric Burton and producer/band leader Adrian Quesada turned their unplanned meeting into a Grammy-nominated act with songs that have racked up millions of streams and won overwhelming critical praise and multiple sold-out tours across North America and Europe. Capitol Cuts includes eight tracks recorded direct to acetate at the famed Capitol Studios in Hollywood, including an expansive and mind-blowing seven-minute rendition of "Know You Better".
SOJA
Best Reggae Album (Beauty In The Silence)
For more than two decades, SOJA has elated audiences across the globe with their fresh yet timeless take on roots reggae, a sound born from their shared passion for making music that transports and inspires. On Beauty in the Silence—their first new album in four years—the band deepened that communal spirit by collaborating with artists from all corners of the reggae world, including the likes of UB40, Slightly Stoopid, Stick Figure, and Rebelution. Fueled by the sheer force of their connection and chemistry, Beauty in the Silence ultimately makes for a much-needed antidote to fractured times, infusing so much warmth and wisdom and unstoppable joy into each and every track.
RODRIGO Y GABRIELA
Best Arrangement, Instrumental or A Cappella ("The Struggle Within")
Renowned guitar virtuosos Rodrigo y Gabriela have established themselves in the world of music as incredible powerhouses. They joined 52 other artists in covering a song from Metallica's The Black Album for The Metallica Blacklist with their rendition of "The Struggle Within". Rodrigo y Gabriela stayed remarkably true to the original track, trading its military-style intro snare rolls for expertly delivered percussive slaps and James Hetfield's vocals for smooth, oft-slide-driven unplugged leads.