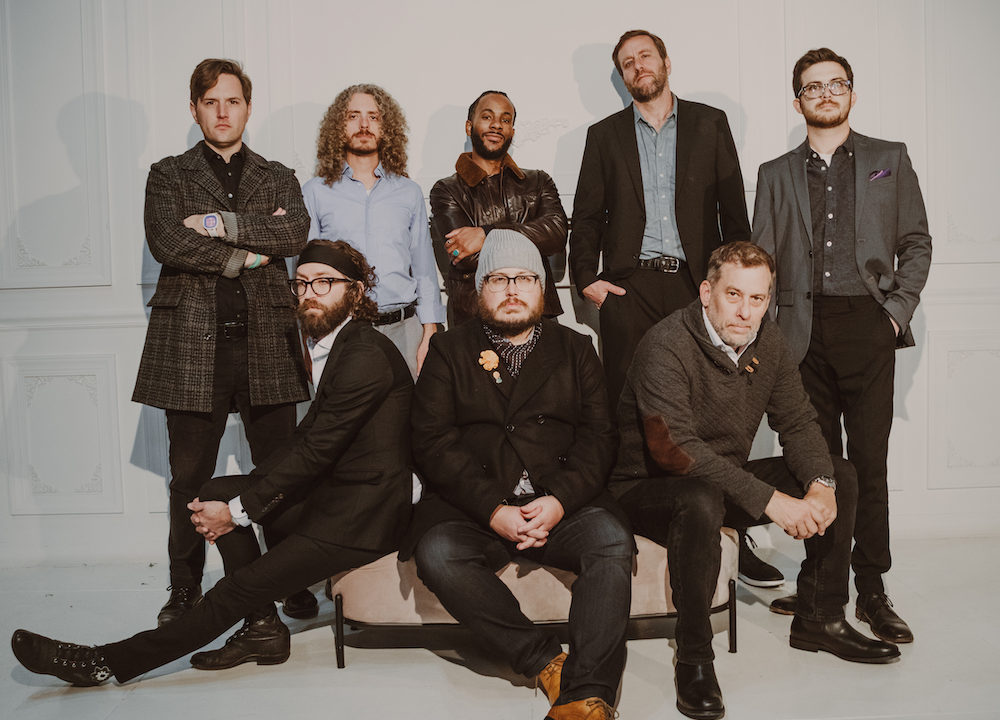 St. Paul & the Broken Bones
When Paul Janeway learned he was going to be a father, he was struck by "divine inspiration." Following the tradition of greats like Aristotle, William James and John Steinbeck, who wrote letters to their future sons, the singer decided to scribe his own thoughts — of joy, of fear, of confusion — as messages to his then-unborn daughter.
Those letters ultimately became Angels In Science Fiction, the stunning fifth LP from his band, Alabama genre-benders St. Paul and The Broken Bones.
"I knew what I wanted to say," he says of the material. "I like to be a bit more coy at times, but I wanted these lyrics to be more direct. This is a record I would have written whether I did this for a living or not. I don't know if those records come along all the time."
Everywhere Janeway turned, there were lessons to impart — even unlikely ones. The album's central metaphor could be a twisted-up, "weird-looking" tree — one that Janeway often sees while walking with his family to a park in his native Birmingham.
"The branches run through the power lines, so the tree has grown in this weird fashion," says the magnetic frontman, detailing the image that opens the slowly strutting song "Oporto-Madrid Blvd." "That's the only way it's known how to grow. I thought about this idea of nurture over nature — this tree sits there, and the city's not gonna cut it down. There's a really interesting idea there about staying planted where you're at, which I don't think is necessarily a good thing."
The eight-piece Broken Bones — formed in 2012 by Janeway and bassist Jesse Phillips — follow that wisdom on two levels. While some members actively maintain their Birmingham roots, others have found new places to call home (most in Alabama, a few scattered about the South, one in Montana). And on the creative front, Angels In Science Fiction stretches their limbs further out from their early southern-soul style, building on the shadowy psychedelia and intricate, experimental R&B of recent LPs like 2022's The Alien Coast.
Granted, it would be safer — and potentially more lucrative — to stick with a formula, to lazily milk the soul sound of the band's earliest work, including their 2014 debut, Half the City. No one would blame them, that original vibe became a calling card, helping spawn a slew of big-deal festival dates (Lollapalooza, Bonnaroo, Glastonbury) and major press (The New York Times, Rolling Stone, SPIN, NPR Tiny Desk), leading to shared stages with the world's biggest artists (Elton John, The Rolling Stones, Lizzo), and launching an impressive run of headlining tours behind a "potent live show that knocks audiences on their ass" (Esquire). (That's all before mentioning the robust album sales: around 500,000 total throughout their decade-plus career.)
But Janeway was never interested in formulas. This latest creative risk, dates back to February 2020, after Janeway learned his wife was pregnant with their daughter, Marigold. Not the greatest timing for a burst of inspiration: The Broken Bones were on the home stretch of recording The Alien Coast, and the pandemic was weeks away from sending the world into lockdown.
After realizing the pandemic was going to offer more downtime than expected, Janeway texted Phillips his overall vision for Angels In Science Fiction. Then the floodgates opened: They wrote all the songs within a month or two and started recording, hoping to capitalize on the singer's sense of urgency: "We did everything we could to get it down because Marigold was born September 29," Janeway says of the sessions, produced by Matt Ross-Spang (Jason Isbell, Margo Price, John Prine and Elvis Presley) at Sam Phillips Recording Studio in Memphis. "At the time, I knew that when that happened, the moment would kinda be lost."
Instead, these exacting yet evocative songs — from the harmony-stacked slow grind of "City Federal Building" to the cinematic "Sea Star," inspired in part by a pastor's sermon from his youth — harness the unique balance of hope and anxiety he was experiencing as a dad-to-be.
But nothing is quite what it seems here: Many of the album's sweetest, dreamiest songs reflect on death — spurred on by the darkness of that time, Janeway's fears of bringing a daughter into a ripped-apart world.
"Death has been written about since people started writing," he says. "But in that particular moment, it scared me. Even a song like 'Easter Bunny': I wrote that song  sitting at home with this huge window in front of me as we were going through a tornado warning. About a mile and a half from my house, a tornado actually landed. It was a weird year."
But Angels in Science Fiction is not a sullen record — like fatherhood itself, it's just complicated. The project, including the star-gazing title track, is even dusted with spiritual references that reflect a real-life comfort from the rituals of religion.
"In the song, it's talking about building some sort of spiritual connection that you didn't feel before," says the singer, who grew up devout before breaking away from the church at age 18. "I thought, 'That's gonna piss off some people in my family,' talking about angels being in science fiction. It seems like it's a juxtaposition, but it's really not. For me, that gave way to part of the core of who I am. If that's who I am, is that what my daughter's going to be?"
It's fitting that Janeway "finds peace" in prayer, even if the act itself is merely symbolic. The album plays like a secular prayer — and despite its complex thematic web, that same sense of solace lingers after the final groove of "Marigold," a grandiose orchestral ballad named after his daughter.
"I think what happens is we all spread our wings and go down our different paths, but at certain key moments, you have a tendency to grasp what makes you feel comfortable," he continues. "I can't tell you the last time I prayed. But the night we had Marigold, I did a little prayer. And every night, we do a little prayer with Marigold. I'm not religious at all, but I do find comfort in some of the tenants about love and those kinds of things. It's one of those things you do subconsciously. That's what I call songwriting: the editing of the subconscious."
Now The Broken Bones will take the next step of that journey, translating those raw-nerve emotions into live performance — they have a headlining world tour planned for 2023, including dates in the U.S. and Australia. They'll have a chance to showcase the record's more delicate atmosphere, including some of Janeay's most intimate vocals. "When we first started, I was just screaming into a mic," he says. "I didn't know my ass from a hole in the ground. It's taken time for me to show all my sides as a singer. With this record, I don't want people to say, 'That guy doesn't know how to sing.' From a technique and delivery standpoint, this is probably my best effort."
It's also the band's best all-around effort. With Angels In Science Fiction, St. Paul & The Broken Bones have crafted their most moving, comprehensive work — spanning their entire sonic and emotional scope. That is, until the next time they surprise us.
"If you look at this [career] as an artistic endeavor, which I do, this is what gets me going," Janeway says, noting the band's forward motion. "When I was talking to people after [Alien Coast], they were like, 'If you listen to that record and then Half the City, you're like, 'That's not the same band.' And it's not! Artists I admire evolve and take risks, and I'd much rather look back at our career and go, 'Even if you fail, did you try to do something? Did you try to move the needle and expand yourself?'"