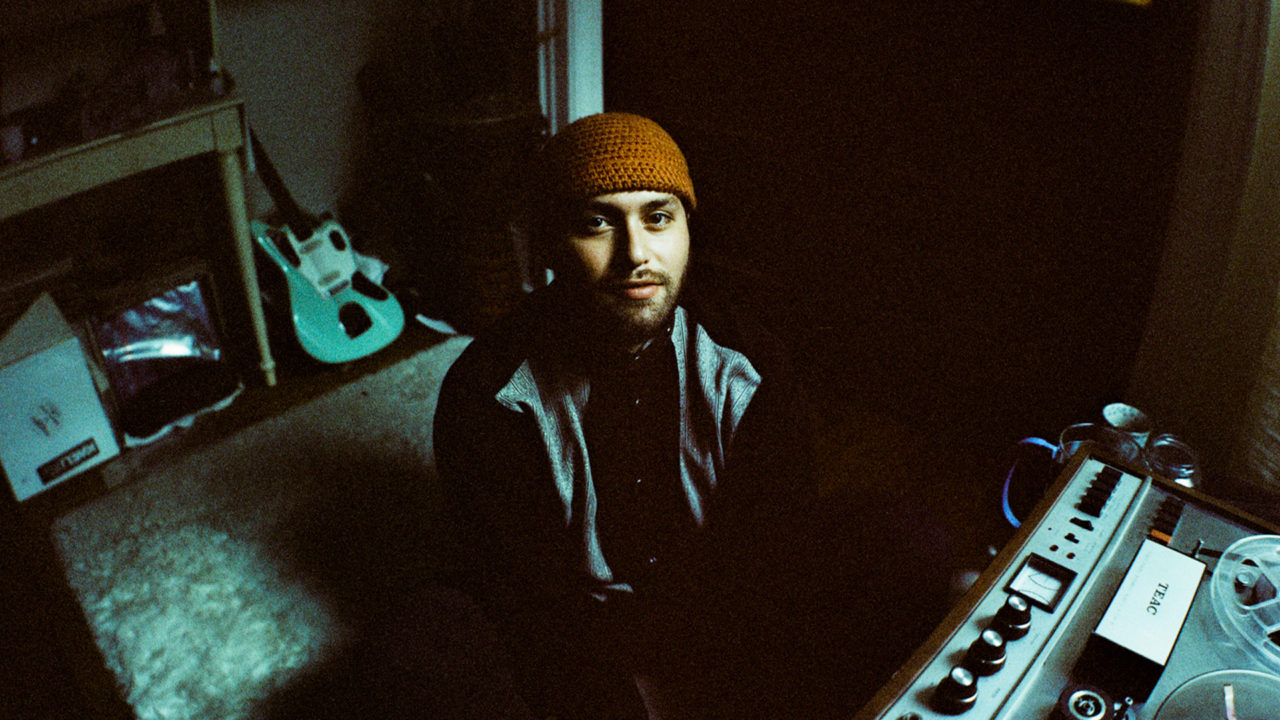 Nick Hakim
Confusion. Repetition. Musical hypnosis and drum patterns. Hope. Cities underwater. Kindness. The texture of a community. Care. For the last couple years this is some of what's occupied Nick Hakim. The New York-based musician works out of a pleasantly cluttered loft studio in Ridgewood, and like so much of the city, it's a neighborhood of deep history that's in flux; if you spend even a little time there you might start to wonder about what the future holds, and what it means to be someone's neighbor. Hakim's been wondering about it, and his new album WILL THIS MAKE ME GOOD is something like a response.
In 2017, Hakim's debut album, the critically acclaimed Green Twins, announced the singer-songwriter as an idiosyncratic talent, making music that resists genre classification. You could work a song of his into an HBO original series, as Insecure did; you could smoke to it and wonder about your ego; you could slow dance with the person you love-it's not versatility, so much as a lack of boundaries and a strong sense of intuition. It drew on the music Hakim listened to growing up in Washington D.C. with his older brother and parents, who emigrated to the States from Peru:  American soul music and political folk from South America; Go-go and hardcore.
The time since Green Twins has been complicated; you can hear it in the swirling sprawl of his sophomore release WILL THIS MAKE ME GOOD. Hakim lost a notebook of new songs during a trip overseas not long after Green Twins came out. He tried to recall from memory those drafts and the fight to do so resulted in writer's block. Musical ideas still came and he worked with his peers, some including Onyx Collective, Anderson .Paak, Jesse and Forever, Lianne La Havas, and Slingbaum-but when it came time to write his own songs, lyrics eluded him. Then a childhood friend passed away.
"He was a little younger than me, but we had a similar path," Hakim says. "We both had trouble in school and switched schools a lot. He was the youngest in his family and his older sisters asked me to watch out for him." Affected deeply by his passing, Hakim struggled to articulate his feelings in the wake of the tragedy.
He recalls advice from a close collaborator, Andrew Sarlo, who told him during this difficult period, "Pretend there's no audience. Don't think about an outside perspective." By turning inward, Hakim found a way to express himself and the first song that emerged addressed his departed friend. "QADIR" is the longest song in Hakim's catalogue; it's the heart of WILL THIS MAKE ME GOOD, originally an 11-minute epic that builds to a shattering vocal performance accompanied by a ten-person chorus. "If I really sink into a recording, I don't want it to end," Hakim says. "It's repetitive and hypnotizing, like a trance-that's intentional. The song is my ode to him. It's my attempt to relate to how he must have been feeling."
He sings about how "there's a complexity to being kind"-to yourself, to your space, to your community. "That's a direct reflection of the neighborhoods that I've experienced across the East Coast, from Washington D.C. to Baltimore to Philadelphia to New York to Boston-all places I have ties to," he explains. Accepting everyone around you is a daily task; it's also a reminder to keep close the people you love, because nothing is promised. "When I heard of Qadir's passing I hadn't checked in on him in a while," Hakim admits. "I say 'we' in the first verse of 'QADIR' but I really feel like I'm talking to myself."
"Sinking down these thoughts at night," he sings on "BOUNCING" over heavy drums and distortion, his voice a pinched whisper. Across the album, Hakim treats his voice like an instrument to be played in various ways. "All These Instruments," which was written with his brother, Danny, is a moment where his vocals rings clear. Hakim sings over delicate acoustic guitar about the "strange powers" musical instruments have. "It's been so damn hard to find some peace/In a world that's so damn cold and mean," he sings.
If there's any possibility of reprieve from that coldness and meanness, it's in fingers on guitar strings, in the voice of someone you love, close to your ear. That's something that could make any of us good, if only for a spell.