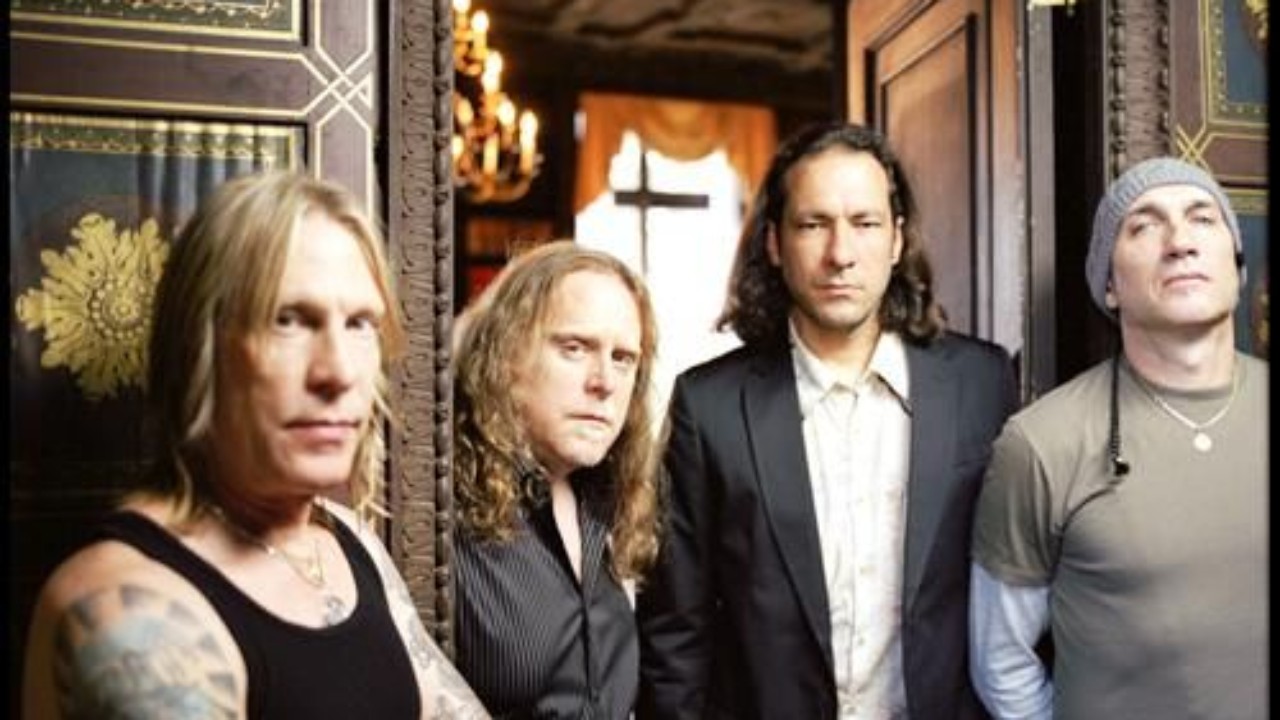 Gov't Mule
With 2 million paid song downloads through their site MuleTracks, seven critically acclaimed studio records already released, a handful of DVDs and live albums, plus an ever-expanding fanbase and sold-out coast-to-coast tours, Gov't Mule could easily rest on its laurels.
Yet when you're in one of the hardest working bands in rock history, pushing yourself to greater heights always supersedes cashing in on past successes.
For guitarist/lead vocalist Warren Haynes and his band, Gov't Mule, creating a new album is akin to walking a tightrope: Write new songs that please old fans, while hopefully garnering new ones. Develop that material in the studio rather than on the road, to prevent premature leaks via the internet. Celebrate the roots of American music, yet take sonic forays into the future. Honor the memory of the late Allen Woody, while simultaneously welcoming new bassist Jorgen Carlsson into the fold.
With By A Thread, Gov't Mule's first studio album in three years, recorded at Willie Nelson's Pedernales Studio in the Texas Hill Country, the band – which also features drummer Matt Abts and multi-instrumentalist Danny Louis – meets those challenges and more.
"It feels like we're moving forward and backward at the same time," Haynes notes. "Hardcore fans tend to not want us to move too far away from where we started, but the band never wants to stay in one place for very long."
"While Jorgen brings his distinctive musical personality to the table, he also uncannily evokes some of (Allen) Woody's spirit which inspired us to revisit our past."
"I don't know if we were willing to travel that road right after Allen died," says Haynes, "but this far down the line, it seems liberating and exciting."
From the opening licks of "Broke Down On The Brazos," a hard-hitting up-tempo Texas stomp that features ZZ Top's Billy Gibbons' unmistakable fretwork, through the meditative closing ballad, "World Wake Up," it's clear that Gov't Mule is intent on plowing new ground.
"There was this groove that Matt and Jorgen were playing the first day in the studio," Haynes recalls. "We taped it, and when the occasion came up for us to start writing something new, we pulled it out, and it became the catalyst for that tune. Danny and I started attacking it, Gordie Johnson [the album's producer] got involved, and during a break I went next door and began writing the lyrics."
That organic approach is evident throughout the 11-song album, which runs the rock-and-roll gamut from barroom blues to pyschedelia (check the disintegrated chords of the '60s throwback "Inside Outside Woman Blues #3") to melody-driven tunes like "Frozen Fear". The band's approach was simple: Sequester themselves at the studio, located 45 minutes from Austin, to avoid any unnecessary distractions. Ignore the clock and let loose some freeform jams. Capitalize on the chemistry that was already developing between Carlsson and Abts. Write new material, as Haynes describes, "from the ground up."
"Writing in the studio was a lot of pressure, but it worked out great. For whatever reason, the time seemed right. The door was kicked open, and now we're moving full steam ahead."
Once that metaphorical door was unlocked, Gov't Mule proved unstoppable in the studio.
"Warren had some sketches of songs, and some fully finished songs, but what made this session special was that the band co-wrote four songs on the spot," Abts says. "What we were thinking 14 years ago, when the band started, doesn't necessarily apply to 2009. We've gone through some changes, but that's a good thing, like any relationship that changes over time. Jorgen has given us such a shot in the arm. I'm really excited about the new record – it's the best thing we've ever done."
The experience, says the Swedish-born Carlsson, who joined Gov't Mule last January, was better than anyone could've imagined.
"I play in a lot of high-pressure studio sessions in L.A.," he says, "but this felt so natural. It was fun. I played as good as I could, and I can't wait to see what happens next."
Louis agrees.
"As long as I've been playing music, it still feels like a little miracle when the creative spirit kicks in," he says. "'Steppin' Lightly' came together with all four of us huddled around in a circle. I came out from behind the keyboards and played guitar, so physically, we were closer than we were before. 'Any Open Window' was the same thing – for the first time, not only was Jorgen involved on the ground floor of the tune, but we broke it down to a two-guitar band."
As Gov't Mule picks up speed, however, the band has never lost sight of its roots.
Exhibit A: "Railroad Boy," a 100-year old folk song Haynes learned as a teenager in Asheville, N.C. and transformed into a rollicking, organ- and guitar-driven romp.
"The tradition, melody and story of that tune are so strong, that somehow, it's never left my brain," explains Haynes, also a member of the Dead and the Allman Brothers Band, and one of Rolling Stones' Top 25 Greatest Guitarists of All Time.
"I thought, why don't we work up a rock-and-roll arrangement, and see what happens. It came together really quickly – when that happens, it's always a good sign. Everybody's input was spot-on. The timelessness of that song was inherent; what we add is the freshness. Gov't Mule plays a modern day version of that music – not a tribute, but a continuation."
On the next track, "Monday Mourning Meltdown," Gov't Mule downshifts into a moody, contemporary rock ballad.
"It's a personal statement for me," Haynes avows. "Sonically, it's different from anything we've ever done. We experimented with a lot of different approaches, and in some ways, this song really showcases the growth of the band and represents a new direction for us."
Now that the finishing touches have been placed on By A Thread, the musicians of Gov't Mule anxiously await its late summer release.
"These songs didn't exist until we got to Pedernales," Abts says. "No one's heard 'em yet, which is kind of frustrating."
Haynes explains, "We want By A Thread to be a surprise, so we've made a point not to play any of them live until our fans can get the full impact of the new material."
"The studio is a kind of science lab, where you're performing experiments that you don't have to let anybody hear," Louis adds. "There's an interaction with our fanbase, but it takes time for it to happen. In a live situation, we're in that lab atmosphere, but we've added the energy of the audience, so we get instant feedback. The anticipation is just building and building. These songs are like a Thorazine shuffle, alive in my head. They have yet to get out of the barn, so to speak."
Gov't Mule will unveil By A Thread on a worldwide tour that began with two nights headlining Warren's own Mountain Jam festival in upstate New York, and included stops at Bonnaroo, Wakarusa, and two nights at San Francisco's Warfield Theatre in late September.