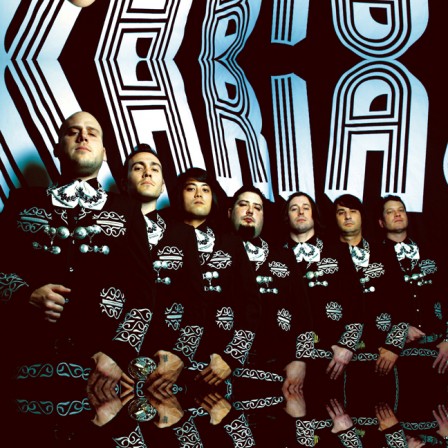 Get Mariachi El Bronx's latest album Mariachi El Bronx (III) at the ATO Store.
---
Download EPK here (includes press photos, album art, and bio). For more information or additional press materials, please contact talia@atorecords.com
"Going acoustic and dressing in black charro outfits is probably the punkest move they could have taken; El Bronx negotiate in exactly the same way as The Bronx – they don't. They fear nothing, explore everything and create from the rawest of emotion, making imperfections the very best bits."—NME
"I don't want to make a mariachi record," guitarist Joby J. Ford said to vocalist Matt Caughthran when songwriting began for what would become the 3rd eponymously titled LP from Los Angeles' Mariachi El Bronx. The singer responded aptly with a pensive "I don't either," and a tone was seemingly set.

The next few months saw the band scrapping more material then they kept. It's an interesting time when an artist, which had previously re-imagined its sound once (see American hardcore punk band, The Bronx), attempts to re-imagine their signature sound yet again. On (III) the focus to excel as a tradition ensemble have disappeared. The teetering of can or cannot is brazenly disregarded and the genre playbook sits idly next to the instruments it used to command – dusty and unread.

This time around the band approached writing from a different direction. They dusted off old sequencers, synths, and an ARP and began to create soundscapes they would tack their music against – hammering and bending parts against each other in order to create a harmonious environment. Energized by this fusion of traditional melodies and modern ambience the band decided to follow the imaginary rabbit down its hole and embraced the sonic mash. Rather then make a mariachi record they aimed to create a mariachi inspired album.


Fast forward to January 2014. The band set up camp at Haunted Hallow Studios in Charlottesville, Virginia — a surreal private countryside location with absolutely no cellphone reception, but plenty of strange sculptures and miles of woods in every direction. Mariachi El Bronx (Matt Caughthran, Joby J. Ford, Jorma Vik, Brad Magers, Ken Horne, Vincent Hidalgo and Ray Suen) spent two weeks with producer John Avila (Oingo Boingo) cutting the meat of the album before returning to LA to wrap up the loose ends. Certain tones echo through this 10 song LP – the feel of a band coming into their own, extending the proverbial middle finger to tradition (and backing it up 100%).


Commentary of social unrest is prominent on tracks like "New Beat" and "Sixes And Sevens" and reflection on life experiences peppers the album with tracks like "Wildfires" and "High Tide." "Nothing's Changed" sees a surprise visit from DJ Bonebreak (X) on marimbas and harp virtuoso Willie Acuña (Mariachi Sol de Mexico) guests on "Raise The Dead."


Mixed by Rob Schnaph, (III) is now available in all formats, including day-glo orange vinyl, via ATO Records in the US, via PIAS Records in the UK and across Europe and via Cooking Vinyl Records in Australia and New Zealand.