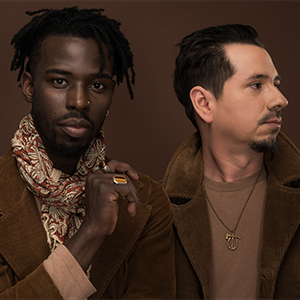 Black Pumas Premiere "Colors" Live Video
Today, Black Pumas have premiered a new performance video of "Colors" via The Fader— a track that Hypebeast called "an idiosyncratically modern update of the height of the Motown era".
Watch the video below
Black Pumas' "acutely cinematic" (Pitchfork), "perfectly realized" (The Guardian) self-titled debut is out now, and the band continues to prove that they are "the breakout band of 2019" (NPR). They are selling out tour dates across the country, including upcoming dates in NYC, LA, and more.
Their peers are taking notice, too: Spoon's Britt Daniel shouted them out in a recent interview with the Austin Chronicle:
AC: You've had the opportunity to help out a few Austin bands – are there any newer acts that you're excited about?
BD: I just started listening to that Black Pumas record because I love the record cover and I was seeing it everywhere. That's a great band.
From winning Best New Band and Best Song ("Black Moon Rising") at the 2019 Austin Music Awards and attracting praise from Rolling Stone for their "tireless, charismatic" performances at SXSW to sold-out dates with The Heavy throughout Europe, the partnership between busker-turned frontman Eric Burton and Grammy-winning guitarist Adrian Quesada is becoming impossible to ignore.
Black Pumas is currently the #1 most played album at KCRW, ahead of Thom Yorke and Khruangbin. Listen to "Black Moon Rising" below.