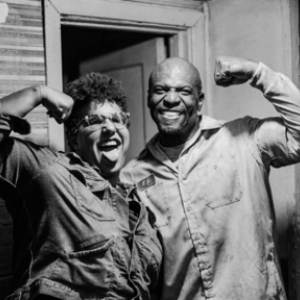 Brittany Howard Shares New Single & Video, "Stay High"
Today, Brittany Howard unveiled "Stay High," the soulful first single from her debut solo album, Jaime, and the accompanying video, which follows a father in the moments after his shift at a factory. Envisioning Terry Crews – who portrayed beloved TV dad Julius in "Everybody Hates Chris" and has gone on to star in such projects as The Expendables (and its sequels), Deadpool 2, "Brooklyn Nine-Nine" and "America's Got Talent" – in the lead role, Howard wrote him a letter to ask if he would consider starring in the video, and he graciously accepted her offer.
She teamed up with director Kim Gehrig to shoot "Stay High." Gehrig's music videos for Wiley & Mark Ronson's "Cash in my Pocket" and Chaka Khan's "Like Sugar" won top honors at the UK VMAs. Her numerous awards include the first Glass Lion as well as multiple Gold Lions at Cannes. Howard dedicated the "Stay High" video to her father, K.J. Howard, who makes a cameo appearance. Marking her first-ever appearance in a music video, Brittany can also be spotted in the clip.
Watch "Stay High" below
Pre-Order Brittany Howard's Debut Album Jaime Here Out September 20
"This video is shot in my home town of Athens, Alabama. The actors are my family and friends," says Brittany Howard. "Terry Crews plays a man who isn't out to change the world, he plays a man who just wants to come home to those who understand and love him best. We see his inner beauty, grace and humanity in a place that is so often misunderstood."
"I got an email from the Brittany Howard, asking me to be a part of a song she wrote that was all about her dad and how special he was to the family. And she poured her heart out in this letter. I couldn't believe it," Terry Crews recalls. "Brittany was like, 'we can shoot it in L.A.,' and I said, 'No, I'm coming to you, we're going to Alabama. We're going to where you grew up, to where your family is."
Rolling Stone said, "Howard's solo debut, Jaime, is her most ambitious recording ever, full of synthed-out psychedelic funk, druggy soul ballads, hip-hop loops, and lyrics grappling with her past, including sexuality, family tragedy, religious guilt and more…It's a powerful record."
"It's my first time making decisions on my own, being the captain of the ship," she says. "It brings up existential questions—why am I here, why do I do this? People think that touring in a band is super-fun, and it can be, but nothing about it is normal. You miss out on a lot of stuff, so I need to make sure I'm doing it for the right reasons."
Tickets are on sale now for Howard's fall North American tour, which includes two-night stands at intimate venues in Asheville, NC, Washington, DC and Los Angeles. The headline run will also include shows at Ryman Auditorium in Nashville (August 19) and New York City's Beacon Theatre (September 24). See below for full itinerary or visit www.brittanyhoward.com. Every online ticket purchased for the U.S. dates on the fall tour will include a CD of the new album, Jaime.
Brittany Howard – Tour Dates
North America
8/17 | Asheville, NC | Orange Peel
8/18 | Asheville, NC | Orange Peel
8/19 | Nashville, TN | Ryman Auditorium
8/23 | Washington, DC | 9:30 Club
8/24 | Washington, DC | 9:30 Club
9/18 | Milwaukee, WI | Riverside Theater
9/19 | St. Paul, MN | Palace Theatre
9/20 | Chicago, IL | Riviera Theatre
9/22 | Toronto, ON | Rebel
9/24 | New York, NY | Beacon Theatre
9/25 | Boston, MA | House of Blues
9/27 | Philadelphia, PA | The Fillmore
10/5 | Austin, TX | ACL Festival
10/8 | Los Angeles, CA | Theatre at Ace Hotel
10/9 | Los Angeles, CA | Theatre at Ace Hotel
10/12 | Austin, TX | ACL Festival
10/13 | Atlanta, GA | AfroPunk Festival
International
8/29 | London, UK | EartH Hackney
9/2 | Amsterdam, NL | Paradiso
9/4 | Paris, FR | Alhambra
11/2 | Bilbao, ES | BIME Live
www.brittanyhoward.com
Instagram @blackfootwhitefoot
Twitter @blkfootwhtfoot
Facebook.com/BrittanyHowardOfficial