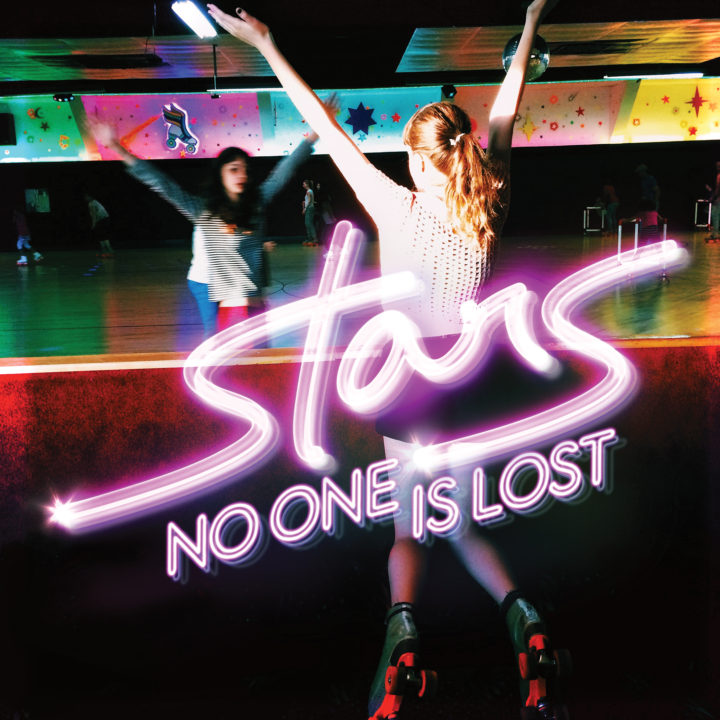 STARS Announce New Album 'No One Is Lost' (Out Oct. 14) and Headlining Tour
NPR Music Premieres First New Song "From The Night:" http://shorefi.re/XWHlbJ
Pre-Order 'No One is Lost' On iTunes: http://smarturl.it/StarsNoOneIsLost
STARS have confirmed the October 14 release of their new album 'No One Is Lost' (ATO Records) and a headlining North American tour, including shows at NYC's Modern Sky Festival plus dates in DC, Boston, Chicago and more (full schedule below). The follow-up to 2012's 'The North,' 'No One is Lost' is comprised of 11 original songs and was produced by STARS and Liam O'Neil (Metric, The Stills). NPR Music premiered "From The Night," the lead track off the record, calling it "a misnomer to describe a song about embracing darkness as 'sunny,' but its silver linings – "Let's be young / Let's pretend that we never will die" – are as insistent as the propulsive thump of the chorus." Listen here.
"From The Night" revels in the chances you take and the loves you make or break on any given evening. Lead singer/songwriter Torquil Campbell explains, "I always find it so moving and beautiful to watch people have their nights out. There's something so heartbreaking about it. People have jobs that they have to get up for, jobs they hate, and they live for the weekend; they live for these moments. And they put everything they have into it."
For 'No One Is Lost,' STARS craved autonomy, and serendipitously inherited the Mile End rehearsal space last December above the now defunct, Royal Phoenix nightclub in Montreal. STARS built a functional studio out of the former space of then-disbanding Handsome Furs (and site of Arcade Fire's first rehearsals); Mile End became a home away from home. Then the nightclub (and life) crept in, resulting in STARS' most urgent record to date. Drummer Pat McGee explains, "The sub-bass throb coming from the club below our studio was undeniably and unavoidably influential. It motivated us to out-throb the throb."
"This record's called 'No One Is Lost' because that is a fucking lie," says Torquil. "We are all lost, we are all going to lose this game and, as you get older, you lose people more and more. I just wanted to close my eyes and jump and hope that was true. Life is loss, love is loss. And loving people is about accepting that you're going to have to say goodbye to them. And that's why it's fucking brave. That's STARS ethos: this life is very heartbreaking and sad… so let's get completely fucking arseholed and listen to some Dionne Warwick."
'No One Is Lost' translates all that anxiety into pure ecstasy, from the laser-cut new-waved precision of Millan's "This Is the Last Time" to the soaring, Mozzerific chorus of Campbell's "Trap Door," to the dreamy duet "Look Away." And the titanic title track – the sound of a dancefloor being swallowed whole by an ocean of sweat and swapped spit – feels like the moment STARS entire 15-year journey has been leading up to, a euphoric house banger that distills all the hope, fear, joy, sadness, and sex in the band's songbook into a pair of unshakeable mantras: "put your hands up because everybody dies / put your hands up if you know you're going to lose."
'No One Is Lost' Tracklist:
1. From The Night
2. This Is The Last Time
3. You Keep Coming Up
4. Turn It Up
5. No Better Place
6. What Is To Be Done?
7. Trap Door
8. Are You OK?
9. A Stranger
10. Look Away
11. No One Is Lost
STARS 2014 Tour Dates:
08/18 – Stratford ON, Canada @ Stratford Music Fest
08/30 – Calgary AB, Canada @ Xfest
08/31 – Edmonton AB, Canada @ Sonic Boom
09/07 – Toronto ON, Canada @ Riot Fest Toronto
10/05 – New York, NY @ Modern Sky Festival (Central Park)
11/08 – Portland, ME @ Port City Music Hall
11/09 – Boston, MA @ Royale
11/12 – Philadelphia, PA @ Union Transfer
11/13 – Washington, DC @ 9:30 Club
11/14 – Raleigh, NC @ Lincoln Theatre
11/15 – Atlanta, GA @ The Loft
11/16 – Nashville, TN @ Mercy Lounge
11/19 – Minneapolis, MN @ First Avenue
11/21 – Chicago, IL @ Vic Theatre
11/22 – Detroit, MI @ Majestic Theatre
11/23 – Buffalo, NY @ The Tralf
STARS is: Amy Millan, Evan Cranley, Patrick McGee, Chris Seligman and Torquil Campbell, with Chris McCarron.
STARS On The Web:
http://www.youarestars.com/home/
https://www.facebook.com/starsstars
https://twitter.com/youarestars