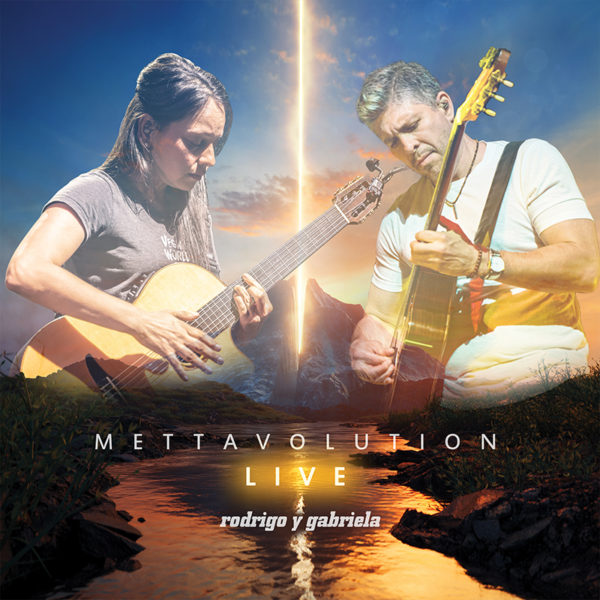 2020
Mettavolution Live
Krotona Days (Live)
Witness Tree (Live)
The Soundmaker (Live)
11:11 (Live)
Diablo Rojo (Live)
Echoes (Live)
Mettavolution (Live)
Tamacun (Live)
Gabriela Solo (Live)
Electric Soul (Live)
Cumbé (Live)
Hanuman (Live)
Terracentric (Live)
GRAMMY®-Award-winning guitar virtuosos Rodrigo y Gabriela have released METTAVOLUTION LIVE, an all-new double album recorded during last year's METTAVOLUTION World Tour.
"Hearing this recording is to be able to reconnect with our marvelous fans from our live gigs during 2019," say Rodrigo y Gabriela, "the year we got to promote our METTAVOLUTION album all over the world. That was the very moment we felt truly complete as artists and musicians."
The release of METTAVOLUTION LIVE comes in the wake of a deeply creative period that Rodrigo and Gabriela are continuing to experience in these pandemic days at home in Zihuatanejo, Mexico. One of the world's most in-demand live acts, the duo had planned to spend this summer celebrating METTAVOLUTION and their historic GRAMMY® Award triumph with an eagerly awaited world tour. Instead, they performed an extremely popular NPR Tiny Desk (Home) performance in April, and have been releasing their daily Lumbini Sessions with inspired live versions of their favorite metal songs, film themes, jazz tunes, Rodrigo y Gabriela album cuts as well as covers of Motorhead, Billie Eilish, Dua Lipa, Dave Brubeck, Van Morrison, Lil Nas X, Radiohead and more.