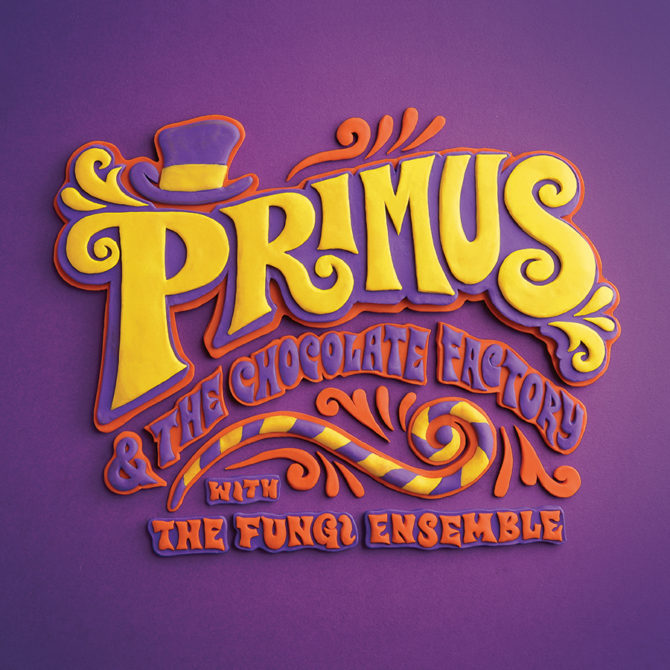 2014
Primus & The Chocolate Factory
Hello Wonkites
Candy Man
Cheer Up Charlie
Golden Ticket
Lermaninoff
Pure Imagination
Oompa Augustus
Semi-Wondrous Boat Ride
Oompa Violet
I Want It Now
Oompa Veruca
Wonkmobile
Oompa TV
Farewell Wonkites
Find one of FIVE Golden Vinyl Records for lifetime tickets to Primus shows! 
Catch Them Live This Fall – Tour Dates Below
Primus' first full-length studio album in nearly 20 years, 'Primus & The Chocolate Factory with the Fungi Ensemble' is out today via ATO Records. In support of their album, the definitive Primus line up — Les Claypool, Larry LaLonde and Tim Alexander — will begin their nationwide tour the day after release. In the spirit of Willy Wonka, Primus has included five golden vinyl, each redeemable for a life-time Primus concert ticket.
"The idea was to combine the Frog Brigade and Primus, and do this record,' says Claypool. I think like a good portion of the planet, we were all pretty put off by the remake of the 'Willy Wonka' movie – the Tim Burton version. I really wanted to pay homage to a film [1971's 'Willy Wonka & the Chocolate Factory,' starring Gene Wilder] that was very important to me as a kid and very influential to me musically. So that's what we did. And as opposed to just going in and recording the songs and playing them the way they are in the film, we twisted them up a bit…twisted them up a lot."
It felt so good, in fact, that he decided to take Primus into the studio to prepare the soundtrack for an album release. Claypool admits that he's always, "in some way, wanted to be Willy Wonka," and, also, that he's always wanted to work a cover of "The Candyman" — a memorable number from the film's soundtrack — into Primus sets.
With the album dropping on October 21, Primus plans to tour the Chocolate Factory beginning the very next day. "We're going to do some touring with it and we put together this pretty abstract stage production," says Claypool, "We're going to take it out there, around the planet, and see what happens. And, in light of the record business being gutted by the internet, we've made some PRIMUS brand chocolate bars to peddle as well."
Of course, Claypool realized that it was risky business to adapt a cinematic classic that is so close to so many people's hearts. And, naturally, he realized that it was dangerous waters to swim in the wake of Gene Wilder, who portrays Willy Wonka in the original film. The band pulls it off by making something that is truly their own, without taking anything away from the movie.
"Our project is an homage to Gene Wilder and David L. Wolper's, Willy Wonka and the Chocolate Factory and the effect it had on me in my youth," spouts Les, "Now we get to sell PRIMUS bars and hang out with demented Oompa Loompas. Plus to top it off, it gives me an excuse to wear a purple, velvet waistcoat and brown top hat for the next 18 months."