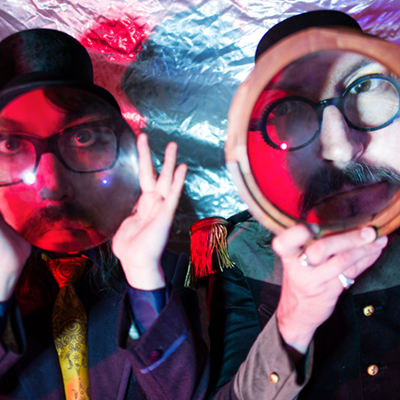 Watch "Bubbles Burst" Video from The Claypool Lennon Delirium's "Monolith of Phobos", Out Now!
Two worlds have collided, and what glorious and odd worlds they are. After a successful summer tour pairing Primus with The Ghost of a Saber Tooth Tiger, Les Claypool and Sean Lennon have decided to combine their abstract talents into a project called The Claypool Lennon Delirium. Their efforts thus far have spawned the upcoming, full-length release called Monolith of Phobos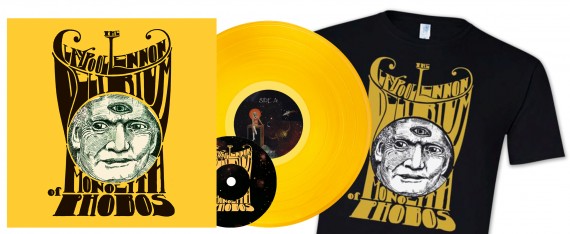 Watch the video for "Bubbles Burst":
After some impromptu, backstage jams and an epic live sit-in on Primus's psychedelic opus, "Southbound Pachyderm," Claypool approached Lennon about doing a recording project. "I was trying to wrangle up an Oysterhead reunion since Primus was taking a rest for 2016 but the planets just wouldn't align for that," said Claypool. "I don't like sitting around, so when Sean said he didn't have plans for this next year, we started kicking around the notion of making an old-school, psychedelic/prog record.  
"Sean is a musical mutant after my own heart," said Claypool. "He definitely reflects his genetics–not just the sensibilities of his dad but also the abstract perspective and unique approach of his mother. It makes for a glorious freak stew." Over the course of six weeks or so, the two wrote and recorded a total of ten songs with both of them sharing various vocal and instrumental responsibilities, going beyond their core instruments of bass and guitar.
In astronomical terms, the Monolith of Phobos is a large rock on Mars's potato shaped moon Phobos. As the phrase implies, this album is an old-school approach to a psychedelic space rock record. The Claypool Lennon Delirium will begin their Summer tour on album release day and the touring band includes Les Claypool (bass, vocals), Sean Lennon (guitar, vocals), Mark "Money Mark" Ramos Nishita of the Beastie Boys (keyboards), and Paul Baldi of the Fungi Band (drums). All upcoming tour dates including Bonnaroo and other summer festivals are below.
On Tour
6/4 – Orlando, FL – The Beacham*
6/5 – Tampa, FL – The Ritz Ybor*
6/7 – Athens, GA – Georgia Theatre#
6/9 – Wilmington, NC – Greenfield Lake Amphitheatre#
6/10 – Asheville, NC – Orange Peel#
6/11 – Manchester, TN – Bonnaroo
6/12 – St. Louis, MO – The Pageant#
6/14 – Kansas City, MO – Crossroads#
6/15 – Minneapolis, MN – Skyway Theatre#
6/17 – Garrettsville, OH – Nelson Ledges Quarry Park$
6/18 – Port Chester, NY – Capitol Theatre$
721 – Seattle, WA –Showbox SODO*
7/22 – Jacksonville, OR – Britt Pavilion*
7/23 – Portland, OR – Roseland Theatre*
7/25 – Jackson Hole, WY – Pink Garter Theatre*
7/26 – Missoula, MT – Wilma Theatre*
7/27 – Salt Lake City, UT – The Depot*
7/29 – Los Angeles, CA – Fonda Theatre*
7/30 – Tempe, AZ – Marquee Theatre*
7/31 – Las Vegas, NV – Brooklyn Bowl*
8/2 – Santa Ana, CA – The Observatory*
8/3 – San Diego, CA – Observatory North Park*
8/4 – San Luis Obispo, CA – Fremont Theatre*
8/5 – San Francisco, CA – Outside Lands
8/5 – 8/7 – Buena Vista, CO – Vertex Festival
8/9 – Iowa City, IA – Englert Theatre*
8/11 – Detroit, MI – Majestic Theatre*
8/12 – Columbus, OH – Express Live! Indoor Pavilion*
8/13 – Scranton, PA – Peach Fest
8/25 – Buffalo, NY – Canalside Concert Series*
8/26 – Boston, MA – House of Blues
8/27 – New Haven, CT – College Street Music Hall*
8/28 – Portland, ME – State Theatre*
8/30 – New York, NY – Irving Plaza*
8/31 – Philadelphia, PA – The Fillmore%
9/1 – Washington DC – 9:30 Club%
9/2 – 9/4 – Chicago, IL – Northcoast Music Festival
* – with JJUUJJUU
# – with Chicano Batman
$ – with The Dean Ween Group
% – with Marco Bevento