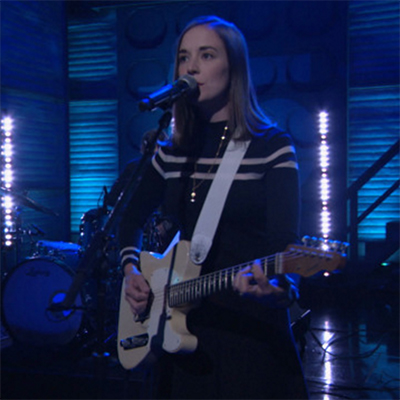 Watch Margaret Glaspy on CONAN – "Emotions and Math" Available Now!
Margaret Glaspy made her television debut on CONAN performing "You and I" from her debut album Emotions and Math – watch her performance below and catch her on tour! Full dates below.
Get Margaret Glaspy's Emotions And Math: Official Store | iTunes | Amazon
Margaret Glaspy's debut album 'Emotions And Math' is available now! Kelefa Sanneh of The New Yorker writes "The music is unadorned, the better to showcase Glaspy's electric guitar and her extraordinary voice, as well as her plainspoken lyrics, which are, by turns, gently sentimental and firmly not." Listen here: http://bit.ly/1ZDWLvv
Pitchfork also posted a review of 'Emotions and Math', saying the album "treats bad decisions and destructive impulses with compassionate clarity and heartfelt empathy."
Margaret will play a hometown album release show at Brooklyn's Baby's All Right on Saturday, 6/18, with Alexander F And Jennah Bell to open. The show falls in the midst of an extensive tour with Lucius and on the heels of a performance this weekend at Bonnaroo. Later this summer, she'll open select dates for Iron & Wine, play Lincoln Center with M. Ward, and make her debut at ACL Fest. Full list of dates below.
Vice says of Margaret Glaspy "Whatever expectation you might form for her, she will quickly upend it." The New York Times says, "Her voice is raspily matter-of-fact and her guitar delivers a blunt, distorted riff." NPR Music called her song "You And I" "one of the year's best kiss-off songs."
Watch the video for "You And I" here: http://n.pr/1ZdlCWH
PRE-ORDER 'EMOTIONS AND MATH'
Webstore: http://smarturl.it/mglaspyofficialstore
iTunes: http://smarturl.it/EmotionsAndMath
Amazon: http://smarturl.it/EAM_Amz 
MARGARET GLASPY TOUR DATES
7/13 – Seattle, WA @ Sunset Tavern 
7/14 – Walla Walla, WA @ Billsville West 
7/15 – Boise, ID @ Neurolux 
7/16 – Salt Lake City, UT @ Kilby Court 
7/18 – Denver, CO @ Larimer Lounge 
8/5 – New York, NY @ Lincoln Center ^
8/13 – Raleigh, NC @ North Carolina Museum of Art +
8/21 – Brecon, United Kingdom @ Green Man Festival
8/23 – London, United Kingdom @ Moth Club 
9/17 – Shakopee, MN @ First Avenue 
10/8 – Austin, TX @ Austin City Limits 
* With Lucius
+ With Iron & Wine
^ With M. Ward
FOR MORE ON MARGARET GLASPY
Shorefire.com/client/margaret-glaspy
Margaretglaspy.com
Facebook.com/mglaspymusic
Twitter.com/mglaspy
Instagram.com/margaret_glaspy