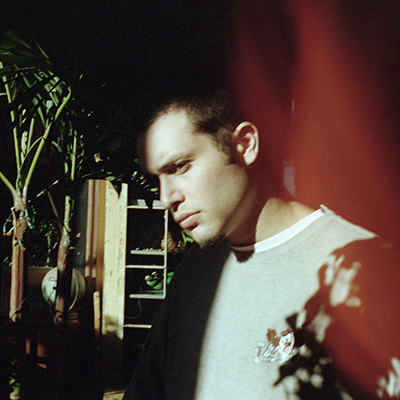 Watch "Bet She Looks Like You" Live Session & pre-order Nick Hakim's debut "Green Twins"
Head to NPR Music to listen to a brand new track "Bet She Looks Like You" off of Nick Hakim's debut album Green Twins, out May 19 via ATO Records. NPR praises Nick's "gifted voice and indelible guitar playing at the center of the danceworthy prayer" on the track, which is now available to download or stream. You can also watch a live performance of the single below, filmed at Brooklyn's Market Hotel by ATO Records x Out of Town Films.
Pre-order Green Twins and instantly download "Bet She Looks Like You". Pre-order on vinyl, cd, or cassette from the official store and you'll receive a free zine with notes and lyrics from Green Twins:
Official Store | iTunes | Amazon
Nick is on tour now – scroll down for dates, and head to Nick's website for tickets.
. 
Nick Hakim's debut full-length album Green Twins follows his breakthrough Where Will We Go, Pt. I & II EPs that were self-released on his Earseed Records and praised by the New York Times, NPR Music and more. Green Twins is an experimental step forward with emotional heft gleaned from his experiences in the years since. Intimate first single "Bet She Looks Like You," was recorded mostly in the New York-based singer-songwriter's home bedroom, and was one of the first songs that saw Hakim embrace his new experimental way of songwriting and recording.
Each track on the album peels back a particular aspect of his life. He notes that, "a lot of it is what I was thinking in the moment, very specific songs… many of them are like self-portraits." He says of Green Twins, "I also felt the need to push my creativity in a different way than I had on the EPs." The record draws from influences spanning Robert Wyatt, Marvin Gaye and Shuggie Otis to My Bloody Valentine. "We wanted to imagine what it would have sounded like if RZA had produced a Portishead album. We experimented with engineering techniques from Phil Spector and Al Green's Back Up Train, drum programming from RZA and Outkast, and were listening to a lot of The Impressions, John Lennon, Wu-Tang, Madlib, and Screaming Jay Hawkins."
MEET NICK HAKIM, THE SOUL SINGER IN SEARCH OF A SACRED SPACE
(The FADER – "Gen F")
The story of Green Twins truly began when, armed with the masters for his EPs, Hakim moved from Boston to Brooklyn, spending his time fleshing out unfinished ideas in his bedroom. He came up with lyrics on the spot, recording sketches and lyrics on voice memos and a four-track cassette recorder. From there, Green Twins came about as a sum of its parts: Hakim took the demo recordings to studios in New York City, Philadelphia and London, and built on them with engineers including Andrew Sarlo (bass, engineering, production), keeping the original essence of the songs intact. Sarlo notes that, "for other artists, a demo serves as a potential shape the song could form into. But for Nick, demos are more like creating a temple: a sanctuary that now we have to go into and somehow clean, furnish, and get ready for other people to experience the sermon in."
Hakim's debut comes as the culmination of years chiseling his skills as a musician. Hailing from Washington, D.C., he grew up in a musical household—his older brother introduced him to bands like Bad Brains and Nirvana, and his parents exposed him to Nueva canción—while he set out on his own to discover the DC music scene. He didn't take an interest in learning an instrument until high school, when he taught himself to play the keys. After graduation, he moved to Boston to continue his study of music. In the time since moving to Brooklyn and setting to work for three years on Green Twins, he embraced the live circuit, both as a solo musician and with his band, whom he's brought together from within his community in Boston and New York.
With Green Twins, Hakim plans to tour through the beginning of the year (see tour dates below), and hopes that folks will connect with the songs he's written. "I think everybody feels insecure about certain things and everybody has lost people dear to them. I think I'm writing about common things that people feel," he says. "I think I'm very grateful for anybody that's listening or wants to be a part of my little world that I've created through song."
PRESS QUOTES
"his delicate guitar work and hazy harmonies make him a singular and vital presence in the genre. His 2014 EPs have been exercises in restraint, drenched in liquor and physicality." – New York Times
"Nick Hakim makes soulful music that feels lovingly dreamy and hopelessly bleary at once… his layered vocals swim across each other and send shivers down your spine." – NPR Music
"moody, gorgeous voice suits a sweaty summer night." – New York Magazine
"Exceptional debut… emotionally rich and runs the gamut of R&B, jazz, folk and Motown, taking cues from greats like Marvin Gaye and Harry Nilsson" – Interview Magazine
"Nick Hakim's music is an intimate conversation, vulnerable and bewitching–R&B born of the blues' sensibility for soul-bearing." – Pigeons & Planes
NICK HAKIM TOUR DATES
Feb 13 The Lexington – London, UK – SOLD OUT
Feb 23 Milk Boy – Philadelphia, PA
Feb 24 Blue Note – New York, NY
Feb 25 Songbyrd – Washington, DC
Mar 03 Monty Hall – Jersey City, NJ
Mar 04 Union Pool – Brooklyn, NY
Mar 08 El Club – Detroit, MI
Mar 09 Schubas – Tavern Chicago, IL
Mar 10 Blueberry Hill – St. Louis, MO
Mar 11 Proud Larry's – Oxford, MS
Mar 13 Gasa Gasa – New Orleans, LA
Mar 14 White Oak Music Hall Upstairs – Houston, TX
Mar 19 Valley Bar – Phoenix, AZ
Mar 21 Voila! Gallery – Los Angeles, CA
Mar 22 Brick & Mortar – San Francisco, CA
Mar 24 Doug Fir Lounge – Portland, OR
Mar 25 Alexander Gastown – Vancouver, BC
Mar 26 Barboza – Seattle, WA
Mar 29 7th Street Entry – Minneapolis, MN
Mar 30 The Back Room – Milwaukee, WI
Mar 31 Hi-Fi – Indianapolis, IN
Apr 01 Club Café – Pittsburgh, PA
Apr 19 The Dome – London, UK
Apr 20 Le Pop Up du Label – Paris, FR
Apr 22 Studio 672 – Cologne, DE
Apr 23 Bitterzoet – Amsterdam, NL
Apr 25 Berghain Kantine – Berlin, DE