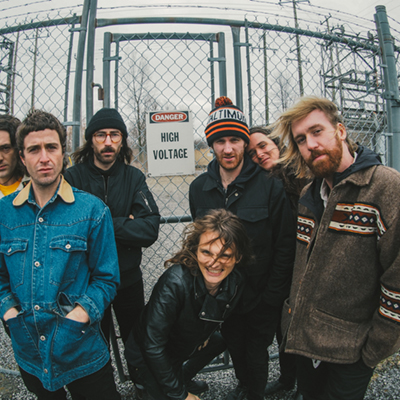 King Gizzard Announces New Album 'Murder of the Universe' out June 23rd. Watch 360 Degree Live Performance
Melbourne's King Gizzard and the Lizard Wizard are a once-in-a-generation group playing a heady combination of psychedelia, prog rock, freakbeat, jazz, heavy metal and Krautrock at a breathless punk pace. Today they introduce Murder of the Universe, to be released June 23rd via ATO Records. A concept album to end all concepts, Murder Of The Universe is a face-melting musical assault concerned with the downfall of man and the death of the planet.
Pre-order Murder of the Universe on Vomit Splatter or 180-gram Black Smoke vinyl from the official store, and receive a free album art megaposter
Lit by thunderclaps and lightning, MOTU inhabits a sonic landscape of death, decay, ossification, fossilization, rebirth. It is a place occupied by wandering shape-shifting beasts, bleeding skies, pools of blood, great fires and mushroom clouds; a planet rent asunder by conflict.  Like in the band's frenzied live show, snippets of their breakthrough records I'm In Your Mind Fuzz and Nonagon Infinity resurface throughout this album to haunt their latest sound.
"We're living in dystopian times that are pretty scary and it's hard not to reflect that in our music," says front man Stu Mackenzie. "It's almost unavoidable. Some scientists predict that the downfall of humanity is just as likely to come at the hands of Artificial Intelligence, as it is war or viruses or climate change. But these are fascinating times too. Human beings are visual creatures – vision is our primary instinct, and this is very much a visual, descriptive, bleak record. While the tone is definitely apocalyptic, it is not necessarily purely a mirror of the current state of humanity. It's about new non-linear narratives."


US TOUR DATES
9/26 – Nashville, TN – Cannery Ballroom
9/28 – New Orleans, LA – One Eyed Jack's
9/30 – Austin, TX – Mohawk Outside
10/1 – Dallas, TX – Trees
10/3 – Albuquerque, NM – Sister Bar
10/4 – Denver, CO – Ogden Theatre
10/5 – Boulder, CO – Fox Theatre
10/6 – Salt Lake City, UT – Metro Music Hall
10/7 – Boise, ID – Neurolux
10/8 – Portland, OR – Crystal Ballroom
10/9 – Vancouver, BC – Commodore Ballroom
10/10 – Seattle, WA – Neptune Theatre
10/12 – San Francisco, CA – The Fillmore
EUROPEAN TOUR DATES
5/31 – 6/4 – Barcelona, Spain – Primavera Sound Festival 2017
6/3 – London, UK – Field Day 2017
6/5 – 6/8 – Marina di Ravenna, Italy – Beaches Brew 2017
6/8 – 6/10 – Porto, Portugal – NOS Primavera Sound 2017
6/9 – 6/11 – Nimes, France – This Is Not A Love Song 2017
6/13 – Brighton, UK – Concorde 2
6/14 – Manchester, UK – Albert Hall
6/15 – London, UK – O2 Forum Kentish Town
6/16 – 6/18 – Hilvarenbeek, Netherlands – Best Kept Secret Festival 2017
6/16 – 6/18 – Mannheim, Germany – Maifeld Derby 2017
6/22 – Paris, France – Cabaret Sauvage
7/21 – 7/23 – Byron Bay, NSW, Australia – Splendour in the Grass Festival 2017