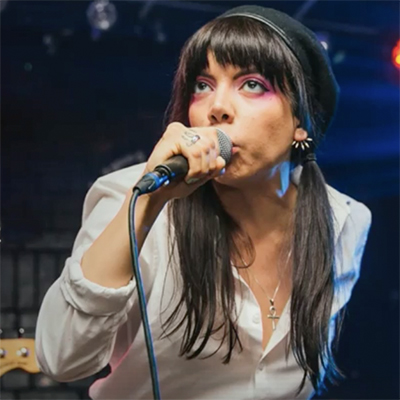 Watch Hurray For The Riff Raff Concert via Pitchfork Live
Hurray for the Riff Raff's whirlwind 2017 continues on the heels of the release of 'The Navigator'.  Last night Pitchfork livestreamed their concert from Meow Wolf in Santa Fe, NM. – watch it here.
Additionally, Hurray for the Riff Raff's Alynda Segarra was featured in the June issue of Elle, in their Women in Music piece, on the cover of She Shreds Magazine and profiled on PBS's Newshour program.  'The Navigator' was also nominated for Album of the Year by the Americana Music Awards, and has appeared on Best Albums of 2017 (so far) lists from Billboard, Spin, Uproxx and more. 
Hurray for the Riff Raff has been touring internationally since March – the second leg of their tour began this week, see full dates and get tickets at the bottom of this post.  Summer dates include Newport Folk Festival, XPoNential Festival, Oya, and Pop Montreal.  On July 27, Lincoln Center Out of Doors will present the Nosotros Festival – founded and curated by Segarra – at Damrosch Park, featuring performances from Hurray for the Riff Raff, Las Cafeteras, Helado Negro, Xenia Rubinos and poets La Bruja, Felipe Luciano, and Bonafide Rojas. 
The band has also teamed with Mijente to create the "No Human Is Illegal" campaign.  The t-shirts are being sold online this month and $1/ticket on the June tour will also go to the organization. 
"I believe it is an artist's duty to remind us of our shared humanity. Mijente is creating an intersectional culture of resistance that is desperately needed. Right now, we must stand together and fight for the rights of immigrant people in this country. We must do it for our neighbors, our grandparents, our children and ourselves. Immigrant people have made this country great, and our future depends on us refusing to be turned against each other." – Alynda Segarra / http://prizeo.com/hurrayfortheriffraff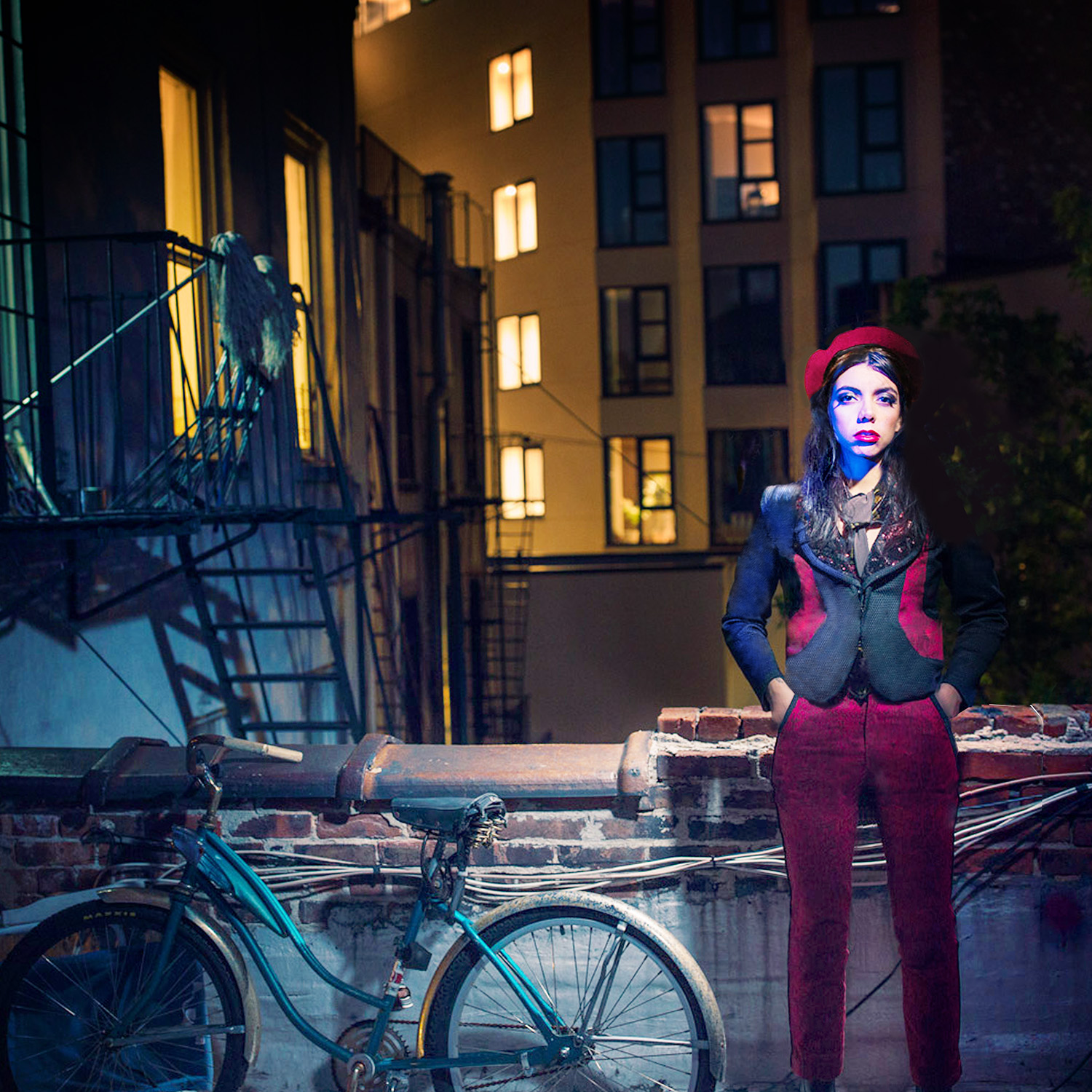 RAVES FOR 'THE NAVIGATOR'
"A rich, courageous new album…'The Navigator' repositions roots music as an anti-nostalgic tool: a truth-telling device" – NPR
"A coming of age concept LP about a young woman that suggests Patti Smith as a barrio poet…this is proudly intersectional folk music" – Rolling Stone, 4 stars

"Not unlike Solange did on her stunning 2016 opus, Segarra uses 'The Navigator' to demand more seats at the table for those voices that have always existed, but simply went unheard." – Pitchfork, 8.1 out of 10
"A genre-bending album of anger, yearning and songs that just flow…there's not a lot you can't sing along to, whoever you are" – 5 out of 5 stars, The Guardian UK
"An audacious album….a major leap forward for an artist whose previous work now seems like a warm-up for the dizzying heights 'The Navigator' strives for" – American Songwriter
On Hurray for the Riff Raff's new album The Navigator (out March 10 on ATO Records), Alynda Segarra tells an interwoven, cinematic story of a wandering soul at a crossroads of identity and ancestral weight. It finds a street kid named Navita traversing a perpetually burning city in search of herself. The Navigator is a thrilling call to arms that could not come at a more crucial time. It also finds Hurray for the Riff Raff at its own musical intersection, delving deep into the worlds of Latin rhythms, searing rock, and incisive ballads.
"The Navigator" is now available at the band's official store, iTunes and Amazon.
PledgeMusic: http://smarturl.it/Navigator-Official
iTunes: http://smarturl.it/TheNavigator-iTunes
Amazon: http://smarturl.it/TheNavigator-Amazon
Read The New York Times' in-depth profile of Alynda HERE, and watch Alynda's interview and performance on The Daily Show with Trevor Noah below. Tune in to CBS This Morning on March 11 and CONAN on March 13 to catch her performing new songs from The Navigator:
Watch Alynda's interview and performance with Democracy Now's Amy Goodman:
The Navigator was produced by Paul Butler (Michael Kiwanuka, St. Paul and The Broken Bones, Devendra Banhart) and recorded at Electric Lady Studios in NYC and Panoramic House in California. The album features percussionists Juan-Carlos Chaurand, Gregory Rogove (Rodrigo Amarante), a trio of Bomba drummers, and Doo Wop singers from New Jersey.
Says Alynda: This is dedicated to the water protectors of Standing Rock – thank you for your bravery and giving us hope. Also, to the people of Peñuelas, Puerto Rico, who are demanding an end to the AES dumping of coal ash which leads to water contamination – we are with you.
All over the world there are heroes, who, despite suffering generations of oppression, are protecting the land and the future of our humanity. Rican Beach is a fictional place, but it was written with my ancestors in mind. It's time to call on yours and to always remember: this land was made for you and me.
Track list:
1. Entrance
2. Living In The City
3. Hungry Ghost
4. Life to Safe
5. Nothing's Gonna Change Girl
6. The Navigator
7. Halfway There
8. Rican Beach
9. Fourteen Floors
10. Settle
11. Pa'lante
12. Finale
TOUR DATES:
June 6 – Santa Fe, NM – Meow Wolf*
June 7 – Phoenix, AZ – Crescent Ballroom*
June 9 – Los Angeles, CA – Teragram Ballroom*
June 10 – Santa Cruz, CA – Rio Theater*
June 11 – San Francisco, CA – Fillmore*
June 13 – Portland, OR – Revolution Hall*
June 15 – Vancouver, BC – Imperial*
June 16 – Seattle, WA – The Crocodile*
June 18 – Boise, ID – The Olympic*
June 19 – Salt Lake City, UT – Urban Lounge*
June 20 – Vail, CO – Crazy Mountain Brewery Hot Summer Nights
June 21 – Denver, CO – The Bluebird Theater*
June 22 – Chicago, IL – Millennium Park
July 27 – New York, NY – Nosotros Festival
July 28 – Newport, RI – Newport Folk Festival
July 30 – Camden, NJ – XPoNential Music Festival
July 31 – Millvale, PA – Mr. Smalls Theatre
August 1 – Toronto, ON – The Great Hall
August 10 – Rees Haldern, DE – Haldern Pop Festival
August 11 – Oslo, NO – Øya Festival
August 12 – Gothenburg, SE – Way Out West Festival
August 14 – Leicester, GB – The Cookie
August 15 – York, GB – The Crescent
August 16 – Hebden Bridge, GB – The Trades Club
August 18 – Brecon, GB – Green Man Festival
September 9 – Raliegh, NC – Hopscotch Music Festival
September 16 – Burlington, VT – Grand Point North
September 17 – Montreal, QC – POP Montreal @ Piccolo Rialto
October 17 – London, GB – Koko
October 18 – Liverpool, GB – Arts Club
October 19 – Dublin, IE – Whelans
October 21 – Glasgow, GB – Saint Luke's
October 22 – Nottingham, GB – Rescue Rooms
October 23 – Bristol, GB – Trinity Centre
October 25 – Portsmouth, GB – Wedgewood Rooms
October 26 – Paris, FR – Point Ephémère
October 27 – Nijmegen, NL – Doornroosje
October 28 – Amsterdam, NL – London Calling @ Paradiso
October 30 – Odense, DK – Posten
October 31 – Copenhagen, DK – Lille Vega
November 2 – Berlin, DE – Privatclub
November 4 – Groningen, NL – Take Root Festival
* – w/Making Movies