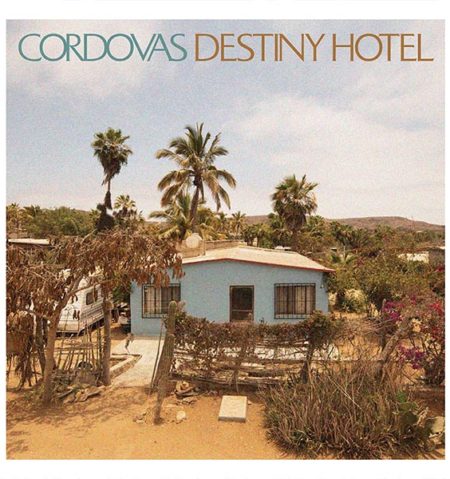 Cordovas Release New Album 'Destiny Hotel'
Cordovas have released their new album Destiny Hotel today, which comes on Limited Edition Gold Vinyl. Cordovas will also be performing a Lightning 100 "Nashville Sunday Night" show at 3rd  & Lindsley in Nashville this Sunday, October 18th to celebrate the release of Destiny Hotel (a limited number of tickets are on sale for the show, and COVID safety measures will be enforced). The show will also be webcast via Nugs.net and broadcast live on Lightning 100. The band will also do a virtual in-store performance from Grimey's in Nahsville on Monday, October 19th at 8pm ET/7pm CT on the Grimey's Facebook page.
The band made their national TV debut in August on CBS This Morning, watch them perform Destiny Hotel standouts "High Feeing" (watch here) and "Rain on the Rail" (watch here).
Grab your Cordovas 'Destiny Hotel' Limited Edition Gold Vinyl Here
Destiny Hotel is a work of wild poetry and wide-eyed abandon, set to a glorious collision of folk and country and groove-heavy rock-and-roll. In a major creative milestone for the Tennessee-based band—vocalist/multi-instrumentalist Joe Firstman, keyboardist Sevans Henderson, guitarist/vocalist Lucca Soria and vocalist/multi-instrumentalist Toby Weaver—the album harnesses the freewheeling energy of their live show more fully than ever, all while lifting their songwriting to a whole new level of sophistication. The result is a batch of songs that ruminate and rhapsodize with equal intensity, inviting endless celebration on the way to transcendence.
Recorded in Los Angeles and produced by Rick Parker (Lord Huron, Beck, Black Rebel Motorcycle Club, Firstman's Atlantic Records-released debut solo album The War of Women), Destiny Hotel expands on the harmony-soaked roots rock of 2018 That Santa Fe Channel. Before heading to L.A., Cordovas spent over three months in their second homebase of Todos Santos (an artist community in Mexico's Baja California Peninsula), sketching dozens of songs partly sparked from their voracious reading of authors like mythologist Joseph Campbell, poet/novelist Rainer Maria Rilke, and spiritual teacher Eckhart Tolle. And when it came time for the recording sessions—a frenetic seven-day stretch squeezed in just before stay-at-home orders took effect in response to the global pandemic—the band methodically eliminated any lyrics they deemed inconsequential.
"We wanted to strike the term 'want' from our music—to get rid of all the 'Baby, baby, baby, I want this, I want that,' and create something more useful," says Firstman. "We needed to make sure these were songs we'd be proud to sing forever."