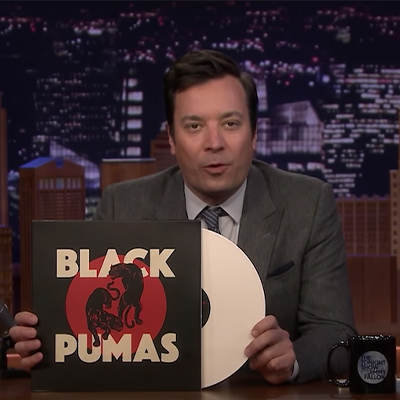 Watch Black Pumas Perform "Colors" On Fallon
"The duo's flair for drama is so stirring, they can seem acutely cinematic… Burton lends an elegant elasticity to Quesada's tightly layered productions." – PITCHFORK
"Sam Cooke meets Wu-Tang Clan in the Texas-based duo's suprisingly fresh take on 70s soul… a debut so perfectly realised by the standards they've set themselves that you wonder what could possibly come next. " – THE GUARDIAN "ONES TO WATCH"
"The breakout band of 2019" – NPR "HERE AND NOW"
"Tireless, charismatic energy… tapping the collective unease of the national moment." – ROLLING STONE
"The world does indeed need Black Pumas and their message right now (4/5 Stars)" – Q MAGAZINE
Watch Black Pumas perform a stunning version of "Colors" last night on The Tonight Show Starring Jimmy Fallon!
Black Pumas played their breakout single "Colors" from their debut album last night to a live studio audience. The duo are set to appear at the GRAMMYs next week following their nomination for "Best New Artist".
With no signs of slowing down, they'll be continuing their massive sold out tour through North America, including stops at Red Rocks and Coachella. See dates below for more information.
1/18 – Minneapolis, MN – First Ave
1/20 – Indianapolis, IN – Hi Fi
1/21 – Columbus, OH – Newport Music Hall
1/22 – Detroit, MI – Saint Andrew's Hall
1/31 – White Oak Music Hall – Houston, TX
3/26 – Chicago, IL – House of Blues
3/27-3/29 – Pelham, TN – Bluegrass Underground
4/12 – Indio, CA – Coachella
4/19 – Indio, CA – Coachella
5/8 – Stubb's Amphitheatre – Austin, TX (SOLD OUT)
5/9 – Stubb's Amphitheatre – Austin, TX (SOLD OUT)
5/10 – Stubb's Amphitheatre – Austin, TX
6/3 – Denver, CO – Red Rocks (SOLD OUT)
6/4 – Denver, CO – Red Rocks
6/17 – Toronto, ON – Danforth Music Hall
6/18 – Pittsburgh, PA – Mr. Smalls Theatre
6/19 – Baltimore, MD – Baltimore Soundstage