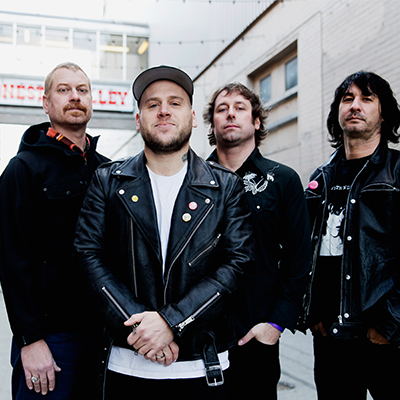 The Bronx Release "Two Birds" Video, from "V" out 9/22
The Bronx released a new video for "Two Birds" from their forthcoming album V out 9/22 – pre-order now.
The video, directed by Steven Hanft, follows the band as they perform across the seedy, off the beaten path L.A. landscape, away from the typical Beverly Hills and Hollywood sights. The clip is populated with a variety of Hollywood sirens, oddballs and masked characters adding new flavor to a vintage, classic rock video.
The Bronx's V was produced by Rob Schnapf (Elliott Smith, Beck, FIDLAR), and follows the bands alter-ego's 2014 album Mariachi El Bronx III.
Guitarist Joby Ford says of the album: "It has the angst and social commentary that has characterized us from the beginning, only now the angst is aimed at more than just superficial things and the social commentary is directed at more than just people who like different music than us."
The band will hit the road on release date, circling the US in October. Check out dates below.
FRI 9/22 – El Rey Theatre, Los Angeles, CA, US
SAT 9/23 – The Rebel Lounge, Phoenix, AZ, US
SUN 9/24 – 191 Toole, Tucson, AZ, US
TUE 9/26 – Barracuda, Austin, TX, US
WED 9/27 – Curtain Club, Dallas, TX, US
THU 9/28 – White Oak Music Hall Upstairs, Houston, TX, US
FRI 9/29 – House of Blues, New Orleans, LA, US
SAT 9/30 – The Loft, Atlanta, GA, US
SUN 10/1 – Exit/In, Nashville, TN, US
TUE 10/3 – Strange Matter, Richmond, VA, US
WED 10/4 – Ottobar, Baltimore, MD, US
FRI 10/6 – First Unitarian Church, Philadelphia, PA, US
SAT 10/7 – House of Independents, Asbury Park, NJ, US
SUN 10/8 – Brooklyn Bazaar, Brooklyn, NY, US
TUE 10/10 – El Club, Detroit, MI, US
WED 10/11 – Subterranean, Chicago, IL, US
THU 10/12 – The Riot Room, Kansas City, MO, US
SAT 10/14 – Globe Hall, Denver, CO, US
SUN 10/15 – Globe Hall, Denver, CO, US
TUE 10/17 – Urban Lounge, Salt Lake City, UT, US
WED 10/18 – The Bunkhouse Saloon, Las Vegas, NV, US
THU 10/19 – The Casbah, San Diego, CA, US
THU 10/26 – Corner Hotel, Melbourne, VIC, Australia
FRI 10/27 – Forum Theatre, Melbourne, VIC, Australia
SAT 10/28 – Eatons Hill Hotel & Function Centre, Brisbane, QLD, Australia
SUN 10/29 – Enmore Theatre, Newtown, NSW, Australia
MON 10/30 – Oxford Art Factory, Darlinghurst, NSW, Australia
TUE 10/31 – Panthers, Newcastle, NSW, Australia
THU 11/2 – Hq, Adelaide, SA, Australia
FRI 11/3 – Metropolis, Fremantle, WA, Australia