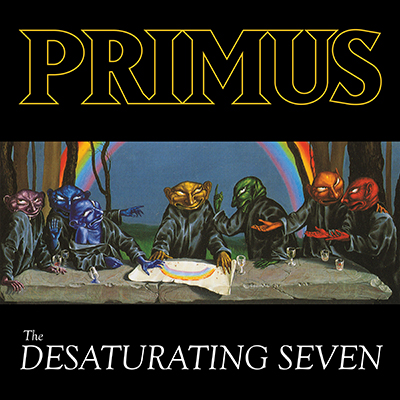 New Primus album 'The Desaturating Seven' Out Today; On Tour this Fall
"Strange-as-ever" – BrooklynVegan
"Appropriately garish" – SPIN
"Deeply off-kilter" – Stereogum
"The masters of weirdness" – Loudwire
San Francisco rock legends Primus are pleased to release The Desaturating Seven, their first original studio album in six years, today via ATO Records. Described as "an ever-mutating epic filled with marching rhythms, jarring tempo shifts and a prog-funk groove (cleverly set in 7/8) that recalls early Eighties King Crimson" by Rolling Stone, it's available now on rainbow splatter vinyl, CD, download or streaming – GET IT NOW.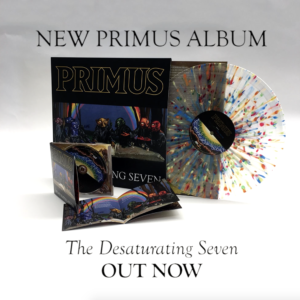 Get the album at your local record store, and you'll receive a "desaturated" poster. Colorize the poster (be creative!) and share with #desaturatingseven – the five best entries will win a Primus prize pack!
This is the first studio album of original material since 1995's Tales From The Punchbowl with the classic Primus line-up of Les Claypool (vocals, bass), Larry LaLonde (guitar) and Tim Alexander (drums). The Desaturating Seven is inspired by a 1970's children's book Claypool often read to his kids when they were growing up. The book tells a story of seven goblins – one representing each color of the rainbow – who simultaneously pull the color out of the world.
"Many years ago when my children were little kidlets scurrying around the place wreaking havoc and whatnot till it was time for bed and book time, my wife turned them on to a book called "The Rainbow Goblins" by Ul De Rico," Claypool explained. "The dark imagery and beauty of the art struck me immediately and I thought, 'this would make good fodder for a piece of music.' The use of color and darkness both in the paintings and the writing was compelling and now, near two decades later, the metaphor of greed, gluttony and deceit vs unity of the masses is eerily relevant. I brought the notion to the Primus guys and they were all for it. Plus, I figured it's about time someone brought 'Goblin Rock' back to the fold."
Watch Les Claypool read the full 'Rainbow Goblins' storybook:

This fall their Ambushing the Storm Tour will feature a complete performance of the new record—a show with a set of Primus material and then "an entire set of Goblin Rock, with full production and fancy eye candy." All upcoming tour dates are listed below.
2017 Ambushing The Storm Tour
10/20 – San Antonio, TX – Sunken Gardens
10/21 – Houston, TX – White Oak Lawn
10/22 – Austin, TX – Austin City Limits Live
10/24 – Nashville, TN – War Memorial
10/25 – Richmond, VA – The National
10/27 – Albany, NY – Palace Theater
10/28 – Washington DC – The Anthem w/ Clutch
10/29 – Port Chester, NY – Capitol Theater
10/31 – Brooklyn, NY – Brooklyn Steel
11/2 – Akron, OH – Goodyear Theater
11/3 – Cincinnati, OH – The Taft Theater
11/4 – Louisville, KY – Palace Theater
11/5 – St. Louis, MO – Peabody Theater
11/7 – Knoxville, TN – Tennessee Theater
11/9 – Atlanta, GA – Tabernacle
11/10 – Orlando, FL – Hard Rock Hotel
11/11 – Clearwater, FL – Ruth Eckerd Hall
11/13 – New Orleans, LA – Civic Theatre
12/29 – Los Angeles, CA – The Wiltern
12/30 – Los Angeles, CA – The Wiltern