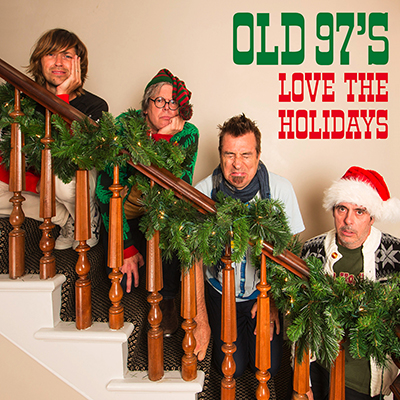 Old 97's Holiday Album, Love The Holidays, Out Now
Old 97's have released their holiday album, Love The Holidays today. It is the beloved band's first-ever collection of original Christmas songs and was produced, mixed and engineered by John Pedigo in the band's home state of Texas.
The LP presents a sack full of rockin' new Yuletide favorites, as well as Old 97's take on the New Year's Eve standard, "Auld Lang Syne." Among its many highlights are the title track, co-written with Kevin Russell (The Gourds, Shinyribs), "Gotta Love Being A Kid (Merry Christmas)" and "Snow Angels," both co-written with acclaimed writer Ben Greenman, and the continuing saga of everyone's favorite reindeer, "Rudolph Is Blue," co-written by Old 97's and Dan Bern.
Rhett Miller and Old 97's will celebrate the release of Love The Holidays as well as Miller's recently released solo album, The Messenger, with the "Old 97's Holiday Extravaganza Tour," an eagerly anticipated U.S. holiday tour, headlined by Old 97's and opened by a solo acoustic set from Miller. The dates begin November 28 at The Neptune in Seattle, WA and then continue through late December.
"We're going to hit the road right after Thanksgiving," Miller says. "The evening will begin with me doing an acoustic set. I'll play some of my new songs, some from my solo catalogue, and probably a few oddball songs too. Then I'll leave the stage, Michael Casey will come out, he's a punk rock magician from Raleigh, NC, he's super-brilliant, he's going to do a magic show before I come back out with the Old 97's and we do the full Old 97's Holiday Extravaganza."
OLD 97'S ON TOUR
NOVEMBER
28 – Seattle, WA – The Neptune w/Rhett Miller solo
29 – Portland, OR – Wonder Ballroom w/Rhett Miller solo
30 – San Francisco, CA – The Fillmore w/Rhett Miller solo
DECEMBER
1 – Los Angeles, CA – The Troubadour w/Rhett Miller solo
2 – Solana Beach, CA – The Belly Up w/Rhett Miller solo
3 – Pioneertown, CA – Pappy & Harriets w/Rhett Miller solo
6 – Richmond, VA – The National w/Rhett Miller solo
7 – Philadelphia, PA – TLA w/Rhett Miller solo
8 – Baltimore, MD – Rams Head Live! w/Rhett Miller solo
9 – Cambridge, MA – The Sinclair w/Rhett Miller solo
10 – Portland, ME – Port City Music Hall w/Rhett Miller solo
12 – Hamden, CT – Space Ballroom w/Rhett Miller solo
13 – Asbury Park, NJ – The Wonder Bar w/Rhett Miller solo
14 – New York, NY – Irving Plaza w/Rhett Miller solo
15 – Pittsburgh, PA – Mr Smalls w/Rhett Miller solo
28 – Austin, TX – Mohawk w/Rhett Miller solo
29 – Dallas, TX – Statler Ballroom w/Rhett Miller solo
JANUARY
26 – Ponte Vedra, FL – Ponte Vedra Concert Hall w/Shooter Jennings