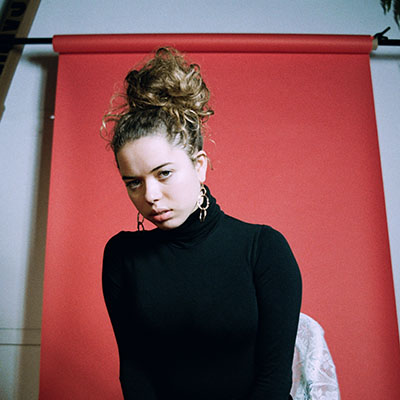 Nilüfer Yanya Releases 'Do You Like Pain?' EP + Jazzi Bobbi Remix of "Thanks 4 Nothing"
Nilüfer Yanya's "Effortless And Urgent" Single Gets Dark, Percussive Remix
Listen to "Thanks 4 Nothing" (Jazzi Bobbi Remix) off New EP 'Do You Like Pain?' out now
Pre-order 'Do You Like Pain?' on red 12″ 45rpm vinyl. 
"The 22-year-old London singer makes jazz-pop that feels both effortless and urgent…Yanya's hooks are always rife with dizzying romantic insight." – Pitchfork
"Smoky, subtly emotive, and underpinned by a gorgeous falsetto that cracks on command, Nilüfer Yanya's voice is a stunning instrument." – NPR Music (one of the 2018 Slingshot Artists)
Nilüfer Yanya, London's 22 year-old "effortlessly smooth new soul star" (The FADER) today revealed the remix for her latest single "Thanks 4 Nothing", courtesy of bandmate and saxophonist Jazzi Bobbi. The remix completes her EP 'Do You Like Pain?'which also sees full release today via ATO Records and is the first physical pressing of Nilüfer's music in the US, now available for preorder. It will be available on 12" red vinyl also featuring "Baby Luv" (number 18 in Pitchfork's 100 Best Songs of 2017) – and its psychedelic remix by ALASKALASKA – and of course current single "Thanks 4 Nothing" ("An absolutely great pop song." – Vice Noisey). The EP is also available to buy digitally and stream today.
Speaking about the remix for Nilüfer, Jazzi said, "I wanted to bring out the darkness of Nilüfer's song … I wanted to keep a lot of the original production but give it a twist e.g heavily effecting the original drum recordings and taking bits from the vocals to create percussive sounds as part of the beat. This was an exciting project for me, being able to put my own spin on a track written by a close friend of mine that I've also had the pleasure of playing live so many times."
"Thanks 4 Nothing", Nilüfer's first single of 2018, details the darker thoughts surrounding a break up, a poignant look at a crumbling relationship that can't be fixed, and is accompanied by a 70s-style, "Handmaid's Tale meets Pulp Fiction" video directed by ENERGYFORCE. Described as "jazz-pop that feels both effortless and urgent" (Pitchfork), "Thanks 4 Nothing" establishes Nilüfer's inevitable ascent in 2018, and proves NPR Music's claim that she has "the sort of maturity you'd expect from a much older songwriter, but this is very clearly just the beginning for Nilüfer Yanya."
Watch the video for Nilüfer Yanya's latest single, "Thanks 4 Nothing":
https://www.youtube.com/watch?v=Zsx1cOjydBA
Stateside, Nilüfer will celebrate the release of her EP with a trip to SXSW and a slot at FORM Arcosanti in Arizona. She will also embark on her first headline U.K. and European tour dates of 2018, starting with a run of six dates across Europe in April and then an eight-date U.K. tour in May, finishing with a night at London's Village Underground on 29 May, her biggest headline show thus far. Tickets are on sale now via www.niluferyanya.com.
2018 is looking bright for Nilüfer Yanya after landing a spot on the BBC's annual Sound Of poll longlist, continuing a stellar 2017 in which she enjoyed extensive support from both mainstream and independent music, culture and fashion publications such as Pitchfork, NPR Music, The FADER and The New York Times, plus a host of tastemaker DJs at the BBC in London as well as KCRW and KEXP in the US. A further slew of best-of lists, including DIY's 'Class Of' and The FADER's 'British Artists To Watch', as well as GQ's and Dork's, firmly established Nilüfer as one of the most promising British songwriters and guitarists of her generation, and an in-demand new talent for this year.
Tickets for Nilüfer Yanya's UK and European tour are on sale now. Tickets are available for purchase atwww.niluferyanya.com.
See Nilüfer Yanya at the following live dates:
March 9-18 – Austin, TX @ SXSW
April 9 – Paris, FR @ Le Pop Up Du Label
April 10 – Amsterdam, NL @ Paradiso
April 11 – Antwerp, BE @ TRIX
April 12 – Hamburg, DE @ Mojo Club
April 13 – Berlin, DE @ Auster Club
April 25 – Istanbul, TR @ Babylon
May 11 – Arcosanti, AZ @ FORM Arcosanti
May 18 – Brighton, GB @ The Great Escape
May 19 – Cardiff, GB @ Buffalo Bar
May 20 – Manchester, GB @ Deaf Institute
May 21 – Birmingham, GB @ The Sunflower Lounge
May 22 – Barrow-In-Furness, GB @ Barrow Library
May 23 – Glasgow, GB @ Broadcast
May 24 – Leeds, GB @ Brudenelll Social Club
May 29 – London, GB @ Village Underground
July 14 – Bilbao, ES @ Bilbao BBK
August 2 – Wareham, GB @ Bestival
August 17 – Hamburg, DE @ MS Dockville Festival
August 30 – North Dorset, GB @ End Of The Road Festival
Nilüfer Yanya – 'Do You Like Pain?' – out now via ATO Records
"Baby Luv"
"Thanks 4 Nothing"
"Baby Luv" – ALASKALASKA Remix
"Thanks 4 Nothing" – Jazzi Bobbi Remix