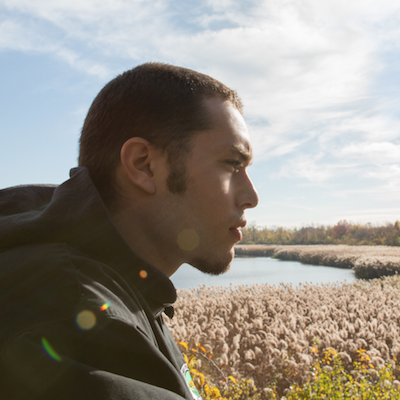 Read Nick Hakim's FADER Gen F feature + tour + pre-order "Where Will We Go" EP vinyl
Singer, multi-instrumentalist and producer Nick Hakim was via The FADER's "Gen F" series as he prepares his debut full-length album Green Twins, set for release in the spring of 2017 on ATO Records. Notes The FADER, Hakim is "…a singer who composes achingly beautiful soul music that almost always reaches you somewhere deep in your bones." Read the feature here
His debut full-length album follows Hakim's critically praised Where Will We Go Pt. 1 & Pt. 2 EPs, released on his own Earseed Records imprint in 2014. The collection of intimate, lo-fi soul songs was called "lovingly dreamy and hopelessly bleary at once" by NPR Music. The long out-of-print 12" will be reissued on milky white vinyl with all new interior art by ATO Records, and is now available for pre-order for delivery by March 2017:

The Brooklyn-based, Washington, D.C.-raised musician grew up in a household overflowing with musical diversity and cites influences ranging from Marvin Gaye and Curtis Mayfield, to Madlib and MF Doom, to South American folk and DC punk. It comes as no surprise that Nick tends to blend genres, mixing an ambient airy psychedelic sound with the raw gut-wrenching emotion of the blues.
Hakim has performed supporting the likes of Maxwell, How To Dress Well, KING and more, in addition to his headline dates. Look for him to kick off 2017 by bringing his new live show to New York, Philadelphia, Washington, DC and London, before heading out on a full tour around the album's release. See tour dates below, and visit the "Live Dates" section of http://nickhakim.com for ticket info.  Look for lots more from Nick Hakim in 2017.
NICK HAKIM 2017 TOUR DATES
Jan 26 Philadelphia, PA – Milk Boy
Jan 27 New York, NY – Blue Note
Jan 28 Washington, DC – Songbyrd
Feb 13 London, UK – The Lexington
Feb 23 Philadelphia, PA – Milk Boy
Feb 24 New York, NY – Blue Note
Feb 25 Washington, DC – Songbyrd
PRESS QUOTES
"his delicate guitar work and hazy harmonies make him a singular and vital presence in the genre. His 2014 EPs have been exercises in restraint, drenched in liquor and physicality." – The New York Times
"Nick Hakim makes soulful music that feels lovingly dreamy and hopelessly bleary at once… his layered vocals swim across each other and send shivers down your spine." – NPR Music
"moody, gorgeous voice suits a sweaty summer night." – New York Magazine
"Exceptional debut… emotionally rich and runs the gamut of R&B, jazz, folk and Motown, taking cues from greats like Marvin Gaye and Harry Nilsson" – Interview Magazine
"Nick Hakim's music is an intimate conversation, vulnerable and bewitching–R&B born of the blues' sensibility for soul-bearing." – Pigeons & Planes
"incredibly strong set of finely crafted tracks that move, haunt and mesmerize…" –KCRW