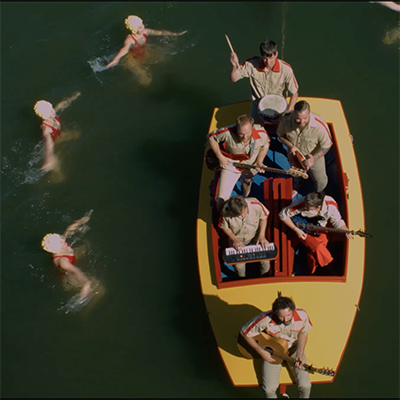 Watch Blind Pilot's new "Packed Powder" video – "And Then Like Lions" out now!
Blind Pilot's new album "And Then Like Lions", their first in five years, is now available.
Get And Then Like Lions: Official Store | iTunes | Amazon 
The album premiered via NPR First Listen, where NPR's Stephen Thompson said, "And Then Like Lions unfurls slowly and gracefully, its energy directed more toward richness of sound than speed or force." They just released a new music video for "Packed Powder" via Wall Street Journal – watch it below.
Watch the band perform on CBS Saturday Morning:
Watch Blind Pilot perform their new single "Packed Powder" at Bear Creek Studios via BrooklynVegan:
Listen to "Umpqua Rushing", which NPR Music calls "a hazy, quiet beauty that builds slowly but persistently.":
Written and composed by Blind Pilot's Israel Nebeker over the course of three years, the record is a transcendent, cathartic response to the loss of his father and end of a 13-year relationship. 'Lions' is Blind Pilot's most exhilarating album to date, a lush 10-song collection that is resilient, uplifting and often majestic in the face of tragedy.
Blind Pilot has performed on Ellen and The Late Show with David Letterman, at the Newport Folk Festival, Bonnaroo, and Lollapalooza. The group has shared stages with The Shins, Andrew Bird, Calexico and more. The project began in 2007 when Israel and co-founding member Ryan Dobrowski went on a West Coast tour via bicycle.