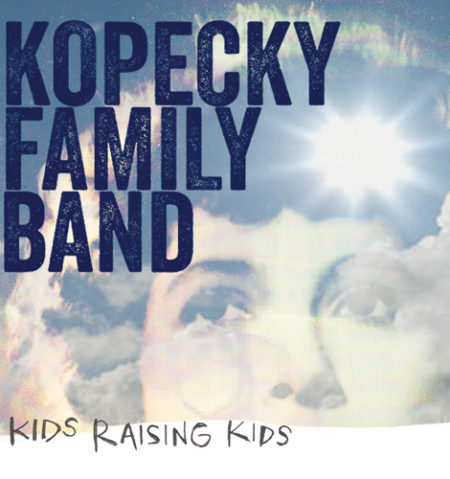 Kopecky Family Band Announce Summer Tour Dates & Release New Videos
Kopecky Family Band's new album Kids Raising Kids is out now
iTunes / Amazon / Official Store
Kopecky Family Band has announced additional summer tour dates that will kick off in Houston, TX at the Free Press Summer Festival on June 1st. The band will then continue a run of Texas shows over the next week before wrapping up at KXT's Barefoot at the Belmont summer concert series in Dallas on June 6th. Kopecky Family Band is also now confirmed to perform at the Xponential Music Festival in Philadelphia on July 28th and the Outside Lands Festival in San Francisco August 9th-11th. A current itinerary is below, including previously announced dates in April and May
Kopecky Family Band are not a family by blood, but by bond – through the palpable sense of community and care for one another that the members share (as the new album's title suggests), forged by time and touring. The band's origins can be traced back to a Belmont University dorm room, circa late 2007, when Kelsey Kopecky and Gabe Simon first met and heard each other casually play a few songs. The musical chemistry was instant, and within a few short weeks the two had written the songs that would become the band's debut EP, Embraces (2008). They rounded up a group of mutual friends to play with them, and Kopecky Family Band was born.


Kids Raising Kids is the sound of a band coming into its own and as a whole truly greater than the sum of its parts. It's an adventurous record, the unmistakably open sound varying from the playful sing-along pop of "Heartbeat" (official video) to the haunting heartbreak of ballad "Change;" from the classic swing verse and mountainous chorus of "My Way" to the bright, breezy soar of "The Glow;" and from the chiming, cello-laden drive of "Hope" to the darker, propulsive "She's The One." The bright, irrepressible songs on Kids Raising Kids deal with navigating waters of change and facing challenges – like being away from home, falling in love, having perspective and seeing others', going after what you want – and also sees the band challenging themselves by creating a bigger sound than anything they've done before. The album, which began as another EP but bloomed into a full-length LP, also marks the first time contributions from all six members are upfront alongside and in complement to the leadership of Kopecky and Simon.  A full track listing and album stream is below.
Kopecky Family Band are: Kelsey Kopecky (vocals, keys, bass), Gabe Simon (vocals, guitar, horns), Steven Holmes (guitar, lap steel), David Krohn (drums), Markus Midkiff (cello, guitar, keys), and Corey Oxendine (bass, guitar, horns).
Stream the entire album here!
Kids Raising Kids track listing:

Wandering Eyes
Heartbeat
My Way
Are You Listening…
The Glow
Change
Hope
She's The One
Waves
Angry Eyes
Ella
Kopecky Family Band tour dates
MAY 8             WASHINGTON, DC                  THE BLACK CAT*
MAY 9             PITTSBURGH, PA                   CLUB CAFÉ*
MAY 10                       CHILLICOTHE, OH                  PAPER CITY MUSIC SERIES*
MAY 11                       CINCINNATI, OH                      MOTR PUB*
MAY 14                       CHARLOTTESVILLE, VA        THE SOUTHERN
MAY 15                       NEW HAVEN, CT                     BAR
MAY 16                       NEW YORK, NY                       MERCURY LOUNGE
MAY 18                       ANNAPOLIS, MD                     RAM'S HEAD ON STAGE
MAY 20                       ASHEVILLE, NC                      ISIS MUSIC HALL
JUNE 1-2         HOUSTON, TX                                    FREE PRESS SUMMER FESTIVAL
JUNE 3                        AUSTIN, TX                             STUBBS JR.
JUNE 4                        BRYAN, TX                              GRAND STAFFORD THEATER
JUNE 5                        FT. WORTH, TX                      LIVE OAK MUSIC HALL
JUNE 6                        DALLAS, TX                            KXT'S BAREFOOT AT THE BELMONT
JUNE 21-23     DOVER, DE                             FIREFLY MUSIC FESTIVAL
JULY 28           PHILADELPHIA, PA                 XPONENTIAL MUSIC FESTIVAL
AUG. 9-11        SAN FRANCISCO, CA              OUTSIDE LANDS FESTIVAL
* supporting He's My Brother She's My Sister: