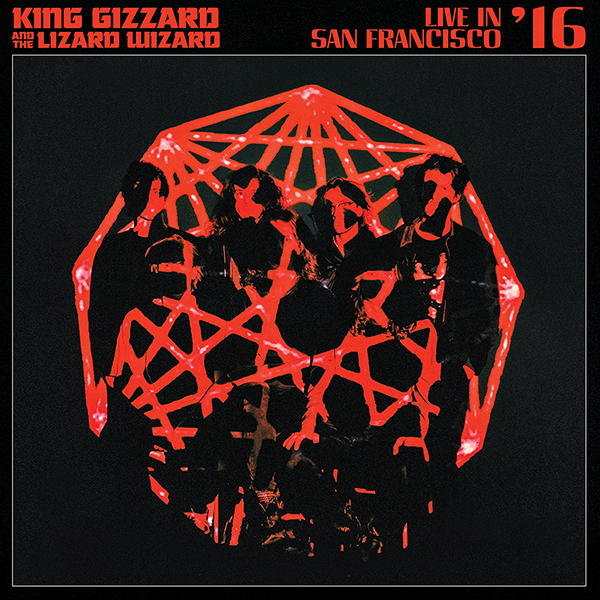 King Gizzard Announce New Double Live Album – Live in San Francisco '16 – Pre-Order Deluxe & Eco-Wax Vinyl
King Gizzard & The Lizard Wizard
Live in San Francisco '16
New Double Live Album – in Stores November 20, 2020
Just under a month after delivering their award-winning 2016 album Nonagon Infinity, King Gizzard & The Lizard Wizard took the stage at San Francisco's The Independent for a set both wildly frenetic and meticulously executed. In one of their final club gigs before bursting onto the international scene—soon selling out amphitheaters and headlining festivals—the Melbourne septet laid down a breakneck performance that, in the words of SF Weekly, "made every organ ache just right." Multi-tracked and impeccably mixed, Live in San Francisco '16 simultaneously channels the massive energy of King Gizzard & The Lizard Wizard's set while echoing the sweaty intimacy of the 500-capacity venue.
Newly unearthed by ATO Records, Live in San Francisco '16 captures an extraordinary moment in the band's increasingly storied history, a 13-song spectacular likely to leave every listener awestruck and adrenalized.
Like Nonagon Infinity—the band's eighth full-length and worldwide breakthrough—Live in San Francisco '16 kicks off with "Robot Stop," an immediately transportive track built on blistering riffs and bombastic rhythms. Reaching its majestic climax with a 22-minute rendition of fan favorite "Head On/Pill" (from 2013's Float Along – Fill Your Lungs), the album rushes forward with a furious intensity as the band tears through the entire set without ever breaking—a feat that induces a sort of joyful delirium in anyone who bears witness.
With nearly half the setlist made up of Nonagon Infinity tracks, Live in San Francisco '16 unfolds with the same exquisitely controlled chaos King Gizzard & The Lizard Wizard brought to that arguable masterpiece. "2016 was peak tightness for Gizz," notes frontman Stu Mackenzie. "Around this time we were really into tightly composed sets, and the show was like one long song—everything linked, everything planned. We threw that idea out the window later on, but this live record is a great document of that moment in our collective psyche."
Rainbow Foil Deluxe Edition
2xLP's on "Golden Gate Sunburst' & "Bay Fog" Colored Vinyl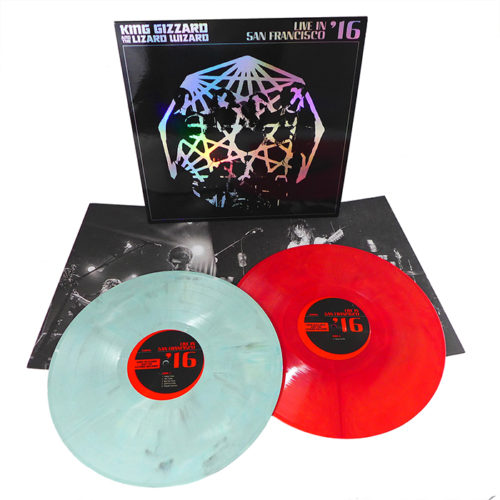 Eco-Wax Edition
2xLP's on Recycled Eco-Wax, Randomly Colored Vinyl